News > Spokane
Then and Now: Naborhood Dutch Shops
Mon., Nov. 14, 2016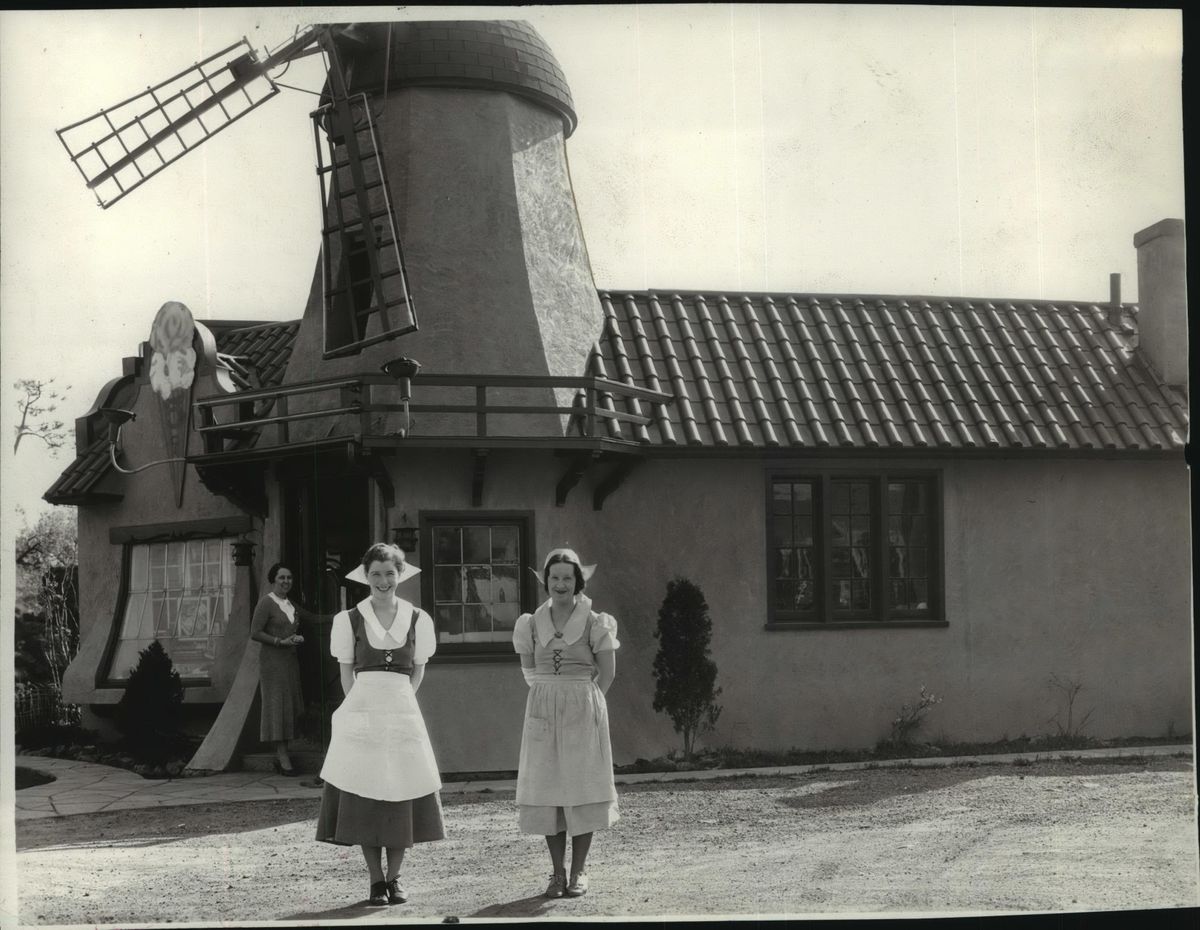 1934: This is one of several Naborhood Dutch Shop ice cream stores, exact location unknown, built in Spokane between 1929 and 1932. The Cambern brothers used the brand Dutch Maid (later Modern Maid) and windmill-shaped buildings. (Spokesman-Review Photo Archive / SR)
The Cambern brothers, raised on a farm in the Colbert area, were ambitious and industrious. Three of the six brothers – Robert, Cecil and Clifford – bought a small bakery from Ken McWilliams and opened Cambern Bakery around 1924, supplying bread to grocers like Piggly Wiggly.
They started a dairy, processing raw milk into cheese, ice cream and other products. Wanting to control the retail end, the brothers began building a series of tiny ice cream shops in 1929 that also carried their breads and pastries.
Their brand was Dutch Maid and their stores were called Naborhood Dutch Shops, most of them shaped like a tiny windmill. Charles Wood, a former partner of Kirtland Cutter, designed the stores.
"One of the first things a person thinks of when seeing a Dutch windmill is neatness and cleanliness. Who has not seen or heard of the cleanliness of the Dutch housewife with her spotless kitchen? The neat white caps surround wholesome faces and the blue costumes of the salesgirls again represent cleanliness," read their investor pitch. Salesgirls wore winged lace bonnets and aprons. Bob Cambern, the senior partner, told The Spokesman-Review that every Spokane neighborhood eventually would have a windmill shop.
Even as the Great Depression took its toll, the company was actively selling stock, promising an 8 percent return. The Camberns planned to open larger outlets that would include a soda fountain and cafe.
With two plants for baking and dairy operations, 10 small shops and more than 100 employees, the brothers sold their company back to McWilliams, now a major regional bakery owner, in November 1931.
The new owner of another Cambern business sued Bob Cambern for saying the business was free and clear when it was heavily mortgaged. In court, Cambern said he was broke, too, and had only the weekly paycheck he earned and an old Buick automobile.
Dutch Maid later became Modern Maid. A few of the windmills survive. The building at 11th Avenue and Perry Street, which has been extensively remodeled, is still a business. One windmill was moved to Greenacres Shopping Center and expanded. Another is a private office or residence at 1623 W. First Ave. in Browne's Addition.
The Camberns went on to other careers. Bob Cambern managed Tri-State Equipment until his death in 1955.
– Jesse Tinsley
Local journalism is essential.
Give directly to The Spokesman-Review's Northwest Passages community forums series -- which helps to offset the costs of several reporter and editor positions at the newspaper -- by using the easy options below. Gifts processed in this system are not tax deductible, but are predominately used to help meet the local financial requirements needed to receive national matching-grant funds.
Subscribe now to get breaking news alerts in your email inbox
Get breaking news delivered to your inbox as it happens.
---