Sports > Seattle Seahawks
Grip on Sports: Just another Monday? Not if Gonzaga, Russell Wilson and the Cougars have anything to say about it
Tue., Nov. 15, 2016 A GRIP ON SPORTS • Most work weeks don't start out as crowded as this one did. From Gonzaga's behind-kicking of San Diego State to news from Seattle to Pullman, it was a crowded Monday around here. Read on.
••••••••••
• If you stayed up late enough to watch the Zags put a 69-48 pasting on recent West Coast power San Diego State, then you might be like me this morning. A little Zombie-ish. But it was worth it.
Gonzaga unveiled its 2-3 matchup zone last night and it flummoxed the Aztecs in a big way.
It's not as if GU hasn't played zone before. But with this group's length on the back end and quickness out front, it seems a good weapon for them. At least it was Monday.
Now, however, there will be video for every opponent to watch. My suggestion: Also pick up a few tapes of WSU when Gonzaga volunteer assistant Ken Bone was head coach. His Cougars played a similar scheme, though certainly not with the athletes the Zags put on the floor.
• If you think the sun rises and sets in Russell Wilson, the news he broke on Twitter yesterday probably isn't going to do anything to change that. The Seahawks' quarterback is lending his face – and his wallet – to Chris Hansen's arena project.
He wants to bring the Sonics back – and add the NHL too.
Talk about bringing in the big guns. Yes, the Port of Seattle might have taller cranes and more politicians in its back pocket, but now Hansen has one of Seattle's most popular athletes ever helping him and his project.
It certainly seems to have leveled the playing field some.
• I followed River Cracraft with my binoculars Saturday night, from the moment he went down with his injury to the second he turned and left Martin Stadium through the northwest tunnel.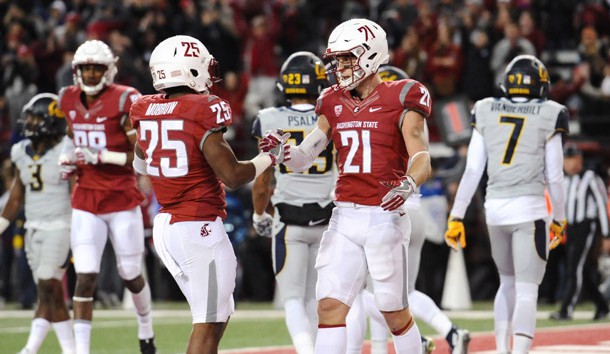 You could tell immediately he was in pain. But you could also speculate he wasn't hurt that badly. After all, he wasn't carried off the field, he was helped. Yes, he was limping, but he was putting some weight on the leg. But after Dr. Ed Tingstad examined him, there was trepidation.
Mainly because it didn't take all that long. And, when Tingstad said something to Cracraft, there was a bit of a shoulder slouch. Still, the senior wide receiver, one of the best WSU has ever had, wasn't helped from the stadium. He walked out under his own power. On his own terms.
Though there was a trainer guiding him, Cracraft made a handful of detours, to talk with players – he and Gabe Marks chatted for a while – and others, including a couple students in the stands. Then he reached the mouth of the tunnel.
There he turned, looked at Martin Stadium, paused and took it all in. It lasted only a few seconds but seemed longer. The mental picture taken, Cracraft turned again. The shoulders slumped. He limped out.
•••
WSU: Jacob Thorpe has a story on Cracraft and his season-ending ACL injury, using comments from teammates Marks and Luke Falk to illustrate Cracraft's importance to the Cougars. … Jacob also has videos of Darrien Molton and Mike Leach interviews. … There is the first look at Colorado plus Jacob has a story on the importance of Saturday's game to each team. … A Cougar punt returner earned a Pac-12 honor. … In volleyball, a WSU player also earned an honor. … The Times Stefanie Loh has a piece on Cracraft and a story on Leach's feelings about the election. … Colorado still holds its Pac-12 destiny in its hands.
Elsewhere in Pac-12 football, there are quarterback ratings from ESPN.com as well as a look at Saturday's action. Plus, Jon Wilner has a sad but interesting look at all the injured stars in the conference. … There are two rivalry games this weekend, with USC meeting UCLA and California hosting Stanford. … Oregon travels to Utah as Mark Helfrich tries to hold on to his job and the Ducks try to win their first road game of the year. … Arizona State travels to take on an angry Washington team without its best defender. … Arizona still is in flux at quarterback as it heads to Oregon State.
Gonzaga: There is a lot to cover after last night's game, starting with Jim Meehan's game story and John Blanchette's column. … My contribution was to examine the game from most fans' perspective, while Whitney Ogden also had a piece on ESPN's coverage team. … Michael Gulledge checks in with the three keys and a story on an early morning wakeup call. Finally, Colin Mulvany has a photo report. … BYU opened its season with a win over visiting Princeton.
EWU: The running game is coming on at just the right time for the Eagles. Jim Allen examines that segment of the offense heading into Friday night's Portland State game. … Cooper Kupp won another Big Sky award. … The basketball team lost 86-72 to Northwestern in Evanston, Ill. … The Eagles will be represented at the NCAA cross country championships.
Idaho: The Vandal women traveled to Fullerton and won another basketball game.
Whitworth: As expected, the Pirates were not chosen for the NCAA Division III football playoffs. But, as Tom Clouse explores, they did win a few honors.
Seahawks: The glow from Sunday night's win in New England still hasn't worn off for the Hawks. The statement game delivered a big statement to the rest of the NFL. … C.J. Prosise was a revelation. And Thomas Rawls should be back this week.
•••
• One of my best friends is a dentist. (Actually, two of them are, but only one lives in Spokane.) He's always a dentist. But for a few minutes today, while he's poking around in my mouth, he's not one of my best friends. He's just a dentist. Luckily, he doesn't know how to find this column, so he won't know I said that. Wish me luck. Until later …
Subscribe to the sports newsletter
Get the day's top sports headlines and breaking news delivered to your inbox by subscribing here.
---
Subscribe and login to the Spokesman-Review to read and comment on this story