Opinion > Syndicated columns
Ammi Midstokke: How to become something today that you were not yesterday
Wed., Nov. 16, 2016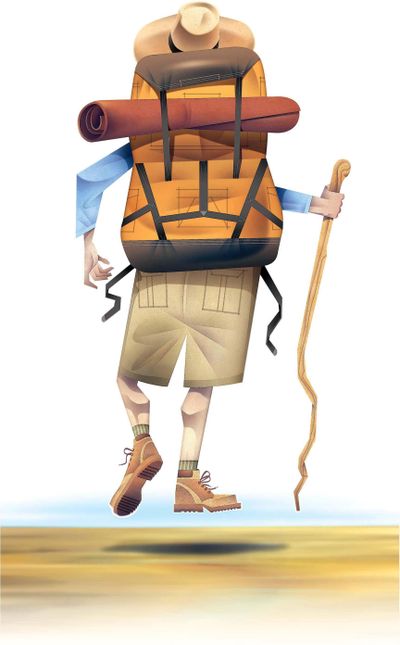 I was sitting at my dinner table with a young man this week and listening to his amazing history. He had traveled the world as a trained sniper, fallen in love with the girl from the fair who showed llamas, and bought land in the Idaho countryside. All of these things he has done before thirty.
"I'd like to be a hiker," he said.
It is hard for me to fathom the abysmal gap between 'being a hiker' and 'wanting to be a hiker.' Discussing this over a meal, I realized that taking that cliche first step is rather difficult for many of us.
In our nation of extremes (which we've just confirmed with our elections), there is little attention paid to middle ground or, you know, the majority of the population that is neither a couch potato nor an extreme athlete.
It would appear that the outdoor literature, what with people skiing off cliffs, climbing upside down, or scaling mountain sides, doesn't give us a lot of hope either.
Don't worry folks, my column is here to celebrate the mediocre outdoors person!
The difference between being a hiker and not being a hiker is not the PCT, a perfectly weighted Osprey pack, or shelf of dog-eared trail guides. The difference is whether or not you put on your shoes (whatever shoes, they don't even have to be hiking boots) and walk on a trail or, well, don't.
You do not need special gear, special skills, special permission, or special fitness. You merely need to make the decision: I will go hiking today, and viola! You are a hiker! Or a runner. Or a biker. Or a walker. Or a yogi. Whatever it is you want to embody.
In Ireland, I knew a horse trainer that looked like Charles Bronson on the bad end of a bender. He was in his sixties and tougher than the leather of his thick riding boots. Every weekend he watched our group of runners pattering down the little grey strip of road that cut through the emerald landscape.
We were real runners. We had risqué shorts that flapped lightly in the breeze, the brightest shoes you could buy with all the latest features of engineered rubber, little gel packs, and mile split conversations that would put any normal human to sleep.
One day he came out and said he wanted to be a runner. He was wearing his waxed slicker and a pair of riding boots that were caked in manure. The guys gave him a list of prerequisites. Running shoes, watches, appropriate gear, start slow, walk and then run.
"Ay, but yer jes' runnin'," he said.
From that day on, he broke all the rules written in every running magazine to which we were subscribed. We'd run by on our Saturday long runs and he'd be out on the road, in his boots, doing intervals. We all thought it was really cute until he showed up for an ultra-marathon.
He asked what our well-trained strategy was, as if he hadn't really thought about how he would execute his own race. In fact, he had not. He had just been running and training those horses. We explained, somewhat alarmed for his health at this point, that we would go steady at pre-calculated paces and try not to die.
Charles Bronson said that sounded like a good idea. He hit the course in sprinting flats he had bought the previous day at the race expo (he was quite excited to have his own bright shoes) and promptly smoked us all. He even stopped at the petrol station for an ice cream bar along the way.
If you want to do something, don't hesitate, wait for good weather, worry about needed trekking poles or a fancy parka, or be concerned with whether or not it is an established part of your identity. Do not be intimidated by the REI models on the trail who look like they personify hiking.
Just get out the door and take it from there. One step at a time.
Local journalism is essential.
Give directly to The Spokesman-Review's Northwest Passages community forums series -- which helps to offset the costs of several reporter and editor positions at the newspaper -- by using the easy options below. Gifts processed in this system are not tax deductible, but are predominately used to help meet the local financial requirements needed to receive national matching-grant funds.
Subscribe to the Coronavirus newsletter
Get the day's latest Coronavirus news delivered to your inbox by subscribing to our newsletter.
---
Subscribe and log in to the Spokesman-Review to read and comment on this story