Court allows Robert Barber to return to the football field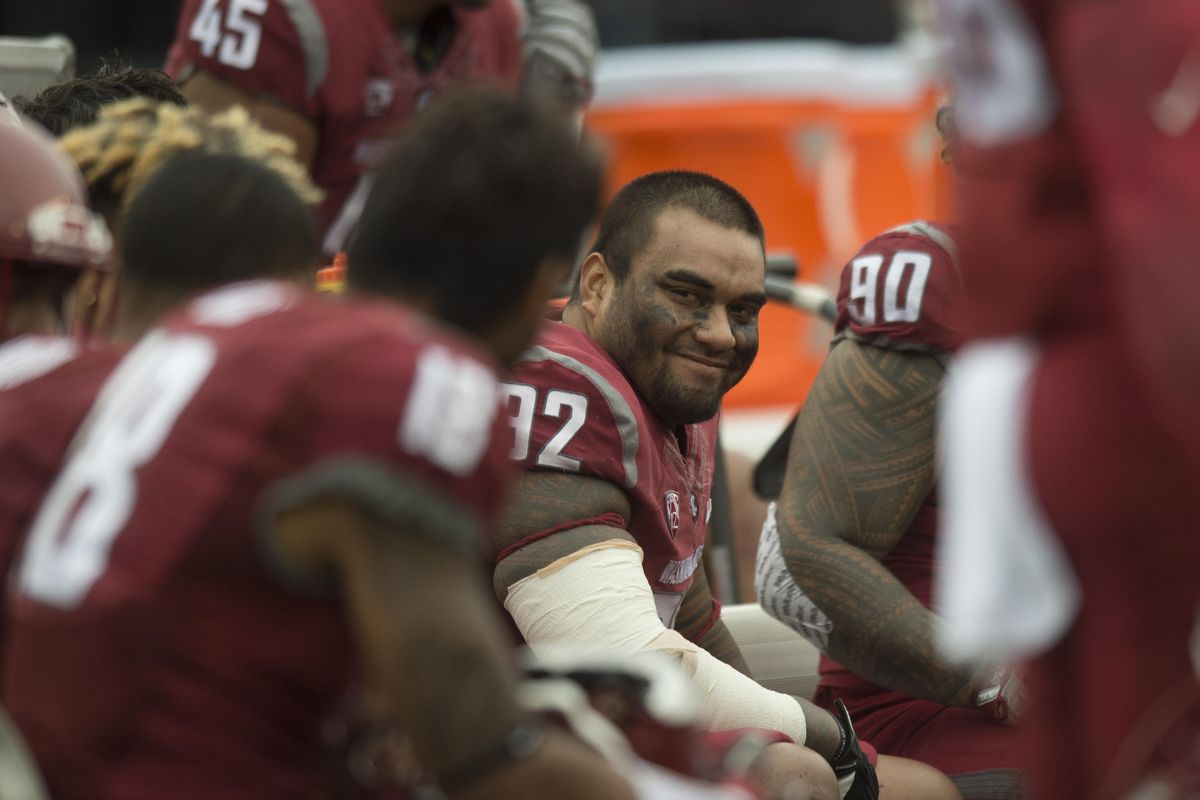 COLFAX – Robert Barber will be allowed to play football again, thanks to a ruling by a Whitman County judge.
Judge David Frazier granted an immediate stay of Washington State University's suspension of Barber for punching another student at a party in July.
The judge ordered Barber to not attempt to contact the student he injured and to not use drugs or attend parties where drugs and alcohol are present.
Frazier's ruling was centered on the fact that WSU's student conduct board destroyed original questions to witnesses that Barber had submitted to the board. Barber and his attorney, Steve Graham, say the conduct board asked paraphrased versions of those questions.
"We were able to raise these technical arguments, but it's really more than that," Graham said. "The school is held to a high standard, just like they hold their athletes. They've got to follow their rules and the judge concluded that they did not."
Frazier said that his review was limited to determining whether an agency, in this case WSU, had made an error of law. Frazier said the information presented in his court on Wednesday led to two differing stories, but that ultimately the question came down to whether Barber committed an assault or acted in self-defense.
Frazier, however, said he is bound by the student conduct board's findings whether or not he agrees with them.
After the hearing, Barber posted a statement on his Instagram account that said, in part, "First of all I like to thank Heavenly Father for his blessing and guidance over me… My emotions are high and I am grateful. God bless, Go Cougs and alofa tele atu ia outou uma."
Ultimately, Frazier ruled in Barber's favor because WSU had made record-keeping errors in destroying evidence of questions submitted by Barber to be asked of witnesses and allegedly paraphrasing those questions.
Graham argued that Barber should be allowed to play football because it would cause him irreparable harm to not do so, and that Barber's petition to have his full case reviewed in court would prevail if it were to be heard. The lawyer also claimed there were inconsistencies and procedural errors in WSU's student conduct processes and in the school's assertion that allowing Barber to remain on campus would be dangerous to other students.
Graham noted that the school had the power to immediately remove Barber from the university community if he was a danger to students, and that even now the school is not preventing Barber from being on campus.
Danielle Hess, the chief of the WSU division of the state attorney general's office, made the school's case. Hess argued that Barber did not raise an issue about the student conduct board failing to ask certain questions during the appeals process, depriving the university the chance to respond.
The school's case rested largely on the fact Barber admitted to punching the original complainant a second time after an initial punch knocked him to the ground, and that Barber could not have felt threatened once the complainant had been knocked over.
But Barber's attorney said, "He's a better person than the opposing counsel kind of led on. I think he's been the victim of some exaggerations by the people who are kind of trying to tear him down a bit."
Hess disputed that board members showed racial bias by saying Barber should be put in a "holding cell," reading the transcript of a conversation in which board members had a confused conversation about holding Barber in a room while various parties came in and out so that Barber, the complainant and witnesses would not have to interact.
Graham disputed the innocent nature of the conversation, and asked the court to listen to a recording rather than just read the transcript.
Hess also argued that the questions Barber provided the student conduct board during the initial process were asked, and that follow-up questions show that the conduct board was interested and engaged.
Although Barber did have an adviser in football operations director Antonio Huffman, his advocates argue that Barber, who is from American Samoa, faced language and cultural barriers that made it difficult for him to understand the proceedings as they unfolded.
Hess also referenced a previous incident in which Barber repeatedly threatened an off-duty police officer. Finally, Hess argued that because the school is allowing Barber to graduate on time, he has not been caused irreparable harm.
Jack Thompson, a former quarterback at WSU and mentor to many players, showed up to support Barber, as did State Sen. Michael Baumgartner, who has publicly railed against the university's student conduct processes and offered Barber a job in his office that would make him a liaison to school administrators.
After the hearing, Baumgartner issued a statement on Twitter. Over a series of tweets, he said, "The clear public interest to the people of WA is to have students back in class and to let criminal justice system run its course. Last year the legislature took steps to limit expulsions/suspension in K12 due to impact on students of color and social costs to public. Higher Ed should follow suit and only suspend in extreme circumstance to best steward the enormous public tax investment the people make."
In order to show the court that irreparable harm is caused by not allowing Barber to play football, Thompson also submitted a declaration to the court stating that Barber had begun to attract NFL attention and that in his opinion – Thompson played in the NFL from 1979 through 1984 – Barber can play football professionally.
Furthermore, Thompson stated that every game he misses directly impacts the likelihood of him playing football professionally.
After the ruling, Barber spent about half an hour thanking his friends and family, about 20 of whom showed up to support him during the hearing. Then, he got in Thompson's car and drove to WSU's football offices to tell coach Mike Leach his starting nose tackle is back.
---