News > Spokane
100 years ago in Spokane: Ex-wife of world champion boxer explains her conversion to Christianity
Thu., Nov. 17, 2016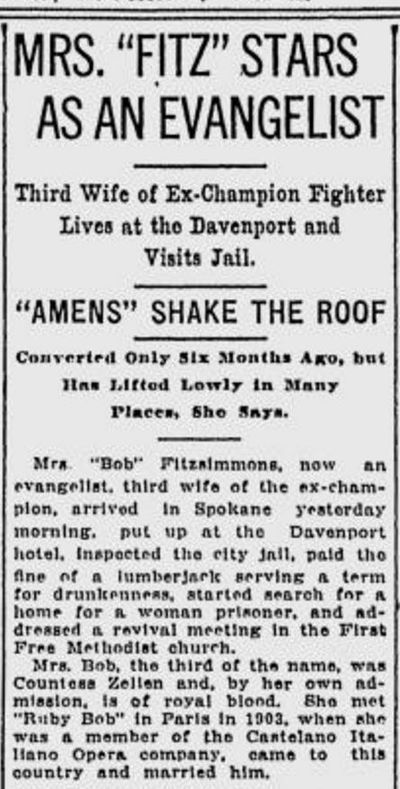 From our archive, 100 years ago
The former Countess Zellen, a French opera star and now the wife of champion boxer "Ruby Bob" Fitzsimmons, arrived in Spokane in her new role as Christian evangelist.
Mrs. Fitzsimmons had been at the Davenport Hotel only for a day when she had already paid the fine of a lumberjack serving a term for drunkenness, undertaken a search for a home for a woman prisoner and held a revival meeting at the First Free Methodist Church.
"Of course, you expected to see Mrs. Fitzsimmons in a big hat and all painted up," she told an enthusiastic audience. "I am still Mrs. Fitzsimmons, but I have a better heart in me."
She told the crowd that up until six months ago, she was not a Christian at all. After leaving her husband, she became ill, suffered money troubles and attempted to jump out of a county hospital window. A woman ran in and held her back. That woman – "a humble dressmaker" – was a "disciple of Jesus Christ and that night my body was healed."
Since then, Mrs. Fitzsimmons founded a home for "fallen girls" in Los Angeles and San Francisco, and dedicated herself to care for the needy,
From the school beat: Miss Elizabeth Conner, a Lewis and Clark High School sophomore, attained the highest marks in the school's history, according to the principal. Her report card showed two scores of 99, the first time that score had been achieved twice. Her other marks were 98 and 95.
Local journalism is essential.
Give directly to The Spokesman-Review's Northwest Passages community forums series -- which helps to offset the costs of several reporter and editor positions at the newspaper -- by using the easy options below. Gifts processed in this system are not tax deductible, but are predominately used to help meet the local financial requirements needed to receive national matching-grant funds.
Subscribe to the Coronavirus newsletter
Get the day's latest Coronavirus news delivered to your inbox by subscribing to our newsletter.
---