Climbing nonprofit dedicated to safety, memory of local climber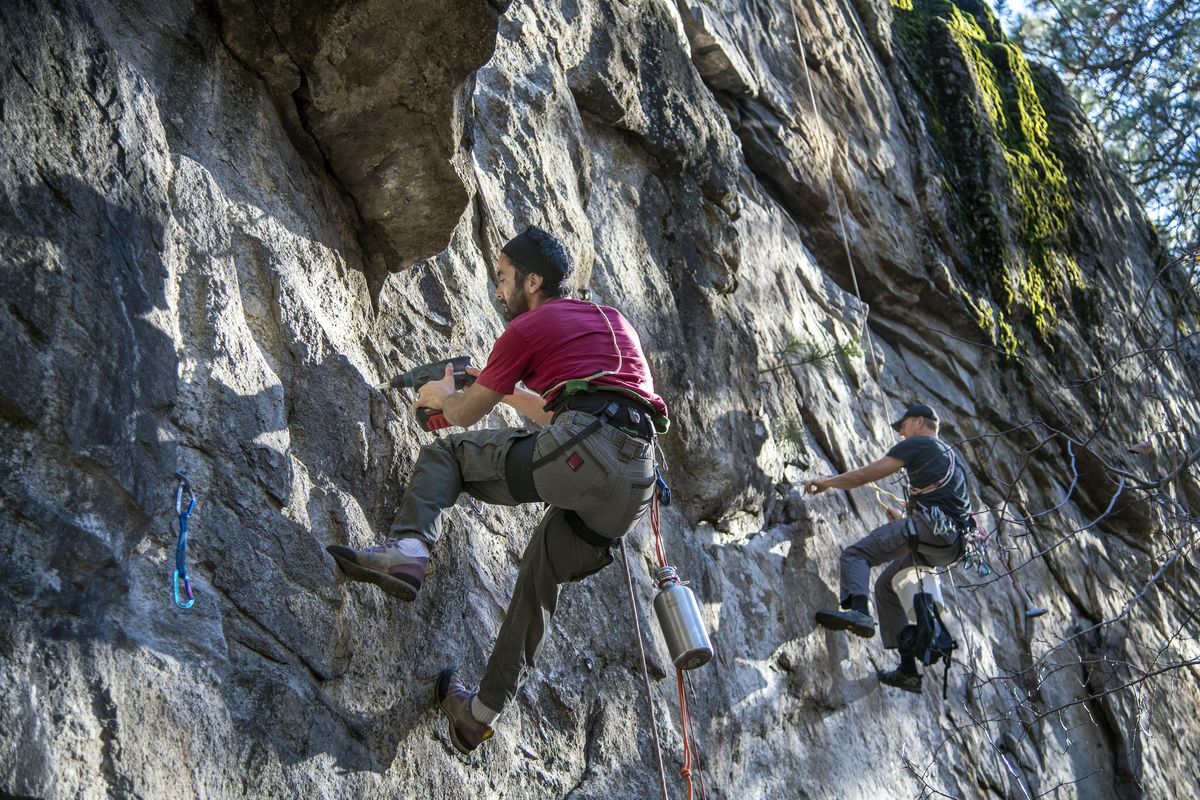 The stretch of cliff here is imposing. Water, dripping down the granite, glints in the sunlight of an early November day. Arden Pete hangs about 10 feet off the ground, hammering and pulling at a piece of metal installed in the rock sometime in the late 1980s.
"From the rust you can tell it's just cheap galvanized steel," Pete said of the small bolt protruding from the rock.
Pete and Erik Lawson, another Spokane-area climber, are replacing aging bolts, used by rock climbers to scale these walls, in the Dishman Hills climbing area. Many of the bolts are rusted from years of exposure. One bolt, intended to catch the weight of a falling adult, shears off after Lawson applies 10 pounds of pressure with a 6-inch wrench.
They replace that bolt with a new, steel bolt intended to last between 50 and 100 years, Pete said. In many ways, the two men are picking up where another local man left off.
A year ago, well-known Spokane climber Andrew Bower fell to his death in nearly the exact spot Pete is hanging. For months, the 26-year-old had been replacing aging bolts around the Spokane area – a selfless act for which he wasn't paid.
"His big contribution, in life, was becoming the best in anything he was interested in," Bower's older brother Aaron Bower said. "For him, it was just a safety thing."
Bower, an EMT, had gone out alone that day. While on top of the cliff preparing to lower down and start work, he appeared to have slipped and fallen to his death – four days before his 27th birthday.
Bower's brother told Rock and Ice, a climbing magazine that analyzes climbing accidents, that Bower's death was "not a climbing accident" as he was not roped up nor was he wearing a harness. His climbing gear was still in his backpack.
In memory of Bower's work, and as a service to a rapidly growing climbing community, several Spokane climbing veterans have established a nonprofit dedicated to maintaining and improving local climbing routes and areas.
"We want to unify the climbing community," said Scott Coldiron, the founder of the Bower Climbing Coalition. "We have a huge climbing community and we have a great climbing community."
The goal of the BCC is to provide material support for bolt replacement, educate climbers and those interested in replacing bolts and help organize climbing area stewardship, said Pete, one of the nonprofits founders and a board member.
"We can be a resource but not the dictator," he said.
For years, climbers have been replacing aging bolts in the Spokane area, but there has never been any organization around the effort. Coldiron and Pete hope to provide best-practice guidelines for those replacing bolts, as well as providing the necessary materials – whether it is the bolts themselves or rock drills.
"We are overdue for it and I think everybody realizes that," Coldiron said. "We want to provide the best modern gear."
Part of the issue with local routes is that in the last 20 years climbing has grown increasingly popular. In 2012, roughly 1.7 million people climbed in the United States, a huge increase from the earliest years when the sport was a fringe occupation known for its danger and counterculture aesthetic.
Pete remembers establishing Spokane-area routes in the 1990s. He said he often used cheap materials from hardware stores, because he assumed only a few people would ever climb the route.
"There is some responsibility there," Pete said, adding that he would be devastated if something he put up 20 years ago broke, hurting or killing someone.
Nationwide reports of bolts failing have become more common as route usage has increased.
"We've seen several confirmed bolt failures around the world and around the country," Pete said, adding that most climbers think of bolts as infallible.
The BCC plans to to become an Access Fund affiliate, allowing them to partner on stewardship projects.
In addition to education and bolt replacement, they hope to act as stewards to the seven climbing areas in and around Spokane.
Coldiron said he hopes to organize several climbing area clean ups every year. Board members for the coalition represent a "cross-section" of the climbing community, Coldiron said. There are younger climbers, veteran climbers, boulders, big wall climbers and local business owners.
Pete and Coldiron emphasized that the BCC won't change routes and will reuse the original bolt holes whenever possible.
"We've been getting really good support," Coldiron said.
The nonprofits first official event will be held on Dec. 3 at Wild Walls Climbing gym. Money raised at that event will go toward buying bolt replacement hardware, Coldiron said.
Aaron Bower, Andrew's brother, lives in Colorado. He's continued to be amazed by the impact Andrew had on the Spokane climbing community.
"Here we are a year later now and still being blown away by the stories that we hear," he said. "It just goes to show you what a good person he was."
---