News > Spokane
Deaconess, Valley hospitals and Rockwood Health System sold for $425 million to Tacoma-based MultiCare
Thu., Nov. 17, 2016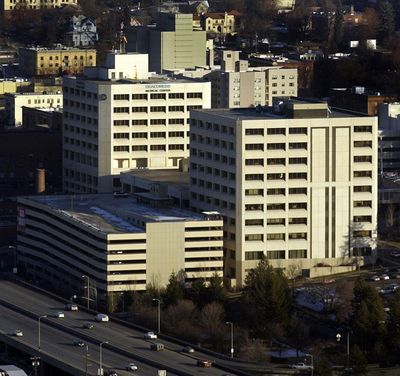 Tacoma-based MultiCare will pay $425 million to buy Rockwood Health System, which includes Rockwood Clinic as well as Deaconess and Valley hospitals.
MultiCare Health System said it will finalize the purchase of Rockwood from Tennessee-based Community Health Systems in the spring. The sale must be approved by state regulators.
"We're very excited about this going through. MultiCare is a thriving nonprofit; they initiated the conversation," said George Hampton, Rockwood's director of marketing. "They looked at us as a good buy."
Rockwood Health employs more than 3,600 people. As part of the purchase offer, all employees in good standing at the time of the sale will keep their jobs, Hampton said. "This is not a layoff situation," he said.
Community Health Systems announced in September that it was looking to sell off hospitals and clinics to pay down debt following a rocky financial performance. The for-profit company has owned Deaconess and Valley hospitals since 2008, and Rockwood Clinic since 2009.
MultiCare, a secular health system, has hospitals and clinics in the south Puget Sound area. The nonprofit is Pierce County's largest private employer, with annual revenues in the $2 billion range.
Purchasing the Rockwood system will allow MultiCare to expand its geographic reach into Eastern Washington while acquiring an organization with like-minded values, said Bill Robertson, MultiCare's chief executive officer.
"It's an organization that has good quality of care and good people," Robertson said. "Even though it was run by a for-profit for a while, it's very community-centric in its roots and perspective."
Spokane is a regional health care hub for 1.5 million people in an area that spans Eastern Washington, North Idaho and Western Montana.
The Spokane area will continue to benefit from having two competing hospital systems – Providence and Rockwood – Robertson said.
"Giving people options for their care enhances the quality of care and access to care," Robertson said. "We clearly work in places where there are other health systems. We both collaborate and compete. I think we'll find a similar experience in Spokane."
MultiCare employs more than 11,000 people. It runs three hospitals in Tacoma: Tacoma General, Allenmore Hospital and Mary Bridge Children's Hospital; as well as Auburn Medical Center and Good Samaritan Hospital in Puyallup. MultiCare also has numerous clinics.
Deaconess Hospital has 388 beds and Valley has 123. The Rockwood system also runs a network of doctors' offices and urgent care clinics across the Spokane region.
The two hospitals were acquired by Community Health Systems after their former owner, Empire Health Services, experienced deep financial losses.
Local journalism is essential.
Give directly to The Spokesman-Review's Northwest Passages community forums series -- which helps to offset the costs of several reporter and editor positions at the newspaper -- by using the easy options below. Gifts processed in this system are not tax deductible, but are predominately used to help meet the local financial requirements needed to receive national matching-grant funds.
Subscribe now to get breaking news alerts in your email inbox
Get breaking news delivered to your inbox as it happens.
---