Sports
Deer Park's Conner O'Dea making most of opportunity at quarterback
Thu., Nov. 17, 2016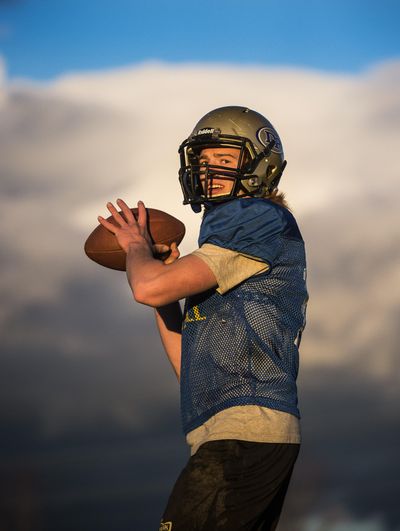 Conner O'Dea has gone from a player who couldn't earn a starting job last year as a junior for the Deer Park football team to one who rarely leaves the field this fall.
It's not that he wasn't capable of starting at multiple positions either. He ended up being the backup quarterback but was considered for linebacker, defensive back and tight end. Coach Keith Stamps also contemplated using O'Dea on the offensive line.
"He has some natural athletic ability but there were talented kids ahead of him," Stamps said. "It sounds crazy to say it now but we couldn't find the right home."
"I played pretty much everything and nothing fit," O'Dea said. "It was a little frustrating."
When the season ended last fall, O'Dea met with Stamps and asked what it would take to be the starting quarterback.
So Stamps explained that the biggest piece he needed wasn't physical.
"It was leadership," Stamps said. "He needed to throw with the receivers in the mornings and had to be a leader in the weight room. Then when spring got here he had to be outside throwing. He owned it. He got after the weight room. I don't think he missed a session."
O'Dea said he lacked something important last year.
"I wasn't very mature," O'Dea said. "It helped a lot sitting out a year (at quarterback)."
When summer rolled around, Stamps still considered quarterback an open spot. He wanted competition.
It was at a summer camp that O'Dea finally won the job.
"We have kids at camp who want to be captains give a speech to the team on why," Stamps said. "That was the hinge point for me. He took it by the reigns and ran with it by that time."
O'Dea didn't put up prolific numbers. That usually doesn't happen in Deer Park's pro style offense.
"We're not old school but we still use a tight end and fullback," Stamps said, smiling. "I don't want to say we ask our quarterback to be a game manager. I don't like that term."
But Stamps doesn't put it on a quarterback to have to win games.
Unless, of course, the team is trailing in the fourth quarter. Twice, in the Stags' two pivotal league games, O'Dea led rallies, securing an undefeated league season.
"He threw three touchdowns in the fourth quarter against Lakeside and two against Freeman," Stamps said.
The winning score against Freeman came with 22 seconds left.
"Those were the reasons why he was named the offensive (most valuable player)," Stamps said. "He's as calm in the fourth quarter as anyone I've worked with."
In seven league games, O'Dea threw for 897 yards, completing 52 percent of his throws (58 of 112). Not eye-popping numbers but he was efficient, especially in the clutch.
Through 11 games, O'Dea has thrown for 1,076 yards.
"My only goal was to have more touchdown passes than interceptions," O'Dea said.
He's thrown for nine touchdowns against seven interceptions.
"I really should only have three or four interceptions," O'Dea said.
Both coach and player marvel that he earned the starting job without throwing one pass last year.
"I did a lot of work," O'Dea said. "I worked on my footwork, throwing motion, speed. I ran a lot on the track for sprint work."
And here's the other reason why Stamps rarely leaves the field this season. The 6-foot-1, 190-pound O'Dea splits time as a starter at defensive end.
"How's that for a combination – a quarterback/defensive end," Stamps said. "That's pretty rare."
O'Dea threw three interceptions in Deer Park's 21-0 playoff-opening win against Naches Valley last week. But he got one of the turnovers back when he forced a fumble on a sack.
"He threw two interceptions in the first half. The old Conner wouldn't have recovered," Stamps said.
Deer Park (10-1) meets Zillah (10-1) in a State 1A quarterfinal Saturday at Gonzaga Prep. Kickoff is at noon.
Stamps was asked what grade he'd give O'Dea this season. He didn't hesitate.
"When you consider everything, an A+," Stamps said.
O'Dea was more critical, which is something Stamps said the quarterback had to work on.
"In years past when one thing went wrong it tended to snowball," Stamps said.
O'Dea said he'd give himself a B. "I've made a lot of mistakes. I feel like in some aspects I could have played better."
"He's grown into truly an outstanding young man and a leader in our school and on our football team," Stamps said. "He's respectful and pleasant to be around. He's the full package, one of those guys who make you proud to coach. It's been fun watching him grow. He's transformed as much as anyone I've seen."
Local journalism is essential.
Give directly to The Spokesman-Review's Northwest Passages community forums series -- which helps to offset the costs of several reporter and editor positions at the newspaper -- by using the easy options below. Gifts processed in this system are not tax deductible, but are predominately used to help meet the local financial requirements needed to receive national matching-grant funds.
Subscribe to the sports newsletter
Get the day's top sports headlines and breaking news delivered to your inbox by subscribing here.
---