Sports
Indiana Fever hire Pokey Chatman as new head coach
Fri., Nov. 18, 2016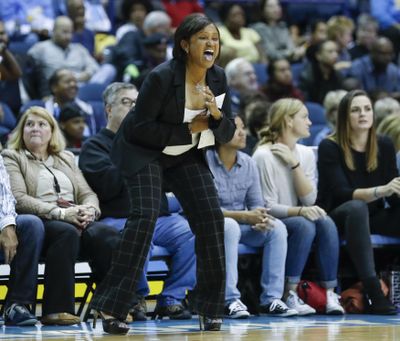 Pokey Chatman has seen how good the Indiana Fever can be from the opposing sideline. Now she'll get a chance to lead them.
The Fever hired Chatman as their new coach Friday, bringing in a WNBA veteran in hopes of continuing their annual visits to the postseason.
"I can remember when I first went to Chicago, quite frankly, I was trying to build a team to beat Indiana. What they had built was incredible and to see it from the inside out now is great," Chatman said. "They have people who have been here for 14 years in this organization. It speaks volumes to what's going on here."
Chatman will take over a team that has a rich history in the WNBA, winning a title in 2012 and reaching the playoffs for the past 12 years. Indiana was 17-17 this past year, losing in the first round. Coach Stephanie White left the Fever after the season to take over at Vanderbilt.
"My goal was to identify and hire someone who has extensive head coaching experience in the pro women's game and we are fortunate to bring Pokey to Indiana," said Kelly Krauskopf, the team's president and general manager. "Her years of coaching elite level players, both in the WNBA and in Europe, bring us great experience and leadership. Her up-tempo philosophy on offense combined with her affinity for toughness on the defensive end fits our organization. I have watched her teams and admired how her players continuously improve from year to year."
The 47-year-old Chatman was not retained by the Chicago Sky after this past season when she guided the team to an 18-16 record and an appearance in the WNBA playoff semifinals. She won 106 games in Chicago and led the team to its first-ever playoff appearance in 2013 and a trip to the WNBA Finals in 2014. Chicago made the playoffs in each of her last four seasons.
"I understand professional sports," Chatman said. "I have a lot of pride in what we were able to accomplish in Chicago in six years. I think the competitor in me is sad I didn't win a championship."
Now she has a new job nearly three weeks later.
"I'm elated and excited about it," Chatman said of the chance to lead Indiana. "I didn't really think about the time frame and how quickly it was until I read it somewhere. I'm excited about it."
The Fever will have a different look not only on the sidelines, but also on the court as longtime star Tamika Catchings retired. Indiana still has a strong nucleus with Briann Janaury (Lewis and Clark HS), Erlana Larkins, Tiffany Mitchell and Marissa Coleman.
"I don't have to reinvent the wheel here on either side of the basketball," Chatman said. "There are areas we want to enhance, but if it ain't broke we're not going to try and fix it."
Before taking over Chicago in 2011, Chatman spent 16 years at LSU, her alma mater. The Louisiana native was an assistant from 1992-2004 before becoming the head coach. She was 106-19 as the head of that program, including a 15-5 mark when she was the interim leader in 2004 when longtime coach Sue Gunter left the team because of a lung disease.
Chatman will just be the coach in Indiana. She also was the general manager in Chicago. Having one job now is something that Chatman was happy about.
"I am looking forward to just being the coach," she said. "I also am looking forward to learning from Kelly. I did have that role before. It's nice to have eyes and ears and a conversation with someone who had so much success from a learning standpoint. I welcome the opportunity to learn and just focus on the basketball half."
Local journalism is essential.
Give directly to The Spokesman-Review's Northwest Passages community forums series -- which helps to offset the costs of several reporter and editor positions at the newspaper -- by using the easy options below. Gifts processed in this system are not tax deductible, but are predominately used to help meet the local financial requirements needed to receive national matching-grant funds.
Subscribe to the sports newsletter
Get the day's top sports headlines and breaking news delivered to your inbox by subscribing here.
---