Sports
With Apple Cup on the horizon, Cougars must get over CU loss quickly
Sun., Nov. 20, 2016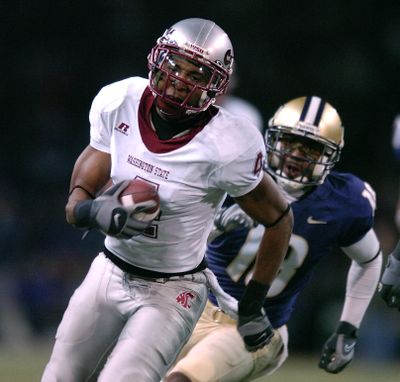 BOULDER, Colo. – The muddy lining to all the winning Washington State's football team was doing before Saturday's 38-24 hiccup at Colorado is this: The Cougars have little experience.
WSU (8-3, 7-1 Pac-12) used an easy win over Idaho and a bye week to break out of its rut when it lost the first two games of the season, and the Cougars have not lost since. Now they have to pick themselves up after an emotional loss and get ready to play the biggest game of the year, the Apple Cup, against the highest-ranked team they will face all year.
And they have one less day to prepare, since the powers that be insist the game against No. 6 Washington (10-1, 7-1) be played on the Friday after Thanksgiving.
Perhaps the game's magnitude will make it easier to flush the loss.
"I think it (helps)," linebacker Parker Henry said after the loss. "This is a feeling we haven't had in a while, and we don't want it again. We've got no choice but to flush it. Next week is a huge game, so as soon as that plane lands and we get this film done, we've got to move on."
All the games leading up to the Apple Cup held equal importance insofar as that they each played a part in creating this situation where the winner of Saturday's game is guaranteed to win the Pac-12 North division.
"You want to win every game," Luke Falk said. "You only have so many of these opportunities."
Few players from either school ever have or ever will have an opportunity like this one, however. In essence, WSU and UW are about to play a Pac-12 championship semifinal game.
The loss to CU surely stung the Cougars' psyches – it is never fun to be reminded of one's mortality in any respect. But it had no impact on WSU's ability to win its division, and set up a possible rematch with the Buffaloes in the Pac-12 Championship Game with a Rose Bowl on the line.
CU was the better team on Saturday, without question. But the Cougars had a chance to take a 21-7 lead when the Pac-12's all-time receptions leader dropped a pass he catches 100 out of 101 tries. WSU should feel good about its chances in another game against CU, which like the Cougars can lock up its division with a home win over its rival this week.
An Apple Cup with so much at stake will be a new experience for the players of both teams. Since the 2008 Crapple Cup that saw a matchup of two teams with one win between them, Friday's game will be the first Apple Cup matchup between two teams with at least eight victories.
Assuming Luke Falk does not injure himself between now and Friday (knock on wood. Knock again) this will be the first Apple Cup since 2013, and second since 2010, in which the Cougars have their regular starting quarterback available.
The Huskies are still hoping for a College Football Playoff spot, and will likely get one if they win the Apple Cup and Pac-12 Championship Game. Louisville losing this last weekend will move the Huskies up a spot in the playoff rankings, and two more games against ranked opponents can only help UW's resume.
The chance of WSU getting into the Rose Bowl with an Apple Cup loss, thanks to UW playing in the playoffs, ended with WSU's loss on Saturday. But as long as the Cougars win, it won't matter.
The Apple Cup, which has not resided in Pullman since 2012, is always a worthy prize. But it pales in comparison to the prospect of roses.
Local journalism is essential.
Give directly to The Spokesman-Review's Northwest Passages community forums series -- which helps to offset the costs of several reporter and editor positions at the newspaper -- by using the easy options below. Gifts processed in this system are not tax deductible, but are predominately used to help meet the local financial requirements needed to receive national matching-grant funds.
Subscribe to the sports newsletter
Get the day's top sports headlines and breaking news delivered to your inbox by subscribing here.
---
Subscribe and log in to the Spokesman-Review to read and comment on this story