Sports
Women's basketball: WSU suffers first loss; UW loses to No.1 Notre Dame
Sun., Nov. 20, 2016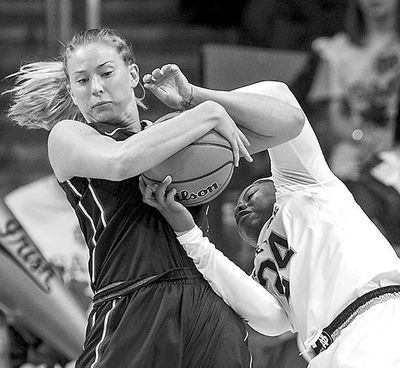 Kaylee Jenson scored eight of her 29 points in overtime to lead Oklahoma State to a 79-72 victory over Washington State in Pullman on Sunday for the Cougars' first loss of the season.
The Cougars overcame a five-point deficit in the final 1 1/2 minutes of regulation with Louise Brown scoring with 16 seconds remaining to send the game into overtime.
Borislava Hristova scored 17 points for WSU (3-1) with freshman Chanelle Molina recording her first double-digit game with 15 points. Louise Brown posted her second career double-double with 11 points and a career-best 16 rebounds.
The Cowgirls are 4-0.
(1) Notre Dame 71, (17) Washington 60: The Fighting Irish jumped to a 12-0 start and led 25-8 at the end of the first quarter en route to the victory in the Preseason NIT finale in South Bend, Ind.
Arike Ogunbowale led Notre Dame (4-0) with 17 points.
After trailing by as many as 20 points early in the second quarter and 19 late in the third quarter, the Huskies closed to 63-53 on a basket by Chantel Osahor with 5:53 left. But Ogunbowale hit a basket inside and Brianna Turner hit a free throw and scored on a rebound as the Irish regained control.
Kelsey Plum, who entered the game averaging 30 points, finished with 22 points on 7-of-19 shooting, including 2 of 6 from 3-point range for the Huskies.
Local journalism is essential.
Give directly to The Spokesman-Review's Northwest Passages community forums series -- which helps to offset the costs of several reporter and editor positions at the newspaper -- by using the easy options below. Gifts processed in this system are not tax deductible, but are predominately used to help meet the local financial requirements needed to receive national matching-grant funds.
Subscribe to the sports newsletter
Get the day's top sports headlines and breaking news delivered to your inbox by subscribing here.
---