News > Spokane
Apple Cup rally a first involving both UW, WSU
Tue., Nov. 22, 2016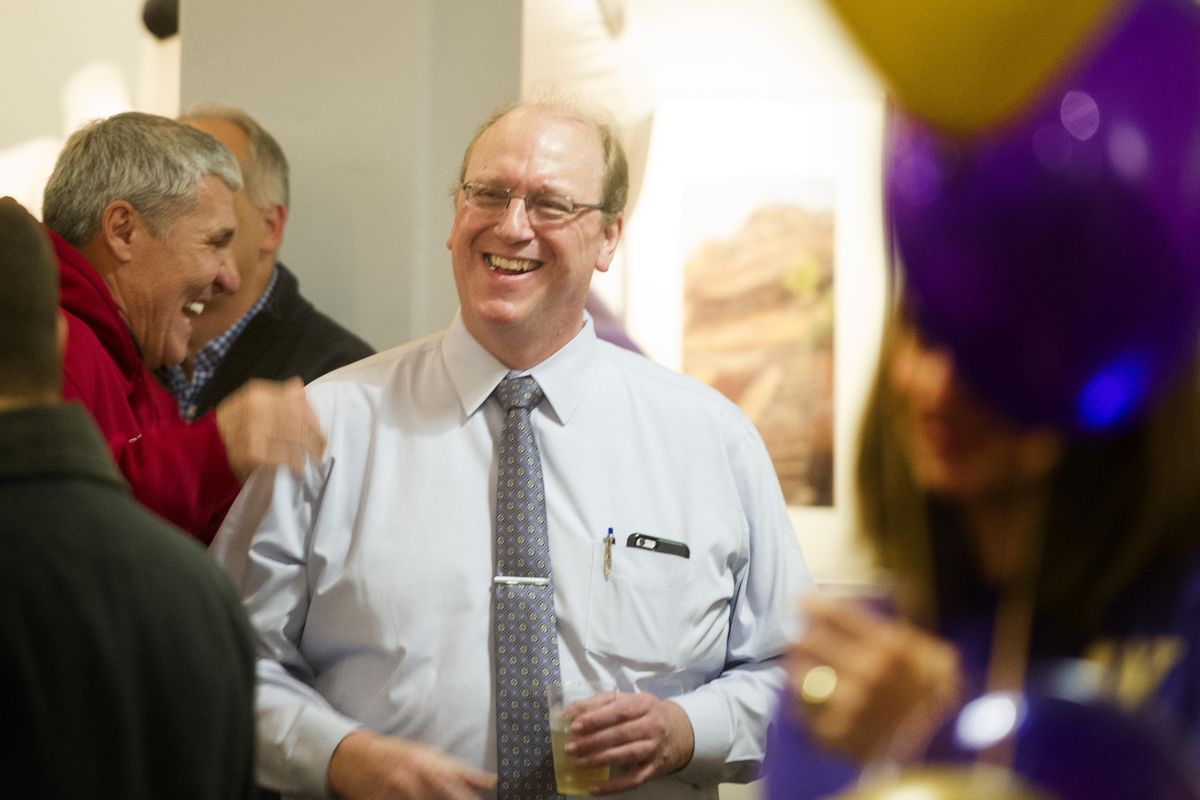 Mark Rypien, left, a former Cougar quarterback and Super Bowl MVP with the Washington Redskins, jokes with former offensive tackle and Spokane local Rob Kuharski right, during a mix-and-mingle Apple Cup event on Tuesday, Nov. 22, 2016, in River Park Square's Kress Gallery in Spokane, Wash. TYLER TJOMSLAND tylert@spokesman.com (Tyler Tjomsland / The Spokesman-Review)
Before alumni swarmed River Park Square's Kress Gallery for an Apple Cup rally Tuesday, supposed rivals Kirk Schmick and Brian Fleisher became acquaintances during the unlikeliest of events: arm wrestling.
It was a battle of the ages before Friday's battle of the ages. Schmick, a Cougar fan and Fleisher, a purple and gold die-hard since 1983, locked arms in show of strength and resilience.
It was time to settle it, here and now. Who has the better team? Whose fan base is more loyal? Whose colors look better in the fall?
The answers would have to wait.
"It was a draw," Schmick said, raising his shoulders. "So we decided we might as well have a beer together."
Dozens of fans from both universities came together Tuesday to mix and mingle before an Apple Cup that could end up being the most electric, if not important, rivalry game in recent memory. It also happened to be the first school-sponsored rally that included both universities.
The idea for the Apple Cup rally started when River Park Square staff found old Cougar and Husky banners in storage. They called Heather Byrd, who works at the WSU Health Sciences Spokane Spokane Academic Center, and she coordinated with staff of the newly opened UW Spokane Center.
"We thought, if we're going to hang banners in River Park Square, we better go big or go home," Byrd said.
And go big they did. They invited two notable alumni to speak: from WSU, Mark Rypien, a former Cougar quarterback and Super Bowl MVP with the Washington Redskins, and from UW, former offensive tackle and Spokane local Rob Kuharski.
About halfway through the engagement, Rypien was up at the podium first, and he wasted no time taking not-so-subtle jabs at the crowd, who were, to many people's surprise, mostly UW fans.
"It looks like the popular vote went to the Huskies," he said. "But the game and electoral vote will go the Cougs."
Rypien ended his speech with the Cougar fight song, which he led the crowd in singing.
"Fight, fight, fight for Washington State…"
Kuharski followed, with stories about growing up in the area and why he chose UW over WSU: "because that's where the smart people go." He then told the story about playing against Rypien in high school – he on defense and Rypien as quarterback.
"I told my dad, 'he's going to be a good quarterback one day,'" Kuharski said. "And he didn't prove me wrong."
Kuharski closed out the speech by reminding the crowd of alumni that it's just a college game, no matter who wins or loses.
"I know the kids on both sides of the ball want to win," he said. "But at the end of the day, they're kids and we should celebrate them."
And then, of course, the fans sang the Husky fight song.
"Bow down to Washington…"
Local journalism is essential.
Give directly to The Spokesman-Review's Northwest Passages community forums series -- which helps to offset the costs of several reporter and editor positions at the newspaper -- by using the easy options below. Gifts processed in this system are not tax deductible, but are predominately used to help meet the local financial requirements needed to receive national matching-grant funds.
Subscribe now to get breaking news alerts in your email inbox
Get breaking news delivered to your inbox as it happens.
---