Sports
John Blanchette: Familiar territory as Huskies prove too much for 'soft' Cougars
Fri., Nov. 25, 2016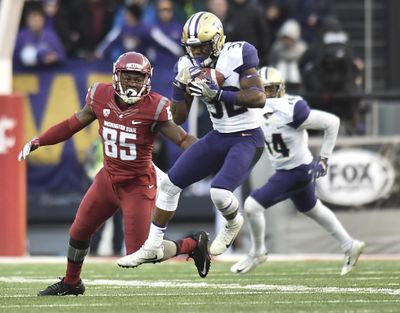 PULLMAN – Now this is incentive.
In the Thanksgiving hubbub on the eve the Apple Cup, someone in the Washington Huskies traveling party managed to break the apple off the actual cup.
This is not something that can be fixed at the Genius Bar.
And surely the last thing the Huskies wanted to do – beyond simply losing to Washington State – was hand over a damaged trophy, as it would be interpreted as sour … apples.
That left retaining it as the only out-clause.
Well, there was also a sub-clause allowing for a humiliating evisceration of the Cougars and that, too, was enabled in a 45-17 rout on Friday that, if anything, was worse than the five-touchdown shelling UW administered the year before – this one coming on Wazzu's home turf and with a date in the Pac-12 championship game at stake.
Oh, and Luke Falk played in this one, too.
Hard for a school to build a Heisman candidacy on the strength of being one touchdown better in a blowout with him than you were without him.
On the subject of Heismans, Jake Browning will not be winning this year, either. But the Huskies quarterback at least will have the consolation of 15 minutes of fabulousness that put an end to this purported showdown before any drama had a chance to build.
That was the 28-3 first quarter, when UW's 252 yards passing was the most by any FBS team in a quarter in two seasons.
So it was curious to hear WSU offensive tackle Cole Madison – who to be fair was probably just looking for the nearest exit and saying what would get him there the quickest – offer that the Cougars "just didn't finish the game today."
Finish? They never started.
They failed to cover, failed to pressure, failed to tackle. They dropped passes and Falk threw ugly interceptions. They twice had the ball inside the Huskies' 2-yard line and were stuffed on fourth down.
"We were soft," complained Wazzu receiver Gabe Marks.
Purple splash mats were cheekily placed in selected Martin Stadium urinals for this game. Then the Cougars wound up peeing down their legs instead.
Do not undersell Washington's role in this, of course. The Huskies are better at most positions, whether some Cougs want to admit it or not, but not just in flashy skill players and not just in the screaming difference between the two secondaries. Washington won this one big on big, and that will make for some uncomfortable film evaluation this next week.
"They're a very talented team," said WSU coach Mike Leach. "I don't think it's a big secret on recruiting within the state who typically comes out on top, but we've beaten plenty of teams more talented than us this year. We don't have any excuses for that."
For an excuse – or explanation – Leach dialed up a favorite chestnut: the Cougars being quick to press (which was likely the case) and to "make more out of it than what it was.
"We were too quick to try to do too much. Everybody highly motivated, very excited. We tried to do the whole 'extra' stuff. Well, there isn't no extra. It's funny because you guys always (ask) is there all this extra stuff you're going to do when you play them. No, you do your job."
Well, maybe it's become his job to find some extra stuff.
Because in three Apple Cups against Washington coach Chris Petersen, Leach's teams have been outscored 121-40. But, hey, Leach has managed to coin a funny nickname for Petersen – "the Bishop" – so he's ahead on that scoreboard.
The goal-line stands will likely define this game, even though Cougar TDs would have only made things a little more interesting. Leach himself second-guessed running the ball "because it's something they're strong at."
Madison echoed Marks' "soft" analysis – which suggests someone of authority used that language in the locker room, too. Petersen insisted he thought WSU would run – "which they should. (Our) guys answered it."
The Cougars didn't answer.
Leach teams, for all their happy overachieving, have trouble with that in the big-game twilight of November – the 2008 blowout at the hands of Oklahoma when 10-0 at Texas Tech comes to mind, as does last year's pratfall at Washington and this opportunity in what could have been a pivotal moment in the rivalry.
If that moment still exists, it's been postponed.
What the Cougars do have ahead is a bowl trip of no special substance. Yes, bowls are the benchmark for college football success, except what's really valued by the coaching staffs is not one more chance to play but one more month to practice.
"I just wish we would have had another game besides," Leach admitted.
Too bad the Pac-12 doesn't have a third-place game. Imagine what the trophy for that would look like.
Local journalism is essential.
Give directly to The Spokesman-Review's Northwest Passages community forums series -- which helps to offset the costs of several reporter and editor positions at the newspaper -- by using the easy options below. Gifts processed in this system are not tax deductible, but are predominately used to help meet the local financial requirements needed to receive national matching-grant funds.
Subscribe to the sports newsletter
Get the day's top sports headlines and breaking news delivered to your inbox by subscribing here.
---