News > Spokane
Christmas Fund technology upgrade should make it easier for recipients
Sat., Nov. 26, 2016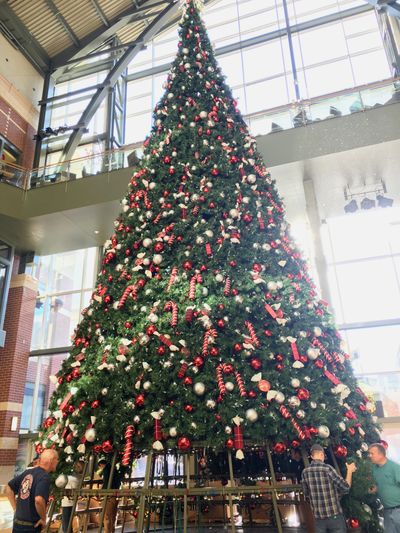 A big change is coming to the Christmas Bureau this year.
Organizers are using a new computer program to streamline the process for recipients.
The plan is to eliminate the need to wait in two lines, and for the hand-written intake cards that were used.
"I think it's going to be better for the recipient and easier for the volunteers to use," said Christmas Bureau Coordinator Judy Lee, with Catholic Charities Spokane. "It's sort of like one-stop shopping."
It was developed by Mike Fischer, of Spokane IT Solutions, who does all in-house IT for Catholic Charities Spokane.
Fischer, known as "The Computer Guy," said it's been a work in progress for about six months.
"We're trying to make it as easy and streamlined as possible so there's less time fighting with software and more time helping people," he said. "The bulk of the program is really straightforward."
At the Christmas Bureau, which provides assistance to families in need during the holidays, recipients will be welcomed at computer stations where volunteers will verify their household information – how many adults and children there are living at the address – and input the data into the new program.
Fischer said recipients can be assured the information they provide at intake is secure. The new program also will ensure donor dollars stretch as far as possible, as it will make it easier to prevent mistakes and duplicates.
Once they're entered, each recipient will immediately receive a printed gift certificate for their household, meant to purchase a special holiday meal. The gift certificate will be good at any of five participating grocery stores: Fred Meyer, Safeway, Albertsons, Rosauers and Yoke's.
They also will receive a printed gift ticket to pick out one new book and new toy for each child in the home. Those without children living with them will receive candy and new winter gloves, in addition to the grocery voucher.
While hopes are high for the new program, there was initially some apprehension.
The old program had been in place for a long time, and many bureau volunteers are retirees who may initially struggle with new technologies, said volunteer Paul Dorning, a key leader for computers and intake.
However, he said, once they saw the demonstration, they recognized it is actually much better than the old program.
"It really is a lot nicer," he said. "It's intuitive. It's just much easier to use. The old system was not intuitive at all."
Donations from the community made the new and improved program possible. Ultimately, the implementation reflects a dedication to making the Christmas Bureau experience seamless and efficient for the thousands of recipients that visit each year.
"We are service oriented," said volunteer Hal Ellis, a computers key leader. "We want their experience to be as positive as possible."
Local journalism is essential.
Give directly to The Spokesman-Review's Northwest Passages community forums series -- which helps to offset the costs of several reporter and editor positions at the newspaper -- by using the easy options below. Gifts processed in this system are not tax deductible, but are predominately used to help meet the local financial requirements needed to receive national matching-grant funds.
Subscribe to the Coronavirus newsletter
Get the day's latest Coronavirus news delivered to your inbox by subscribing to our newsletter.
---