Sports > Gonzaga basketball
TV Take: Gonzaga finds a way to hold off Iowa State's 'unbelievable' comeback
Sun., Nov. 27, 2016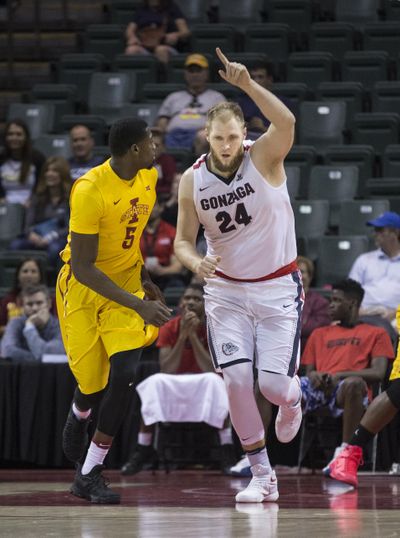 As Gonzaga was frittering away all but one point of what had been an 18-point lead over Iowa State on Sunday, amazement seemed to be the one feeling Dick Vitale and ESPN broadcast partner Mike Morgan could agree upon. Unless it was a sense of unbelievability. For some Gonzaga fans on social media, however, they seemed resigned to it. There were tweets of "oh, for crying out loud," or "only ones not stunned by this comeback are, surprise!, Gonzaga fans." And when the 11th-ranked Zags held off the Cyclones 73-71, to win the AdvoCare Invitational championship, the response seemed to be one of relief, not joy. "Blow a giant lead, pull a win in the last few seconds. Welcome to Gonzaga basketball," was Catherine Van's reaction. And Ian Cull added "Wow. Zags beat Iowa St 73-71. This is a new kind of GU team…that can hold onto a lead (barely there). Finally!" Even just-graduated Gonzaga star Kyle Wiltjer chimed in, with a "now I understand how fans feel" tweet. The sentiment is understandable. The Bulldogs (6-0) were nearly perfect in the first half, hitting 8-of-12 3-point shots, handing out 13 assists on their 20 assists and building a 49-34 lead. The 21st-ranked Cyclones, featuring All-Big 12 performer Monte Morris, had no answers to tournament MVP Nigel Williams-Goss (12 points on four 3-pointers in the first 20 minutes) and Przemek Karnowski (10 points, five rebounds and four assists before halftime). They found the answers at halftime, though Vitale and Morgan took a while to notice. While Gonzaga was building the lead to 18, thanks in large part to the play of "Goss-Williams," as Vitale referred to him more than once, the ESPN crew seemed hell-bent on talking about anything but the game in front of them. While Vitale was lobbying for Michigan's inclusion in the college football playoffs (until he remembered Gonzaga was in Washington state and there might be some Husky fans watching – don't worry Dickie V, that's not a problem), the Cyclones (5-1) were reeling off nine consecutive points. From there, Iowa State just kept coming, riding Deonte Burton – he finished with a game-high 29 points – en route to 15 consecutive points. The Cyclones were helped, in large part, by Gonzaga getting away from everything good it was doing before halftime. At least that's how Mark Few saw it in his postgame, on-court interview with Andy Katz. "They've got a bunch of seniors that have won a bunch of games (and) they've got a lot of pride," Few said of the Cyclones. "They were much more aggressive than us on both ends." That caused the Zags to get "really tentative on the offensive end," Few said. With 17 minutes, 16 seconds left Josh Perkins hit a 3-pointer, the Zags' 11th of the game. It gave them a 58-40 lead. The Cyclones called a time out and proceeded to go on the 15-point run over the next 4 minutes. Gonzaga stopped moving, the passes quit finding open men – GU had just five assists after halftime – and turnovers started to mount – six in the second half. But as Morgan and Vitale focused on the comeback and expressed their amazement, the Bulldogs held on. All it took was three clutch free throws from freshman Zach Collins, and a couple key stops, including on the final possession when Iowa State had a chance to win or tie. Williams-Goss finished with 18 points – on 6-of-10 shooting – while Karnowski had 11, eight rebounds and five assists. Josh Perkins took more than his share of ill-advised second-half shots but still finished with 12 points. The total included a late steal and layup helped by a loose ball caroming off official Raymie Styons, causing Vitale to exclaim, "that's an assist for the zebra, baby." It may have been the only one Gonzaga received. "We also showed some resiliency, some pride, some toughness," Few told Katz while his team was accepting its their third championship trophy in three Orlando Thanksgiving trips. "When momentum is going against you, it isn't easy to flip the switch and come back to win." And that's why Few loves to play in these made-for-television tournaments. "They are an awesome opportunity to grow," he said. "You play high-level competition … and learn a lot about your team." What did the fans learn? Maybe Connor Gall expressed their sentiment when he tweeted, "these ain't ya daddy's Zags." That's easy to believe.
Local journalism is essential.
Give directly to The Spokesman-Review's Northwest Passages community forums series -- which helps to offset the costs of several reporter and editor positions at the newspaper -- by using the easy options below. Gifts processed in this system are not tax deductible, but are predominately used to help meet the local financial requirements needed to receive national matching-grant funds.
Follow along with the Zags
Subscribe to our Gonzaga Basketball newsletter to stay up with the latest news.
---