News > Spokane
Bonners Ferry has new flagpole at Canadian border
Mon., Nov. 28, 2016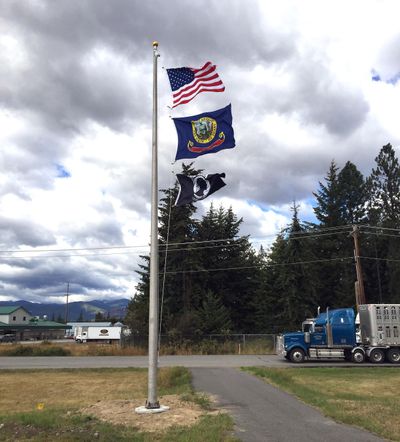 Transportation, local trades workers and border staff in North Idaho have teamed up to erect a flagpole at one of the international ports of entry with Canada.
Reed Hollinshead, communications officer with the Idaho Department of Transportation, said that since the Bonners Ferry Port of Entry was established more than 20 years ago there has always been something missing: a flagpole.
Port of Entry inspector Tom Chaney, along with Idaho transportation staff, requested the flagpole to carry the flags of the United States, state of Idaho and MIA/POW emblem.
Local businesses and their workers contributed to the project.
"Transforming the port's physical environment has helped make it a desired destination," Philip Youngman, the port's senior inspector, said in a news release.
"We all witnessed the physical progress from breaking ground on this project to seeing the flag flying high. It is a great reminder of why we do what we do," he said.
"Witnessing the colors on display outside the observation window has nurtured a feeling of accomplishment," Youngman added.
Transportation staff members worked on the project in addition to their regular highway duties, Hollinshead said.
Elsewhere in North Idaho, workers are removing trees along state Highway 41 north of Spirit Lake. Work over the mile-long section of highway began Nov. 21 and should continue until Friday .
Most of the work is on the southbound side of the highway. Workers are expected at the site from 7 a.m. to 4 p.m.
Work crews prep for final street push
In Spokane, work on 37th Avenue from Regal to Custer streets will resume Monday for final concrete pouring. Landscape work will be partly finished this fall and then fully completed next spring.
Indiana Avenue has reopened from Dakota to Perry streets following reconstruction and stormwater work.
Elsewhere, leaf pickup is occurring across the city.
The reconstruction on Monroe and Lincoln streets downtown is nearly finished for the fall season, with traffic lights and streetlights getting installed last week. Work on the final paving layer will wait until next spring.
Valley roads close for utility work
In Spokane Valley, Cowley Avenue between Corbin and Long roads will be closed 8 a.m. Monday through 5 p.m. Tuesday for utility work.
The traffic light at Sprague Avenue and Conklin Road will be out of service through Tuesday. Traffic restrictions are in place there.
Also, traffic restrictions remain on the Sullivan Road bridge project.
Local journalism is essential.
Give directly to The Spokesman-Review's Northwest Passages community forums series -- which helps to offset the costs of several reporter and editor positions at the newspaper -- by using the easy options below. Gifts processed in this system are not tax deductible, but are predominately used to help meet the local financial requirements needed to receive national matching-grant funds.
Subscribe to the Coronavirus newsletter
Get the day's latest Coronavirus news delivered to your inbox by subscribing to our newsletter.
---