News > Pacific NW
Triple murderer John Lee files new appeal
Wed., Nov. 30, 2016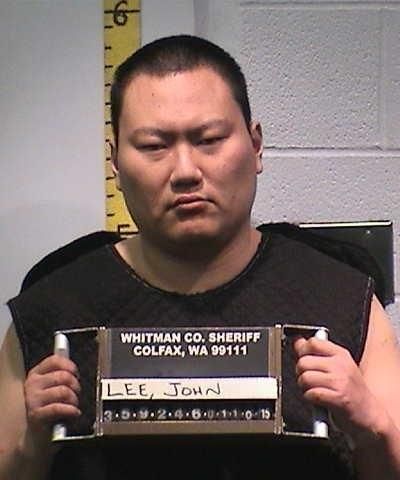 MOSCOW – Convicted triple murderer John Lee is appealing his case to the Idaho Supreme Court for a second time, despite waiving his right to appeal in a plea agreement he accepted earlier this year.
Lee, 31, filed a second notice of his intent to appeal this week in Latah County 2nd District Court. He also filed documents responding to prosecutors' arguments that there is "no legal or factual basis" for his move to withdraw his guilty pleas, and allegations that Latah County Jail deputies caused him "mental and emotional torture" while he was being held there.
As part of a plea agreement that Lee accepted in March, he entered Alford pleas to three counts of first-degree murder and one count of aggravated battery stemming from the January 2015 shooting spree that killed three people and injured a fourth. The victims were Lee's adoptive mother, Terri L. Grzebielski, 61; his landlord, David M. Trail, 76; and Moscow Arby's manager Belinda G. Niebuhr, 47. Seattle resident Michael M. M. Chin, 40, was injured.
By entering Alford pleas, Lee did not admit guilt but acknowledged there was enough evidence to convict him.
The plea agreement spared Lee the death penalty, and he was sentenced in May to life in prison without the possibility of parole. Lee has served six months of his life sentence.
Lee also waived his right to appeal as part of the plea agreement, but he filed an appeal with the Idaho Supreme Court in July. That appeal seeks to rescind the plea agreement, Judge John R. Stegner's objection to trying the case in mental health court and Lee's own waiver of a speedy trial. The Idaho Supreme Court has not yet responded to the appeal.
The plea agreement additionally does not allow modifications to his sentence. Lee's request to reduce his sentence was denied in October in an order by Stegner.
Lee's latest appeal asks the Idaho Supreme Court to consider if the Latah County court imposed an excessive sentence, and if the court erred in denying Lee's motion for a sentence reduction, according to court documents filed this week.
Lee also filed a seven-page handwritten response to Senior Deputy Prosecutor Mia M. Vowels' arguments against his motion to withdraw his guilty pleas.
Lee initially filed the motion in late October, shortly after Stegner denied his request for a reduced sentence. He argued that "noises" were affecting his decision-making and that he felt he didn't have "free will," but Vowels asserted that Lee was found to be psychologically competent at both his plea hearing and at sentencing.
In his response filed in court this week, Lee continues to argue he was "not in the right state of mind" when he entered the Alford pleas.
"The prosecutor claims there is nothing on record to support my claim about not being in the right state of mind and having noises effecting (sic) my decisions, also not having free will," Lee wrote. "I ask how would noises in my head be recorded on record?"
The motion also states that psychologists reported Lee "very well may have hallucinations including auditory," he wrote, adding that he "should have been medicated."
Lee also argues that he asked his attorneys to withdraw the pleas "well before sentencing."
"My own legal team not doing what I asked and allowing someone in my mental condition to proceed should in my opinion qualify as a manifest injustice," Lee wrote.
In a three-page handwritten affidavit, Lee also alleges that he was "threatened or coerced" into accepting the plea agreement, despite prosecutors arguing otherwise. While in custody at the Latah County Jail, Lee alleges that corrections deputies used "illegal methods" against him, including playing loud noises around him despite his sensitivity to sound.
Lee is incarcerated at the Idaho Maximum Security Institution at Kuna.
Local journalism is essential.
Give directly to The Spokesman-Review's Northwest Passages community forums series -- which helps to offset the costs of several reporter and editor positions at the newspaper -- by using the easy options below. Gifts processed in this system are not tax deductible, but are predominately used to help meet the local financial requirements needed to receive national matching-grant funds.
Subscribe to the Coronavirus newsletter
Get the day's latest Coronavirus news delivered to your inbox by subscribing to our newsletter.
---
Subscribe and log in to the Spokesman-Review to read and comment on this story