News > Features
Centenarian: Kent Collings of Spokane Valley celebrates 100th birthday
Sat., Oct. 1, 2016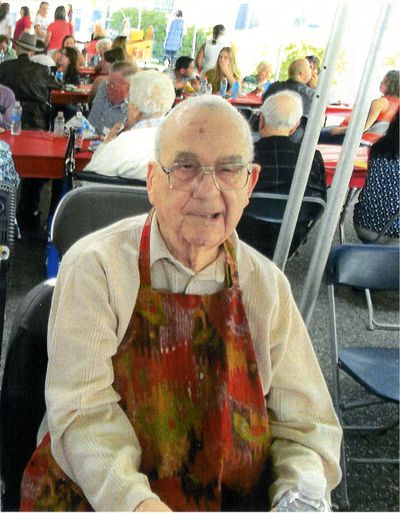 Kent J. Collings
Spokane Valley
Kent J. Collings celebrated his 100th birthday Saturday.
Born Oct. 1, 1916, in Cleveland, Collings lives at the Orchard Crest Retirement Community in Spokane Valley and has lived in Eastern Washington for 13 years.
Collings met his first wife, Ruth, in college, and the pair married in 1936. They were married for 70 years. He met his second wife, Lorraine, at Orchard Crest. They have been married since 2012.
Collings was in the U.S. Army for 25 years and served in World War II, Korea and Taiwan. He then spent 24 years at the University of Portland as a professor and dean. He also has a doctorate in business administration.
His most memorable moment in history from the past 100 years was when the atom bomb was dropped on Japan.
Collings credits his long and healthy life to good treatment from both of his wives.
He has three children: Larry Collings, of Anacortes, Washington; Judy Schmidt-Gray, of Spokane; and Homer Carroll, of New York. He also has six granddaughters and eight grandchildren.
Local journalism is essential.
Give directly to The Spokesman-Review's Northwest Passages community forums series -- which helps to offset the costs of several reporter and editor positions at the newspaper -- by using the easy options below. Gifts processed in this system are not tax deductible, but are predominately used to help meet the local financial requirements needed to receive national matching-grant funds.
Subscribe now to get breaking news alerts in your email inbox
Get breaking news delivered to your inbox as it happens.
---