EWU storms back to defeat UC Davis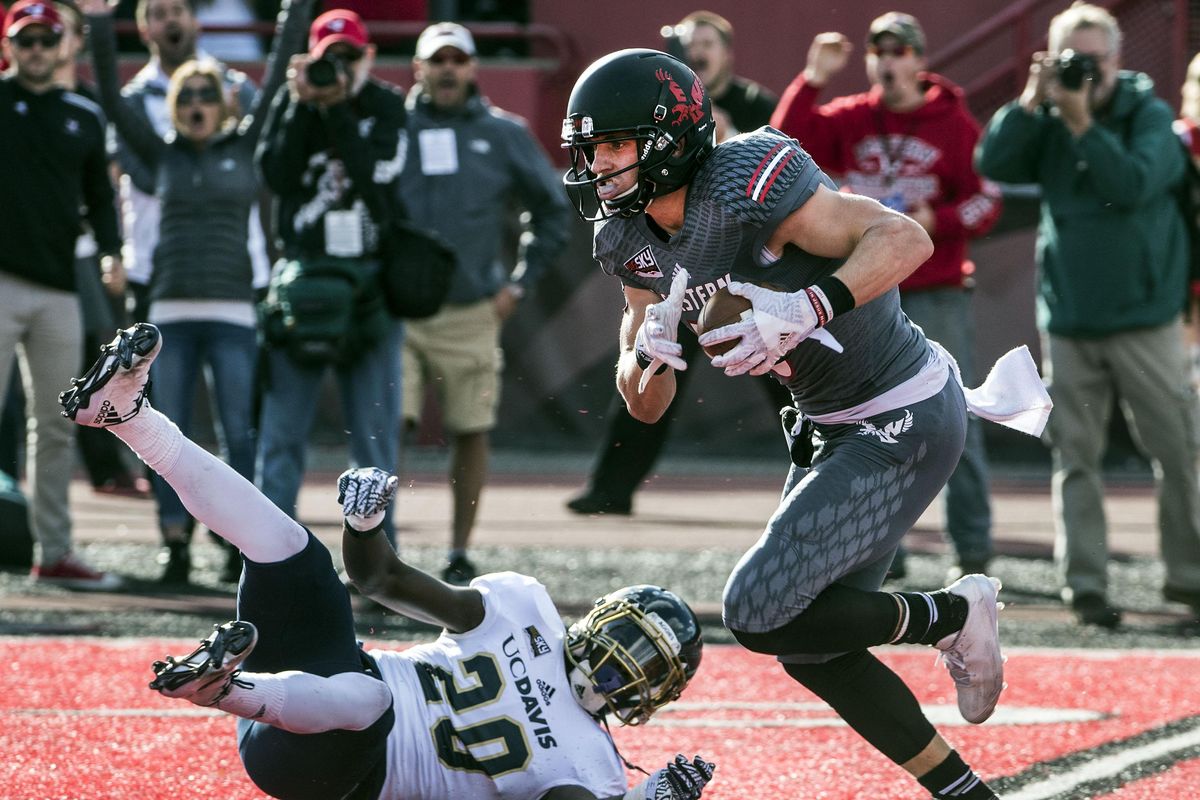 Leave it to Eastern Washington to wring every ounce of excitement out of a 33-point win.
On Saturday afternoon at Roos Field, 10,741 fans were shaking their heads at halftime but nodding with approval at the end of a 63-30 Big Sky Conference win over UC Davis.
"Sometimes we just have trouble getting going," wide receiver Shaq Hill said. "I think we woke up in the second half."
This game was wire-to-wire only if you count the last 22 minutes. Until then, the fourth-ranked Eagles were in survival mode against a team picked to finish last in the conference.
With their team down 23-14 at halftime, some Eagles fans were understandably late to the second-half party. It opened with two touchdowns in the first four minutes and got into full roar with five more in the next 13 minutes.
When it was over, the Eagles were celebrating their highest point total in 15 years. Not since a 63-35 win over Cal State Northridge in 2001 had they put this many on the board. It would have been more, but the Eagles filled the field on both sides of the ball for the last 11 minutes.
All that from a team that was thoroughly outplayed for most of the first half. An early 14-0 lead turned into a nine-point deficit after 17 minutes of meltdown in all phases.
Then the Eagles repaired to the locker room to get the necessary adjustments, technical and otherwise, from coach Beau Baldwin.
"Coach always gives a great halftime speech," said Hill, who responded with two touchdown catches that bookended the scoring in a remarkable second half.
Baldwin discounted the effect of his halftime pep talk on his team improving to 4-1 overall and 2-0 in the conference.
"The main thing I told them was that it (the score) doesn't matter," he said. "I don't like coaching in reverse, and I don't like living in reverse. "We were just looking to play better than our opponents in the next 30 minutes."
Taking advantage of a short field after Antoine Custer's long kickoff return, quarterback Gage Gubrud shook off a mediocre first half by driving the Eagles 45 yards for a score.
The Eagles did again after Mitch Fettig's interception at midfield. Four straight completions moved Eastern to the Davis 1, where Gubrud took it in for a 28-23 lead.
So much for replacing Gubrud, as Baldwin did in a 34-30 comeback win over Northern Iowa two weeks ago.
"We definitely wanted to go into the third quarter and see where Gage was, and he answered that right from the get-go," Baldwin said. "We adjusted some things we were doing to try to put him in the right situation to have success. He was able to go make the plays."
Gubrud was making every play in the third quarter, completing 18 of 22 passes for 254 yards and also keeping drives alive with his legs.
Davis (1-4, 0-2) briefly regained the lead, but momentum had shifted – just as it did in the comeback win at Northern Arizona last week.
Trailing 30-28, Eastern took the lead for good on Gubrud's 4-yard touchdown pass to Kendrick Bourne with 7:07 left in the third quarter. Five minutes later, Tamarick Pierce scored from the 1 and the Eagles began to pull away.
"We did respond and it was explosive," said Baldwin, who got 627 yards from his offense and another second half of lock-down defense.
"It took all facets to do that, whether it was another big kickoff return, turnovers on defense or scoring on defense. Scoring 35 in the third quarter was kind of crazy. I don't look at it as pounding our chest, I look at it as what do we need to do better when we get a 14-0 lead."
---