Cats, dogs and cockroaches get special blessings at Spokane churches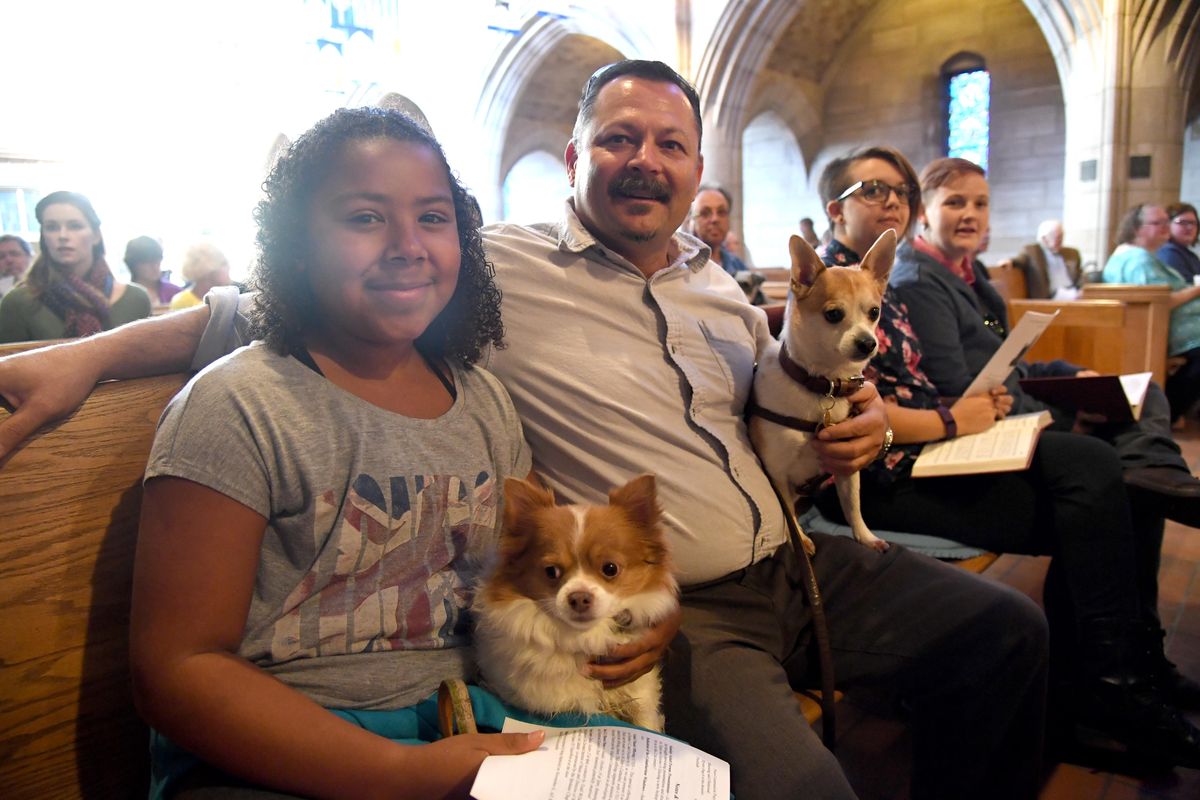 From the pews in the back of St. Mark's Lutheran Church, the pastor's voice sounded a bit muffled – drowned out by a chorus of panting dogs.
The South Hill church looked like an animal shelter Sunday morning as congregants filed in gripping leashes and tennis balls, furry friends trotting beside them. The pets, mostly dogs, were brought there to receive a special blessing in celebration of St. Francis Day.
"It's my feeling that if they didn't have pets in heaven, I wouldn't go," said Carolyn Casey, who brought her 4-year-old goldendoodle, Emma, to be blessed at the church.
That was one takeaway from pastor Eric Dull's sermon, which was punctuated with barks, yips and the occasional growl. Like relationships among people, relationships with animals offer important life lessons, Dull told the congregation.
The annual pet-blessing service may seem "just a little bit crazy," Dull said. "We're never quite sure what the proportion of growling and barking will be, or what the proportion of purring and hissing will be. And that's just the humans," he quipped.
There were a few cats at St. Mark's on Sunday, including an orange tabby named Tiger, who got "a little upset" around all the dogs, said his owner, Austin Shute.
But cats weren't the only creatures hissing.
Fred Stahl, a substitute science teacher, sought blessings for 10 of his Madagascar hissing cockroaches, which he carried in a plastic fishbowl-like container. The largest, a 3-inch roach named Big Mama, clung to Stahl's polo shirt for much of the service.
"The kids just love learning about these things," he said before getting in line with the other pet owners.
After taking Communion, churchgoers brought their pets before a pastor one at a time. In addition to the cats, dogs and cockroaches, there was a chicken named Connie and a 7-month-old puppy named Remy.
Cindy Fiut rescued Remy from a shelter six weeks ago. One of the puppy's front legs is broken and bound in a cast, so she hobbled through the Sunday service.
"She needs this," Fiut said of Remy's blessing. "She's had a rough start."
Similar services were held Sunday at the Cathedral of St. John the Evangelist and other locations in Spokane to honor St. Francis of Assisi, a 13th-century Italian monk who preached about animals and the environment.
---