Hot air balloonists look to young people to sustain sport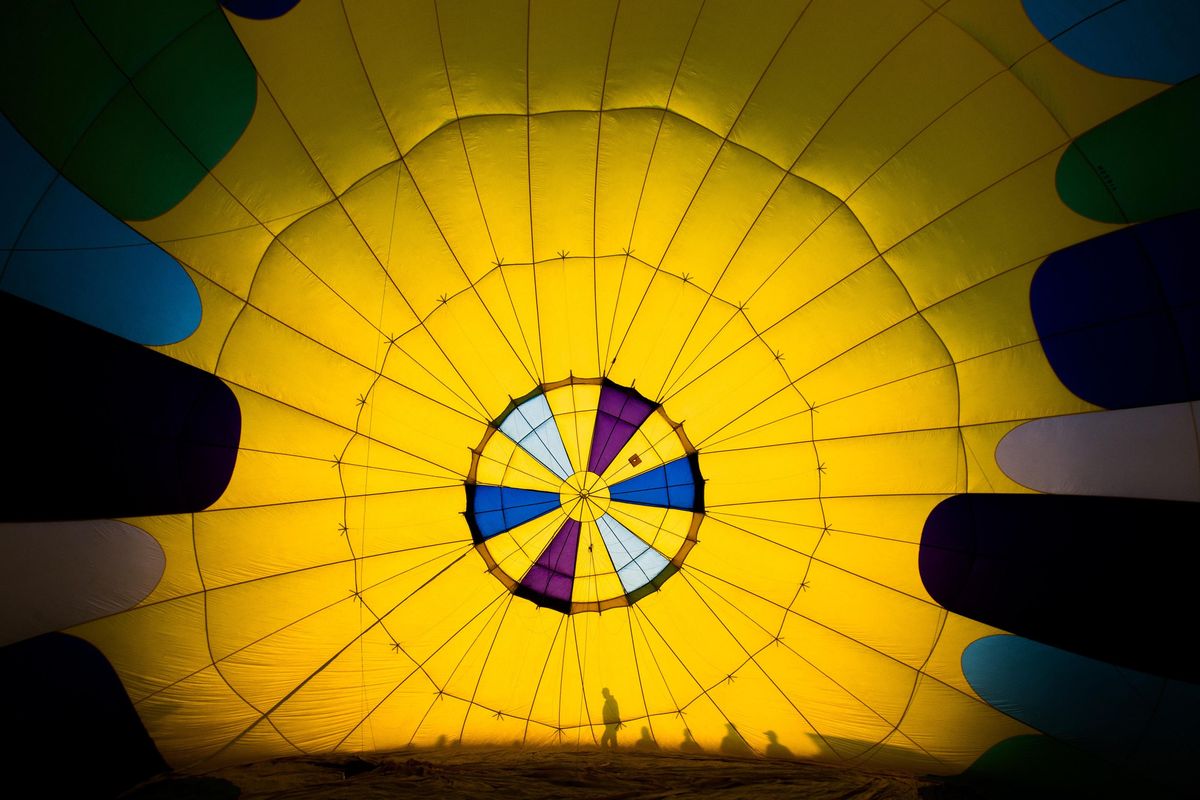 PROSSER, Wash. – For most people, the best part of turning 16 is getting their driver's license.
McKenna Secrist's 16th birthday in July came with a hot air balloon pilot's license instead, reported the Yakima Herald-Republic.
"I always said when I grew up I would be a pilot," she said. "I loved it so much."
Secrist joined more than a dozen hot air balloon pilots at the Great Prosser Balloon Rally, where they fired up their colorful conveyances at the Prosser Airport.
The Bothell teen is a welcome addition to a pastime that often struggles to recruit younger enthusiasts to replace retiring pilots.
"A lot of the younger folks have a hard time getting up in the morning," said 66-year-old pilot Tim Gale, who's based in St. Helens, Oregon, and wore his "Geezer Air" T-shirt to the rally.
He and his wife got their first balloon in 1979, and they say they plan to stay in the business until they stop having fun.
Shari Gale, also 66, said they just bought a new balloon and that it should survive 300 hours of flying time.
"If we put on 10, 15 hours in a year … we'll be old, old, old by then," she said. "This'll probably be the last balloon."
The tight-knit pilot community is one of the reasons the Gales enjoy flying so much.
"Ballooning is like we've got all these family members we're not related to," Shari said.
Since flying conditions are best around sunrise, balloonists have to get used to waking up at 4 a.m. on the weekends.
"You really have to get bitten by the bug," Shari said. "If I had my way, I'd be back hugging my pillow right now. But once I'm up, it's worth it."
Secrist said the early rising can be tough. But she agrees it's worth the effort.
"Plus you get Starbucks afterwards," she said.
Secrist was drawn to the sport at a young age. She remembers begging her parents to go chase after the hot air balloons she saw flying around her hometown. Before long, she started "crewing" for a pilot, helping with the setup and take-down, and that pilot began teaching her the basics.
At 14, she bought her first balloon, with help from her dad. It cost as much as a used car.
"I pretty much saved for my whole life," she said, eventually socking away thousands of dollars from baby-sitting and any odd jobs she could find.
While she's got her private pilot certificate already, she's hoping to earn her commercial license by her 18th birthday so she can start teaching others to fly and take people up for paid trips.
Cost is a huge barrier to entry into the sport, said Jesse Rafn, 29, who was usually the youngest pilot in the room until Secrist came on the scene here in the Pacific Northwest.
The entire balloon system can cost anywhere from $4,000 to $35,000, he said, which doesn't often fit into young adults' budgets when they have limited income and many other pressing bills to pay, such as student loans.
"That's the main thing keeping young people away," the Wilsonville, Oregon, pilot said. "(Ballooning) is a fun thing, but it's like a boat in the air – you're just throwing money at it."
The ballooning community, which only amounts to about 5,000 pilots in the country, is working on ways to defray the startup costs for younger pilots to encourage participation, Rafn said.
For a while, he said, he was worried the sport might die out significantly with retiring pilots.
"We're really trying to work on the youth movement in the community and bringing new blood into the sport," he said. "There's a small amount of us, but we're growing, slowly but surely."
It's all about finding the right people – those who want to invest the time, energy and money to learn to be safe and competent pilots, he said.
People like Secrist.
"It's super fun; there's a great community of balloonists, and we have a great time together," she said. "It's so awesome."
---