Vin Scully calls final game of Hall of Fame broadcasting career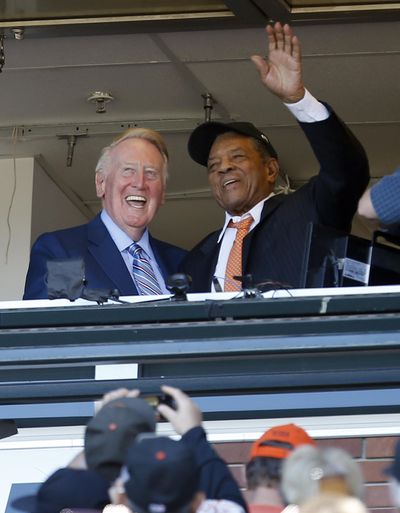 SAN FRANCISCO – Vin Scully's iconic voice on the videoboard welcomed a sellout crowd to Game No. 162, the regular-season finale, yes, and more notably the last of his decorated, Hall of Fame broadcasting career.
"It's time for Giant-Dodger baseball, the greatest rivalry in all of professional sports," Scully declared.
Scully attended morning Mass in the ballpark as is his usual Sunday routine and then headed for his booth to work as he has done for an astounding 67 years – exactly 80 years after he became a Giants fan at age 8 in the Bronx.
"It was as if it was ordained," Scully said during San Francisco's 7-1 win that secured the Giants the second N.L. wild card. "I hope you're enjoying it and I hope I'm not interrupting it too much."
San Francisco manager Bruce Bochy cherished his chance to visit with Scully last week at Dodger Stadium, and to be part of Scully's special farewell Sunday.
"This is his last game, and we're honored to think he'd come up here, 80 years to the day that he became a Giants fan," Bochy said. "That's pretty amazing, isn't it? Not just a tremendous body of work but how long he's been doing it and how great he still is. So it's pretty cool."
Fans in the sellout crowd turned to look up at Scully with their standing ovation and held signs as a Scully video welcomed fans on the scoreboard shortly before first pitch at AT&T Park, where he has been riding in and out of the ballpark on Hall of Famer Willie Mays' golf cart and had some time to reminisce with the Say Hey Kid on Saturday.
The 88-year-old Scully politely declined any kind of on-field celebration offered by the Giants. San Francisco then jumped to a 2-0 lead in the first.
"Just as it has been for two years, the Dodgers are in trouble at AT&T Park," Scully said. "The sun has broken through the clouds and it is shining on the Giants for the moment."
Scully's booth featured a special security detail all weekend, and Scully had several personal drivers to get around the city. He handled the Giants' broadcast in the third inning, then said while San Francisco fans might consider it no big deal, it was for him, noting his appreciation of the thoughtful gesture.
The Oakland Raiders took out a full-page ad in the San Francisco Chronicle honoring Scully with the NFL team's longtime catchphrase, "Commitment to Excellence."
"VIN MISS U ALREADY" one sign blared. The media cafeteria featured cupcakes with an edible message of "Thank You Vin" with a tiny microphone.
Scully offered some memorable phrases early in his finale:
During Hunter Pence's first-inning at-bat, Scully noted, "He would make coffee nervous. … He's just been a wild man swinging the bat this series." Scully noted later in the broadcast Pence is one of his favorite players because "he tries so hard," but noted the right fielder is trying too hard right now.
"A room-service fly ball to Angel Pagan," he called Adrian Gonzalez's fly to left in the second. Later, Scully described Pagan's "piercing eyes."
Fans received a special poster with a photo of Scully in an orange sport coat that read:
"VIN SCULLY FINAL MLB BROADCAST.
SEASONS 67 BROADCASTS 9,000+ BASEBALL FAN 80 YEARS
LA VS SF
October 2, 2016"
On back, it read, "THANK YOU VIN"
Even the out-of-town scoreboard beneath the right-field arcade paid tribute with "THX" in one slot and "VIN" below it.
Giants CEO Larry Baer and Mays presented a plaque to Scully before the top of the fourth, and Scully apologized for coming back tardy to the broadcast.
"There's a game going on," Scully said, "Thank you, Larry." He went on to express his gratitude for the Giants' hospitality all weekend with him and his family.
In the middle of the inning, Giants fans stood again to honor Scully as Frank Sinatra's "My Way" played. Scully, Mays and Baer were shown on the video board, and the Giants announced a plaque to be hung in the visiting broadcast booth.
Everybody involved seemed to appreciate the moment, being a tiny part of it or simply playing witness to the end of an era in baseball.
"It's hard to repeat what happened last Sunday at Dodger Stadium, but the finality now, Dodgers-Giants, I know there might be a tear in Vin's eye," Dodgers manager Dave Roberts said. "To be a part of what he's done in his last game, I'll give him a little salute at some point."
Afterward, Roberts called it a "huge honor" to be part of Scully's finale and also a "sad day, but it's something that definitely should be rejoiced. He's had an amazing career."
Scully told his story once more of going to games at the old Polo Grounds, the tale of the "little red-headed kid walking by a Chinese laundry, 8 3/4 leaving grammar school on his way home. … I just fell in love with baseball."
Mike Krukow and the other Giants broadcasters told Scully how much they loved him and led "Take Me Out to the Ball Game" in the adjoining booth from Scully during the seventh-inning stretch.
In the sixth, amid all the reflection and fanfare, Scully reminded his audience he was supposed to be handling play-by-play.
"It has been a party, a retirement party," he said, "and it has been marvelous."
---