News > Business
Facebook takes on ebay and Craigslist with Marketplace feature
Mon., Oct. 3, 2016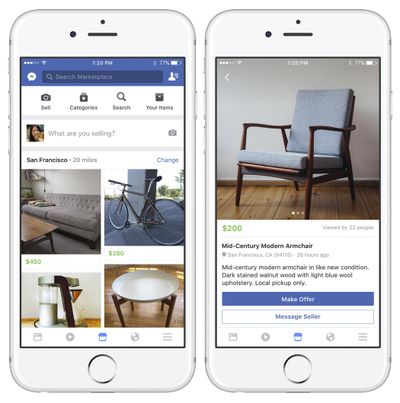 Facebook, looking to take business from eBay and Craigslist, introduced a feature Monday that lets users buy and sell products among themselves.
EBay and Craigslist are formidable targets, with each proving to be resilient and dominant players in the world of online commerce despite rapid changes in technology and competition from various rivals over the years.
But Facebook, with 1.7 billion monthly active users, poses a substantial threat to take some of their market share.
Facebook said its Marketplace will roll out in the next few days to users over 18 in the United States, Britain, Australia and New Zealand. It will be available on the Facebook app for iPhone and Android smartphones and eventually on the desktop version of Facebook.
With Marketplace, sellers can post items for sale with attached photos in just a few steps, and buyers can search for products in their local community or in other cities.
If a buyer wants an item, they send a direct message to the seller with an offer.
"From that point on, you and the seller can work out the details in any way you choose," said Mary Ku, Facebook's director of product management. "Facebook does not facilitate the payment or delivery of items in Marketplace."
As a result, Facebook's market might operate more like Craiglist than eBay, which offers some safeguards for consumers.
But because Facebook requires users to list their real names, its service may provide an additional layer of validity and security than is offered on Craigslist, where users are totally anonymous.
This isn't Facebook's first attempt at peer-to-peer shopping. The social network introduced a feature, also called Marketplace, in 2007 as a way for users to post classified listings. But it failed to gain significant traction even after Facebook turned control of the feature over to online-classifieds provider Oodle.
Local journalism is essential.
Give directly to The Spokesman-Review's Northwest Passages community forums series -- which helps to offset the costs of several reporter and editor positions at the newspaper -- by using the easy options below. Gifts processed in this system are not tax deductible, but are predominately used to help meet the local financial requirements needed to receive national matching-grant funds.
Subscribe to the Coronavirus newsletter
Get the day's latest Coronavirus news delivered to your inbox by subscribing to our newsletter.
---