100 years ago in Spokane: Audubon Society asks birders to protest planned drainage of Malheur Lake in Oregon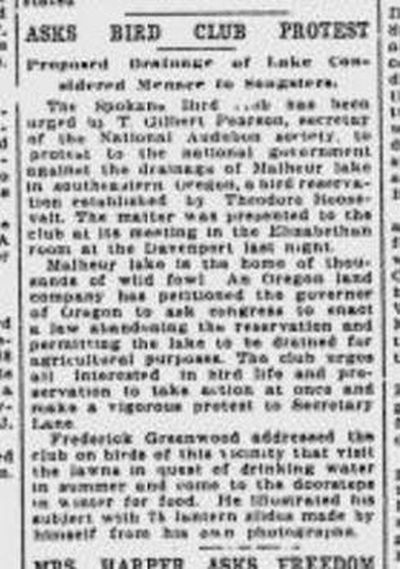 From our archives, 100 years ago
The secretary of the National Audubon Society addressed the Spokane Bird Club and asked the club to protest the drainage of Malheur Lake in Oregon.
Malheur was a bird sanctuary established by Theodore Roosevelt, but an Oregon land company was seeking to permit the lake to be drained for agricultural purposes.
The national society urged the local club to "take action at once" and "make a vigorous protest" to the Interior Secretary.
Malheur was still in the news a century later, during the trial of its anti-government occupiers.
From the theater beat: The headline read, "Actress Forgets Her 'Piece'," but what actually happened wasn't quite so dramatic.
Jane Urban, the leading actress with the American Players, the stock company at the American Theater, didn't really "forget" her part. She was supposed to give a speech at the Spokane Chamber of Commerce's weekly luncheon and simply allowed Harry Leland, the troupe's managing director, to deliver the luncheon speech instead.
Urban charmingly made up for any disappointment by going to the piano and singing a topical song to her own accompaniment. She avowed she was "never more nervous" in her life.
---