Sports
John Blanchette: Former Gonzaga Prep grad Dan Cozzetto has coached in all kinds of places
Tue., Oct. 4, 2016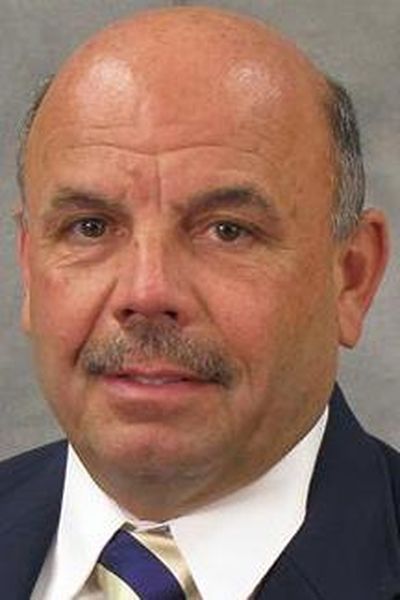 Here's what Dan Cozzetto's been up to the last couple of years:
Lost his coaching job when his boss jumped from Washington to USC. Almost died. Had a new pro football league fold on him without collecting a paycheck. Was told he wasn't qualified to work in junior college. Got hired anyway. Took his team from 0-8 to ranked seventh in the country in one year. Learned there was a steering committee on campus that wanted to kill his program.
You've heard of a must-win game? That's nothing.
"We could be on the chopping block," Cozzetto said. "We've got to keep winning and make it as difficult as possible for them. I mean, we're in a fight."
This is the microscopic view from Dan Cozzetto's office at Phoenix College — not to be confused with the University of Phoenix. He has a program to save. But after 34 years of coaching at the NCAA Division I level and in the NFL, Cozzetto has the panorama lens, too — the full 360.
Because he remembers his 18-year-old self, fresh out of Gonzaga Prep, trying to keep his playing days alive across town at Spokane Falls Community College.
"If it wasn't for that school and (coaches) Dwight Pool and Bob Everson, I wouldn't be where I'm at today," said Cozzetto. "I get hurt my senior year at Prep and in those times, 1972, if you're not looking at school, you're probably going to Vietnam.
"If I cherish one thing about my playing time — even after going on to the University of Idaho — it would always be those days at Spokane Falls. You're with guys who are trying to make a new beginning, or get another opportunity. Maybe you develop late, or you got hurt and all the scholarships went away. It was everybody's second chance. Me, too — or else I might have been a third-generation iron worker."
They shuttered football at the Falls 26 years ago as the JC programs in Washington and Oregon were done in by apathy and agendas. Now Cozzetto tries to keep that scenario from being replayed at his new school.
Though just 20 minutes away, it might as well be a light year removed from Arizona State, the last of six coaching stops Cozzetto made as part of Dennis Erickson's posse. Or UW, where he served as Steve Sarkisian's line coach and run game coordinator until Sark's ill-fated leap to USC.
It was that last fall in Seattle — 2013 — when he had an episode before the Arizona game that doctors "wrote off as vertigo," he said. The following Valentine's Day, his wife Debbie — alarmed by his behavior — took him to the hospital where an aneurysm on his aortic valve was discovered.
"I was 12 hours from dead," he said.
And six months from being back on the job, this time with the Boston franchise in something called the Fall Experimental Football League — or soon to be known as the Failed Experiment Football League. That was when Debbie Cozzetto suggested he apply for the PC job, figuring that "maybe it will be less stress."
Or not.
It was on his first try that he got the "not qualified" response ("That was interesting," he said). In March, the school reconsidered, but then Cozzetto had to fight to fill the lone full-time assistant position with his top choice — Robin Pflugrad, another veteran of three Pac-12 programs (including Washington State) whose head coaching career had been derailed at Montana by off-field issues and a president whose idea of crisis management was public relations panic. Now he commutes to work with Cozzetto.
"We have our morning staff meetings in the HOV lane," Pflugrad said.
They've also "done laundry, painted the fields and raised money. You're the social worker, psychiatrist and academic advisor," he said.
And coach. Inheriting maybe 25 holdover players and a 20-game losing streak, Cozzetto's first Bears team was a hastily assembled hodgepodge and "a revolving door for a while," he said.
A 60-7 rout of Tucson Tech to open this season ended the death spiral, and a 43-42 win over nearby Mesa on the game's last play two weeks later launched a four-game winning streak.
Their Pac-12 pedigrees give Cozzetto and Pflugrad recruiting credibility, obviously, but there are scads of challenges.
"This place has been Last Chance U," Cozzetto said. "Guys who'd get run off from other places — for whatever reasons — it was, 'Go to Phoenix and play for them.' It's a true inner-city school. We're trying to change the culture with things like study tables and grade checks and just getting them to understand that we want this to be a beginning, not an end."
And that means continuing to persuade campus administrators that the magnet of football to get kids to school may be even more valuable at Phoenix than at an Arizona State.
"Do we miss that other level?" said Cozzetto. "Sure you miss it. But there's a chance to impact even more lives here."
Local journalism is essential.
Give directly to The Spokesman-Review's Northwest Passages community forums series -- which helps to offset the costs of several reporter and editor positions at the newspaper -- by using the easy options below. Gifts processed in this system are not tax deductible, but are predominately used to help meet the local financial requirements needed to receive national matching-grant funds.
Subscribe to the sports newsletter
Get the day's top sports headlines and breaking news delivered to your inbox by subscribing here.
---