News > Spokane
Spokane private school for the hearing-impaired gives kids a signing chance
Wed., Oct. 5, 2016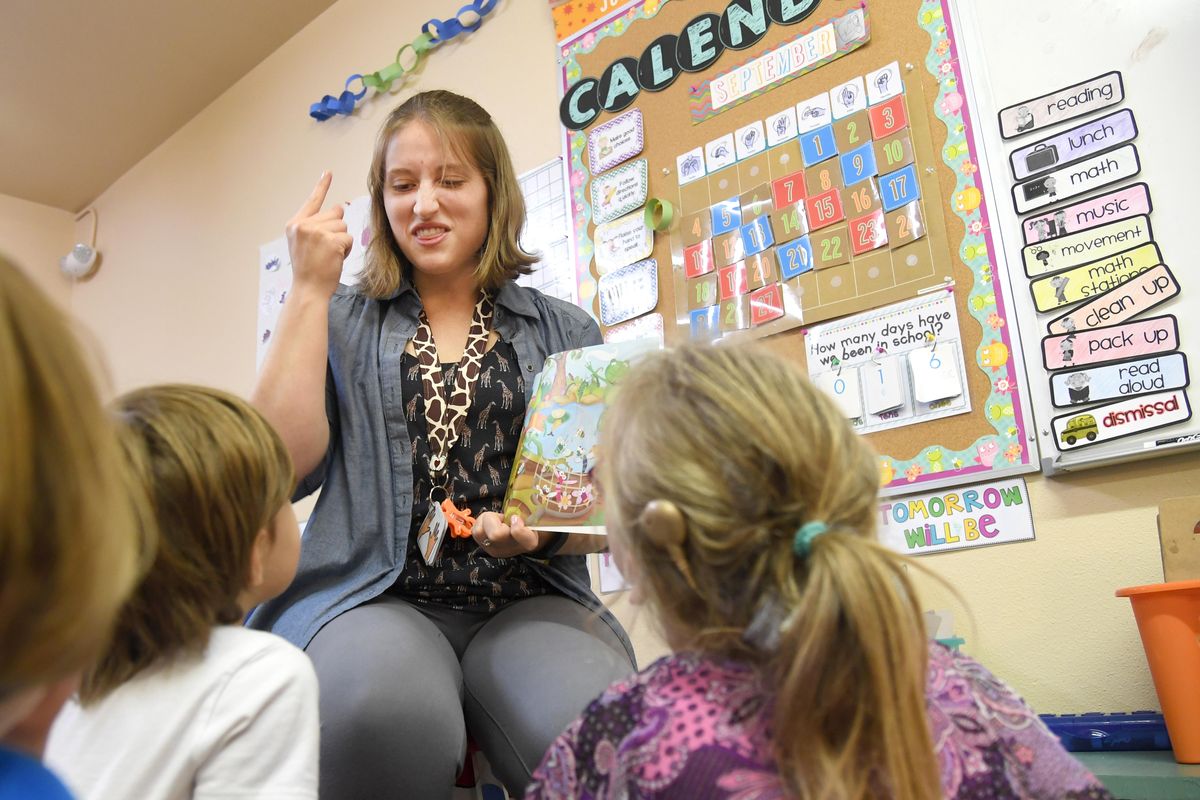 Kindergarten teacher Keeley McPartland, center, reads a book to her students while simultaneously signing the words in her class at the Moose Project, a preschool through first-grade program for deaf children, the children of deaf parents and children whose parents want them to learn sign language from a young age. Photographed Tuesday, Sept. 27, 2016. (Jesse Tinsley / The Spokesman-Review)
Each morning at 7:30 a.m., Kyle Ouimet and his 4-year-old son Chael drive to Spokane from Colville to learn American Sign Language. Kyle goes to Spokane Falls Community College and Chael to the Moose Project, a private school tailored to the deaf or hard of hearing.
Chael Ouimet is deaf. He has two bilateral cochlear implants that were installed when he was a toddler, but he hates them and prefers not to wear them, thus not hearing at all. If he wants to communicate with others as he gets older, his best option is sign language.
Chael's parents tried traditional preschools and even Spokane Hearing Oral Program of Excellence (HOPE), an early-age language therapy program that partners with Washington State University and Eastern Washington University. Nothing seemed to stick.
"We all agreed that it just wasn't the right environment for him," said Hannah Ouimet, Chael's mother. "There was too much noise, too much going on."
The Ouimets couldn't find a program that they believed fit their son's needs or that would teach him American Sign Language (ASL) in addition to a traditional preschool education. And they worried about his ability to communicate with others the longer he went without learning English or ASL.
Then Kris Ching, of the Washington State Center for Childhood Deafness and Hearing Loss, told them about the Moose Project – a private school that teaches through spoken word and sign language.
"We went, and automatically I was like, 'Yeah, this is where he needs to go,' " Hannah Ouimet said.
Chael, along with dozens of other children in preschool through first grade, bounces around the halls of the Moose Project every weekday. The kids learn sign language, the colors of the rainbow and how to draw, and at recess they climb on wooden play sets as they yell and nudge each other down the slide.
But it's not only for children who are hard of hearing; more than half the children enrolled hear just fine. Some come from families who want their children to learn how to sign – parents such as Ron and Jessi Taylor, whose daughter, Jaiden Taylor, is learning ASL because her grandmother used to be an interpreter.
"It kind of just ended up being what we wanted at the time," Ron Taylor said. "It wasn't really what we were aiming for, which I guess kind of made it better."
Then again, there are those like Chael who will rely on ASL their whole lives in order to communicate. Kylee Novikoff is one of them. She has a toothy smile, pink glasses and a pair of cochlear implants. Her grandmother, Kathy Sattler, says Kylee is deaf without them. They, too, drive from Colville, and they tried other schools before settling on the Moose Project.
"As soon as they started doing sign in her routine, she started doing better," Kathy Sattler said. "She's just come miles."
Kylee doesn't hate her cochlear implants, but many people who are deaf and hard of hearing don't like them and end up not wearing them because they don't offer clarity to sound; they just digitally amplify everything.
Kristi Anderson, Moose Project's owner and director, said her hearing aids can start to make everything sound like the teacher on "Charlie Brown."
"I don't know, truly, the true sound of my children's voices," she said. "What I know is through my microphone."
The Moose Project employs what's called Pidgin Signed English – where instructors talk and sign at the same time. This allows children who can hear to listen and learn through association, and for children who can't to focus on the signing and have an opportunity to read lips.
"For our children with hearing loss in particular, whether they use hearing aids or implants or not, if they're getting all language all the time, it's not as hard to listen," Anderson said. "Listening is hard work when you have hearing loss. Your eyes are straining to read lips and your ears are tired and your body is tired. Children with hearing loss have trouble paying attention. Our mind wanders because it's just too much work."
Anderson created the Moose Project two years ago after taking the saying "If you want something done right, do it yourself" quite literally. Her son Asher Anderson was diagnosed with unilateral deafness (he was born with no hearing in his left ear, and his right ear continues to lose hearing) when he was 2 days old; Kristi has been deaf since late-onset hearing loss started to turn down the volume when she was in kindergarten.
She started teaching Asher ASL at a young age, and when it was time for him to enter preschool, Kristi and her husband, Chad Anderson, started shopping around for options. The best schools they found were all in Western Washington, so they thought, "There's still no school in Spokane, why don't we start our own?"
"I don't think I had a choice. It needed to happen, so it did," Kristi Anderson said.
Back then, the Moose Project had just three preschoolers (including Anderson's son Asher) and was run in the Northeast Community Center. Today, it's at 801 E. Second Ave. and has 27 kids and three teachers. It became a certified private school this year and recently added kindergarten and first-grade education to its program. Tuition is paid by parents and sometimes by school districts, if services aren't available in a particular district.
"My husband's goal is to have all of Spokane signing," Kristi Anderson said. "Adding language is only a benefit."
Local journalism is essential.
Give directly to The Spokesman-Review's Northwest Passages community forums series -- which helps to offset the costs of several reporter and editor positions at the newspaper -- by using the easy options below. Gifts processed in this system are not tax deductible, but are predominately used to help meet the local financial requirements needed to receive national matching-grant funds.
Subscribe now to get breaking news alerts in your email inbox
Get breaking news delivered to your inbox as it happens.
---