At age 9, Terrain continues to showcase emerging artists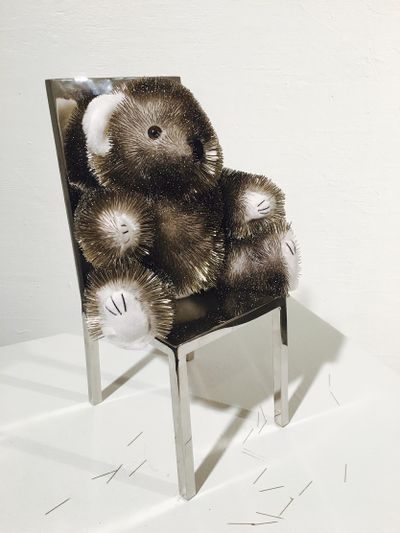 On a recent Monday night, a dozen jeans-wearing young creatives sat in the industrial Fellow Coworking space of the Washington Cracker Co. building to plan Terrain, Spokane's largest and hippest annual art party.
While 80 million people around the world were tuning in to watch the first presidential debate, the words "Trump" and "Clinton" never even came up. The talk was all about art – how to promote it, how to protect it, and how to sell it.
Terrain co-founder Ginger Ewing, who handles the visual arts portion of the event, arrived a few minutes late to the organizers' meeting. Bypassing the homemade cookies on the conference table, she cracked open a can of Crux Pilz and dove in with the team, which included fellow Terrain co-founders Patrick Kendrick (who brought the beer and is in charge of the juried music selection process) and Luke Baumgarten (Ewing's husband and Terrain's PR guru).
The organizers batted around a dizzying range of issues surrounding the October First Friday arts extravaganza featuring paintings, sculptures, interpretive dance, poetry readings and music. Among the topics on the agenda were a new app to tally the crowds, thorny security issues, how to keep spills from leaking through the warehouse's porous floors, T-shirts, signage, and the most efficient way to rally volunteers to paint the walls white.
The talk turned to social media opportunities to highlight the art, including selfies, photo booths and hashtags. "For 10 bucks I can buy a Snapchat filter," said Terrain art sales manager Derrick Oliver, who works at Etailz and produces the "Spokane Doesn't Suck" motto and merch.
"That's good, cuz I don't know jack about Snapchat," said Ewing with a smile.
"I downloaded it today, and I gotta say, it's here to stay," said Baumgarten.
Kendrick offered another beer to a volunteer at the table.
There's an easy and unhurried rapport among the old hands at Terrain, even as crunch time nears. Maybe it's because this is their ninth time wrangling this multimedia explosion, and every year surpasses the last, evolving like art itself. Or maybe it's because they know they are not alone. It may take a village of volunteers to plan and execute Terrain, but finding eager supporters has never been a problem.
"When we started Terrain we expected it to be a one-night-only, one-time thing," Ewing said. "We quickly realized however, the community wanted more from us."
The souped-up celebration of young and emerging artists in the Spokane area intends to give more. More artists (58 more than last year); more art (340 pieces, 45 more than last year); more music (the DJ group Twin Towers wants to perform for the line waiting outside to get in this year); and more art forms (a stage has been built to accommodate dance for the first time, everything from modern to krumping). The biggest increase was in the number of artists submitting, jumping 45 percent from last year to 384 local artists vying to get into Terrain 9.
"It used to be I could give you a full bio off the top of my head of all the artists showing at Terrain," Baumgarten said. "When people were dropping their stuff off the other day, I could hardly name any of them."
The fact that Terrain's godfather has no clue just who the panel of jurors has selected to showcase is a testament to the event's success. Baumgarten, Ewing, Kendrick and fellow co-founder Diego Sanchez, along with a host of other organizers and volunteers over the years, have created more than just an enduring annual arts exhibit and music showcase. They've helped to build community. Local artists view Terrain as a launchpad to make a name for themselves and to make a living in the growing creative economy of the Inland Northwest.
Artists find community
"The exposure you get is super important," said Remelisa Cullitan, 27, an art student at Eastern Washington University. After showing one piece for the first time in Terrain last year, other artists contacted her through Facebook. Those Terrain-based connections have made her feel part of Spokane's burgeoning arts scene.
This year, all nine pieces that Cullitan submitted were accepted into Terrain. Five of her works are a collection of merkins (pubic wigs crafted with synthetic hair), exhibited in an almost delicate, museum-like way in shadow boxes. Each merkin is named after a Shakespeare character who was originally a boy actor, playing a girl pretending to be a boy (thus the need for a merkin).
Another collection Cullitan will show at Terrain is her "Yonic Relics," created by slipcasting tampons with liquid porcelain and gold leaf. The delicate shapes she created are not immediately identifiable as feminine products, but are undeniably so, upon further inspection.
Cullitan's message is not necessarily political or feminist. "I just wish certain topics, like feminine products, were discussed more," Cullitan said. "Perhaps I am over-glorifying these objects to bring those sorts of subjects to life."
The edgy nature of submitted works is not a deciding factor in what gets chosen for the show, said Lisa Nappa, Eastern Washington University art professor, artist and Terrain art juror. "We were looking for work that reflects a conceptual idea and has a strong visual aesthetic," Nappa said. "(Cullitan) is a great example of someone who is incorporating a fascinating idea, extensive research, and crafts a rich visual narrative."
Ewing agreed it's all about supporting quality work and individual artists. "(We want) to create … an event that infuses pride of place through artistic expression in multiple forms." Ewing said. "If that includes pubic hair, so be it."
Diversity in voices
There are plenty of other voices at Terrain to make viewers think. Take "The Curiosity Bear" by Spokane native Erik Sullivan. His piece is a teddy bear from an alternate universe – shiny, steel-like, and painful to hug – made from more than 15,000 pins that Sullivan altered and stuck in place one by one, by hand. "I tried to use a thimble, but I didn't have enough control and it took too long," Sullivan said. "My thumb is still healing."
Sullivan, 30, drifted between careers and interests until showing his first piece ever at Terrain 6 three years ago. He said the experience spurred his creativity and gave him purpose. He now working toward a fine arts degree at Eastern.
"That recognition, the feeling that somebody cares, meant everything to me," Sullivan said. "It's exciting to be part of a community. To have people around who take notice and have similar passions."
Sullivan believes that the city needs Terrain. "I grew up here and there used to be a real void when it came to the arts," Sullivan said. "It was like a ghost town."
Ewing said the feedback she hears the most is that Terrain provides the opportunity for folks to connect with themselves as artists. "It may be the confidence to self-identify as an artist for the very first time; It may be the platform to execute an idea that's been percolating for quite some time and will only work in an environment like Terrain provides," Ewing said.
"Or, in some instances, (I've heard) that Terrain has made people feel empowered to start their own thing," Ewing said. "That last part there is pretty rad."
---