Sports > Outdoors
Bicyclist, rescue dog find freedom on East Side rail trail
Thu., Oct. 6, 2016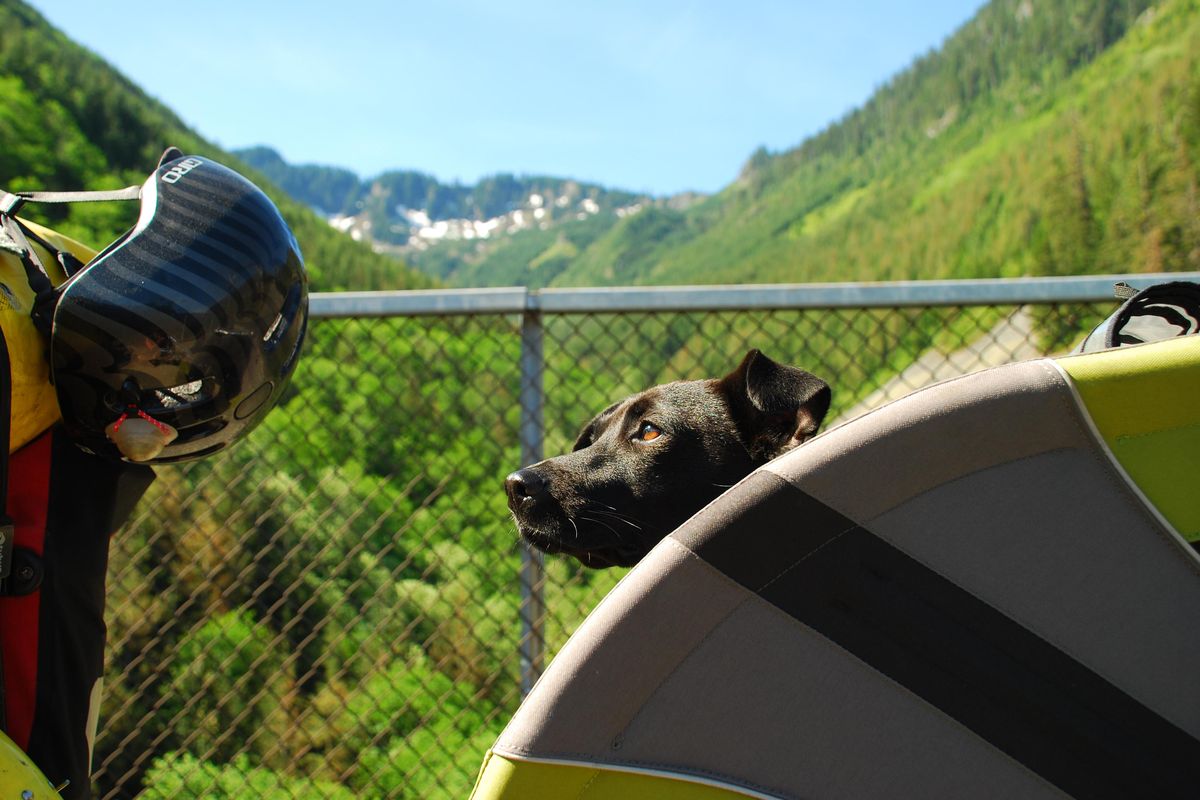 Tiva the rescue dog pokes her head out of her bike carrier on the John Wayne Trail, an undeveloped rail trail across Eastern Washington. (Photo by Willie Weir)
A globe-circling bicyclist says he never considered either riding a rail trail or touring through Eastern Washington – his backyard – until he and his wife rescued a painfully timid dog from a pound.
"The John Wayne Pioneer Trail is not something I would have discovered without our reluctant traveler, Tiva," said Willie Weir of Seattle.
"I hadn't considered myself a rails-to-trails type of person. I like the open road, the hills and mountains."
He hesitates to dwell on his 60,000 miles of cycling in 35 countries, preferring to adhere to travel writer Paul Theroux's adage, "Tourists don't know where they've been, travelers don't know where they're going."
Weir, a popular speaker and author, is famous for keeping his life open so he can jump at opportunities, such as bicycling through the Balkans just as the war-torn region reopened safely to tourism.
He's known for breaking away from the pack. He talked his way into Cuba for a tour in 1998.
Perhaps understandably, he was slow to consider Eastern Washington an adventure destination.
Weir, 55, launched his lifelong passion for bicycle touring on a trans-America trip at the age of 19.
For seven consecutive years he checked out for a five-month tour. After meeting his wife, Kat Marriner, the couple has ventured out on three-month tours every other year for 16 years.
The big change in his free-wheeling life was forecast in 2012, as they toured in Burma, when Marriner announced she wanted to get a dog. "Actually," he clarified, "I think she phrased it more directly, as in, 'I'm getting a dog.' "
"I was in shock," he said. "We'd had a cat, but having a cat is like having a roommate. Having a dog is like having a 3-year-old kid who never grows up."
Weir said he whined, fretted and freaked out to no avail. They got a dog.
They also got a crash course in commitment and responsibility when their rescue pooch – a dream dog that was game for anything – suffered a twisted bowel and died after being in its new home just nine days.
They bravely went back and got another pup rescued from a garbage dump, and it was the opposite of the first dog. "Beyond shy," Weir said.
"It took two days to coax Tiva out of the crate and two months to get her to walk one city block."
The world-traveling bicyclist had met his worst nightmare: A family member deathly afraid of traffic.
Weir and Marriner hadn't owned a car for eight years. But if they were going to go anywhere with Tiva, they needed a vehicle so she could cower in the back until they got away from trucks.
They borrowed their son's Subaru for a test. "We took the dog into the mountains," he said. "When she jumped out I saw her tail for the first time. It wasn't between her legs – she was running and her tail was wagging."
So they bought a car. They also bought a bike trailer, which sat in the living room for six months before they could tempt Tiva into it.
"With such a fearful animal, everything has to be slow," Weir said.
After a couple of weeks of transitioning to the sidewalk, Weir said he became "the weird neighbor who walked around the block with a bike trailer behind me."
Later than sooner, he was able to hook the trailer to a bike. "The trick was to ride in the alley and make sure she never encountered a Fed-Ex truck or she'd never get into the trailer again."
The Iron Horse Trail, a Washington State Parks rail trail between North Bend and Ellensburg – free of motorized vehicles – was their first venture into overnight touring. "We went over the Cascades and camped overnight," Weir said. "It was great."
"I had no idea the trail continued across the state until I learned about the Tekoa Trail and Trestle Association working to restore a trestle on the trail clear over near the Idaho border. Gosh, we had to do it!"
Weir and Marriner connected with the Friends of the John Wayne Pioneer Trail – a group supporting development for the portion of Iron Horse State Park and the former Milwaukee Railroad that runs through Eastern Washington.
As they planned their May tour, they learned that the Beverly Trestle across the Columbia River was out of commission, forcing through-riders into a long detour and dangerous pedal across the river on Interstate 90 at Vantage.
"That sounds hellish even without a traffic-fearing dog," Weir said, noting that Friends members offered to shuttle them in a vehicle.
"They adopted us. It was the only way we could do the trail with Tiva.
"But it brings up the bigger issue that since the 9/11 attacks prompted the closure of Wanapum Dam to the public, the Columbia River can't be crossed except by boat or car for about 100 miles."
They found the rail trail east of Ellensburg to include a gnarly four-mile section of sandy, loose ballast.
They found more detours and another notably rough section east of the Columbia outside of Malden. "It's the kind of loose ballast that makes you think, 'Wow, I'm going to jackhammer here,' " he said.
Aside from these challenges, the trail was a journey of discovery and a delight in the way a parent relishes seeing a child take its first steps.
"Tiva was having a ball," he said, "and so were we."
For the first time, they were looking at the central part of the state and the Palouse away from I-90 and from outside of a vehicle. "There's a beauty and grandeur to the quiet, to the great horned owls, pelicans and rattlesnakes," he said.
Tiva ran 5 to 12 miles a day and rode in the trailer. Because the mostly undeveloped rail trail is rarely a smooth ride, the dog wouldn't lie down. Instead it would stand in the trailer and use leg muscles in the same way a sailor stays upright in choppy seas.
"She'd get into the tent each night exhausted," Weir said. "Tired and happy.
"It's a rewarding experience to take this little creature that worked its way into our hearts and get her to be a functioning dog that's loving life."
They toured for nine days, averaging 20 to 40 miles a day, camping each night or staying with Warm Showers hosts in towns such as Ellensburg and Malden.
Every small town had a flavor. "We loved Rosalia," he said. "Kat will tell you she had the best ham salad sandwich in the grocery store. She still dreams about it."
The unforeseeable reward in adopting a reluctant traveler, Weir said, was that it coaxed him to think differently.
"Tiva reintroduced me to trail running because it was was away from traffic and in her comfort zone."
And she coaxed him onto a rail trail.
"One of the things that touched me was meeting a father and daughter on the trail. They told us that each of the kids in the family got to choose an adventure to do when they turned 10. This daughter chose to ride the rail trail from Ellensburg over the pass and basically to Seattle.
"Think about that: an opportunity for a parent and kid to do a great bike adventure without dealing with the stress and fear of traffic. They had an amazing camping experience.
"We also saw two Boy Scouts on their way completely across the state."
"A (non-motorized) trail like this offered my first opportunity to freely ride a bicycle as a kid. Everybody has to start somewhere."
Local journalism is essential.
Give directly to The Spokesman-Review's Northwest Passages community forums series -- which helps to offset the costs of several reporter and editor positions at the newspaper -- by using the easy options below. Gifts processed in this system are not tax deductible, but are predominately used to help meet the local financial requirements needed to receive national matching-grant funds.
Subscribe to the sports newsletter
Get the day's top sports headlines and breaking news delivered to your inbox by subscribing here.
---