Sports
2-Minute Drill: What to watch when WSU takes on Stanford
Fri., Oct. 7, 2016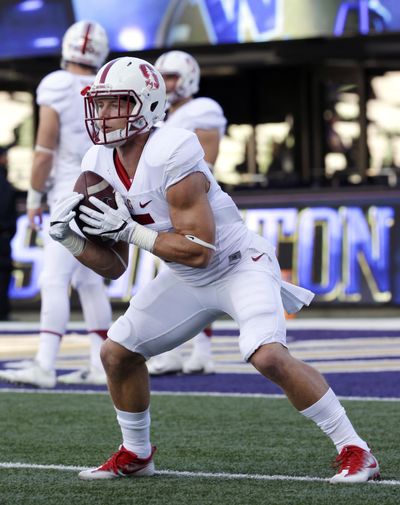 Don't take your eyes off
Stanford running back Christian McCaffrey was a finalist for the Heisman Trophy last season and is leading the NCAA with 214.5 all-purpose yards per game. With nearly 500 rushing yards and 150 receiving yards in four games, McCaffrey could make an explosive impact on any play the Cardinal will run Saturday.
When WSU has the ball …
It will be interesting to see if WSU continues to turn to the run game, having rushed for more than 200 yards in each of its last two games. Stanford allowed 214 rushing yards and three touchdowns on the ground to Washington last week. But then again, the Cougars have a sophisticated passing game and Stanford is likely to be missing its top two cornerbacks.
When Stanford has the ball …
The Cougars must make sure to not get overeager on defense. McCaffrey is the king of the cutback and can make defenders look silly if they lose leverage and he is able to bounce outside. WSU defenders must make sure to stick to their assignments and always keep their shoulders between McCaffrey and the sidelines or else he is likely to win the game by himself.
Did you know?
WSU safety Robert Taylor made his college debut against Stanford as a freshman at UC Davis.
Local journalism is essential.
Give directly to The Spokesman-Review's Northwest Passages community forums series -- which helps to offset the costs of several reporter and editor positions at the newspaper -- by using the easy options below. Gifts processed in this system are not tax deductible, but are predominately used to help meet the local financial requirements needed to receive national matching-grant funds.
Subscribe to the sports newsletter
Get the day's top sports headlines and breaking news delivered to your inbox by subscribing here.
---