News > Spokane
Fifteen cats seized from South Hill home
Fri., Oct. 7, 2016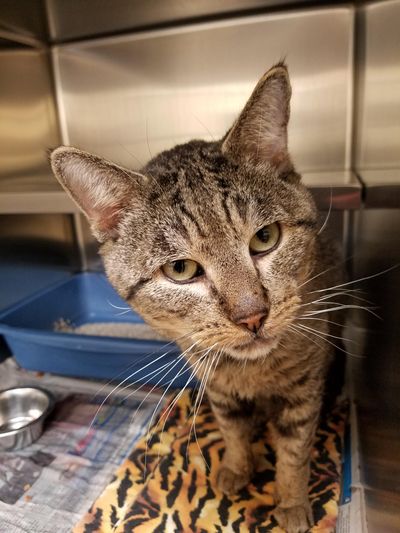 Fifteen cats were removed Friday from a South Hill home that was in such bad shape that animal protection officers had to wear protective suits and respirators to go inside.
The Spokane County Regional Animal Protection Service received a call about possible abandoned animals inside the home in the 4300 block of East 14th Avenue from the Spokane Fire Department on Sunday, said SCRAPS director Nancy Hill. The owner has been in the hospital for nearly a week and told SCRAPS officers that she wasn't sure how many cats she had.
Officers obtained a search warrant Thursday evening. The inside of the home had a significant amount of cat urine and feces, Hill said, indicating that it was a long term problem. "This is more than a few days," she said. "This is a while."
The cats were still being processed and treated by a veterinarian Friday afternoon. "Some were somewhat emaciated and dehydrated," Hill said. Others had sores and at least one had respiratory problems.
Investigators will determine if criminal charges should be filed against the owner, Hill said. If no charges are filed within 14 days the owner could get her cats back.
Local journalism is essential.
Give directly to The Spokesman-Review's Northwest Passages community forums series -- which helps to offset the costs of several reporter and editor positions at the newspaper -- by using the easy options below. Gifts processed in this system are not tax deductible, but are predominately used to help meet the local financial requirements needed to receive national matching-grant funds.
Subscribe to the Coronavirus newsletter
Get the day's latest Coronavirus news delivered to your inbox by subscribing to our newsletter.
---