News > Spokane
St. Ignatius in Colfax finding new life as a haunted hospital
Fri., Oct. 7, 2016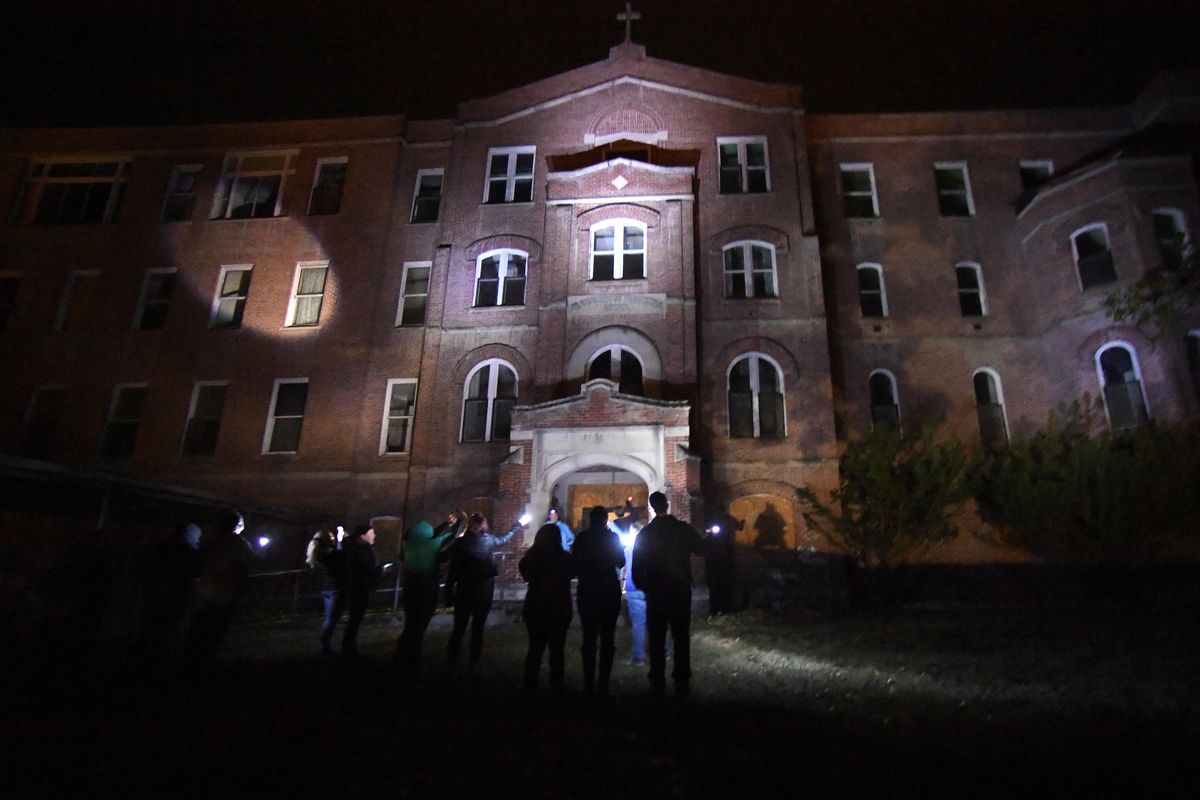 People gather outside the shuttered St. Ignatius Hospital before taking the Haunted Hospital tour sponsored by the Colfax Chamber of Commerce, Thursday, Oct. 6, 2016, in Colfax. (Colin Mulvany / The Spokesman-Review)
COLFAX – A faint dripping echoes through the abandoned St. Ignatius Hospital. The walls are peeling and covered with graffiti, and the scents of mildew and guano fill the air.
Every window and door is boarded up and nailed shut to keep out squatters and amateur ghost hunters. It's half an hour before sunset and the building is pitch black.
"Thousands and thousands of people have died here," said Valoree Gregory, a tour guide and director of the Colfax Chamber of Commerce. "It's definitely haunted. And I was a skeptic."
Built in 1893 by the Sisters of Providence, the old hospital has become a magnet for ghost enthusiasts, paranormal researchers and television shows. People have come from as far as New York and Alaska to explore the famed hospital, said Gregory, who started giving tours last year. A television crew recently spent three nights in St. Ignatius capturing footage, she said.
But Gregory and many other longtime Colfax residents would rather the historic property have a less ghoulish future; they're hoping the tours attract investors to renovate the 120-year-old building.
"I've given 17 tours to investors and Realtors," Gregory said. "Our goal is to not do these (Halloween events) next year, because we will be renovating it."
The property is owned by an investor in California who couldn't be reached for comment.
Gregory, who was born in the hospital in the 1960s, said St. Ignatius Hospital has been the stuff of urban legend for years. Many of the rooms in the hospital are named after patients who lived there: Rose's Room, The Children's Room and Dave's Room.
Some guides and tourists refuse to enter Rose's Room because of the eerie feeling that accompanies it, Gregory said. Rose, whom Gregory knew personally, was a resident when the building was St. Ignatius Manor, a care facility for people with developmental disabilities.
"We've got lots of recordings, lots of voices and the psychic says she's very angry," Gregory said.
A first-floor hallway is nicknamed "left is dead" in the tours. In the hospital's early days, patients who entered the emergency department were taken to the right if they were treatable, and to the left if they were gravely sick or injured. An elevator descends from the room to the left directly to the morgue.
Gregory and another guide, Nancy Cochran, said they have seen full-figure shadows and heard snatches of conversations and slamming doors when no one else was in the building.
"The first time I came in, I was holding onto Val's shirttail and I was like, 'Val, don't lose me,' " Cochran said. "I've actually gotten to the point where I can go off a little bit by myself."
Cochran said part of the reason the hospital is so intimidating is its size. The building has five floors, plus a basement. The first floor was the emergency department, second was the obstetrics wing, third was infectious disease, fourth was surgery and X-ray and the fifth was where the Sisters of Providence and nurses lived.
"When you first come in here, there's never-ending hallways and they go all sorts of different directions," Cochran said. "Often when we bring people in, they forget what floor they're on. It's so confusing because it's so big."
Gregory said squatters broke into the building at some point when it was vacant and were living on the top floor; she apologized for the "methy" odor they left behind from apparent drug use. She cleaned it up but was unsure what to do with the detritus, she said, so, wearing a mask and gloves, she moved the piles of aluminum foil into a closet.
"I'm sure you're supposed to have some other way of disposing of it," Gregory said. "It just seemed like the best thing."
The building looks as if it's been abandoned for a century, but Gregory said St. Ignatius Manor closed down in 2003. Water and trespassers have damaged the building, she said.
City Administrator Mike Rizzitiello has had some experiences of his own at St. Ignatius.
"The area on the fourth floor by the surgery ward is very active. I've heard what sounded like footsteps coming toward me, and I looked over and saw nothing," Rizzitiello said. "That's happened a few times."
Guides give tours of the hospital every weekend in October, as well as a few extra days during the week. Last year's tours sold out quickly; this year Gregory added sleepovers there. Gregory said many of the guides are almost addicted to the historical as well as haunted aspects of St. Ignatius.
"We want to preserve the authenticity of the stories and the experiences people have," St. Ignatius guide Jeanine Burke said. "We want them to enter the building and not have it hyped, the experiences are what is actually happening."
Other guides and Colfax community members, such as Errin Nelson, the daughter of a former employee, said they don't want St. Ignatius to turn into a commercialized fright show, like Haunted Palouse and other scary attractions in the area.
"It's beautiful in its decay," Nelson said.
A version of this story first appeared in the Daily Evergreen.
Local journalism is essential.
Give directly to The Spokesman-Review's Northwest Passages community forums series -- which helps to offset the costs of several reporter and editor positions at the newspaper -- by using the easy options below. Gifts processed in this system are not tax deductible, but are predominately used to help meet the local financial requirements needed to receive national matching-grant funds.
Subscribe now to get breaking news alerts in your email inbox
Get breaking news delivered to your inbox as it happens.
---