Nationals beat Dodgers 8-3 to take 2-1 lead in NLDS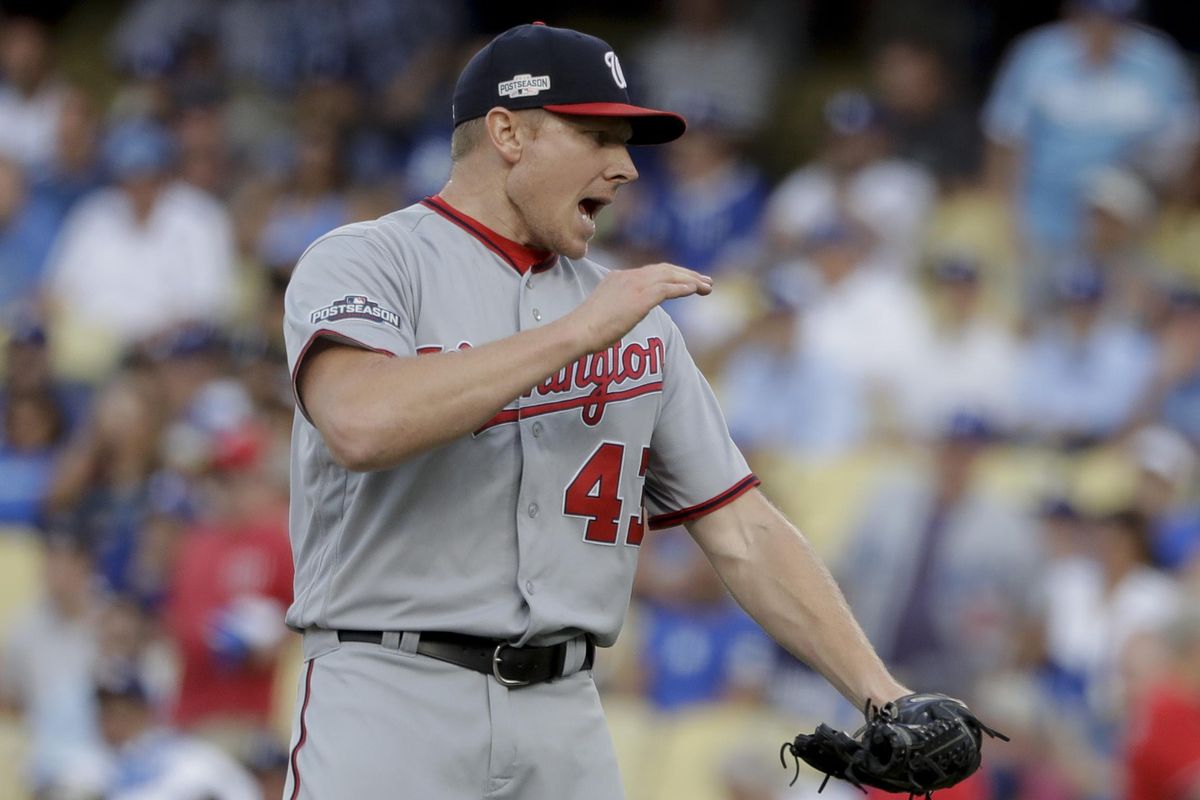 LOS ANGELES – Jayson Werth always wanted to hit a home run out of Dodger Stadium when he played two seasons in the venerable ballpark. His latest attempt came close with a 450-foot blast into the upper reaches of the left-field pavilion.
Werth's homer helped break open a one-run game in the ninth inning, moving the Washington Nationals within one victory of taking a postseason series for the first time with an 8-3 win over the Los Angeles Dodgers on Monday and a 2-1 lead in their best-of-five National League. division series.
Heck, he even tied Babe Ruth with his 15th career postseason homer, good for 11th all-time.
"Ever since Dusty (Baker) moved me into the two-hole, I just felt like my job is to get on base for the animals behind me," said Werth, whose three hits tied a postseason career high.
Four relievers combined for 4 2/3 shutout innings, putting the Nationals in position to wrap up the N.L. Division Series on Tuesday at Dodger Stadium.
"They work quick and they're not afraid to go after anybody," said third baseman Anthony Rendon, who hit a two-run homer in a four-run third that chased Kenta Maeda.
Werth added, "It gives us confidence. I feel like the bullpen is going to hold up and that might not have been the case or the feeling in years past."
N.L. East champions for the third time in five years, the Nats were unable to advance during their two previous trips to the postseason. They lost in the Division Series to St. Louis in 2012 and San Francisco in 2014.
"I'm hoping this is our year," Werth said. "We're battle-tested, we're playoff-tested, and we've got a good group of guys. We've been playing together a long time now, so I feel like this is our opportunity."
Now 37 and with his 2008 World Series championship in Philadelphia long behind him, Werth senses time encroaching on him.
"Obviously, I can't play this game forever," he said. "So I feel like this is our chance and I also feel like maybe this is my last chance to do it."
The franchise has won one playoff series – the Montreal Expos beat Philadelphia following the strike-shortened 1981 season before losing to the Dodgers in the N.L. Championship Series.
The team moved from Montreal to Washington before the 2005 season.
Playing 23 hours after the Nationals tied the series at home in a rain-postponed Game 2, the Dodgers again struggled against left-handed pitching, a problem throughout the season when they had a major league-worst .213 average against lefties.
Four Washington lefty relievers stymied the Dodgers in the first two games. Facing lefty starter Gio Gonzalez in Game 3, they got three runs and four hits in 4 1/3 innings.
The only Dodgers hitter with proven success against Gonzalez was catcher Carlos Ruiz, and he came through with a two-run, pinch-hit homer in the fifth that cut their deficit to 4-3.
"I made one bad pitch, but the bullpen was incredible," Gonzalez said. "It's tough to go on the road and win in the playoffs. I went after them but I wish I had that one pitch back."
After that, the Dodgers mustered just a pair of singles off a Nats' bullpen that included lefties Sammy Solis and Oliver Perez, and didn't advance a runner past first base. Solis wound up with the win.
Now, the four-time defending N.L. West champions are facing elimination.
"We're not afraid of this," rookie manager Dave Roberts said. "There's no quit in our guys. We'll be ready tomorrow to win a baseball game, I can promise you that."
It was still 4-3 when Werth homered on a 1-0 pitch from All-Star closer Kenley Jansen leading off the ninth.
Ryan Zimmerman added a two-run double that bounced off right fielder Josh Reddick's glove at the wall – the hit scored Daniel Murphy and Bryce Harper, who both walked.
Jansen, the team's all-time saves leader, was yanked. Los Angeles used all seven of its relievers in the game.
Maeda gave up four runs and five hits in three innings. The Japanese right-hander who won a team-leading 16 games is one of seven rookies on the Dodgers' NLDS roster.
"Kenta was missing and getting behind," Roberts said. "His fastball leaked back behind the plate and they made him pay. It was a good game until the ninth. That's baseball."
Maeda retired the side in the second, striking out two, before wilting in the third. He opened the inning by giving up four hits in five batters.
Werth's RBI double in the right-field corner tied the game 1-all. Harper hit an RBI single and Rendon followed with his two-run shot to the left-field pavilion for a 4-1 lead.
Dodgers rookie Corey Seager continued his first-inning success in the series, hitting an RBI double off the wall for a 1-0 lead after homering in the first inning of Games 1 and 2.
---