Spokane celebrates first Indigenous Peoples' Day with a gathering in Riverfront Park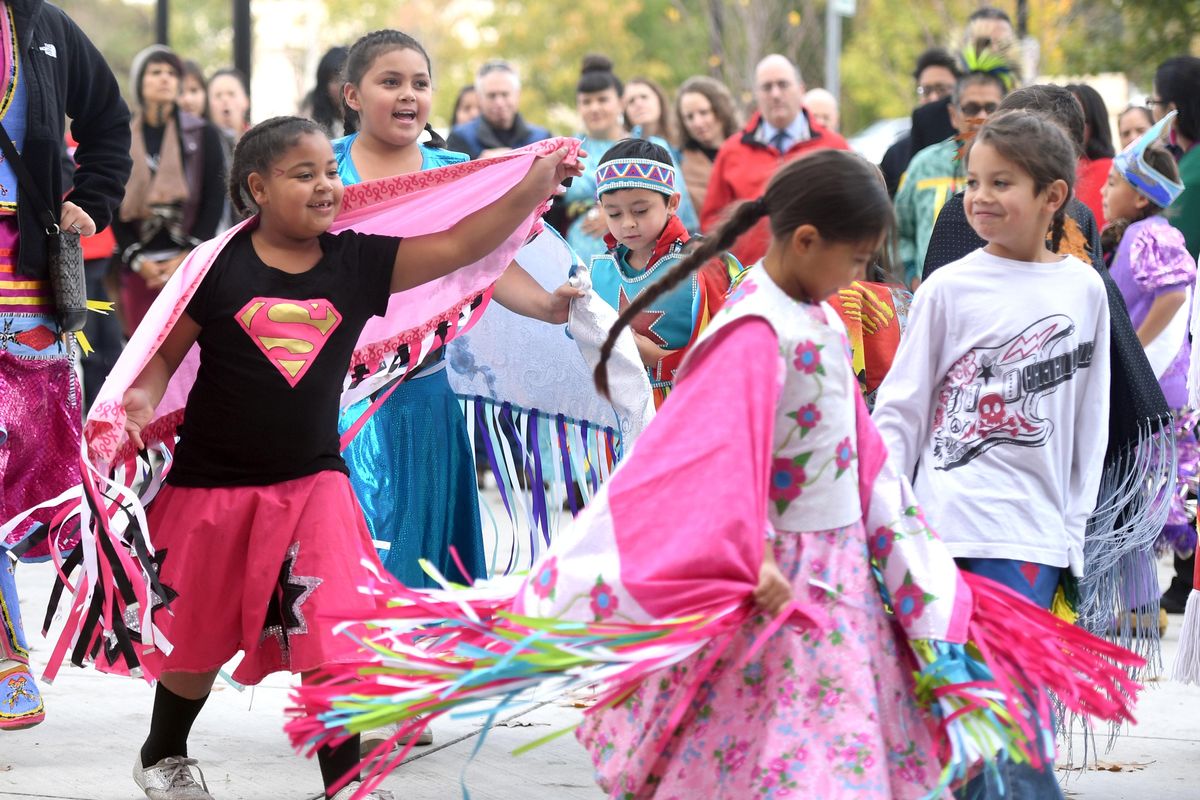 Through song, dance and prayer, the indigenous peoples of the Inland Northwest sent a clear message during a celebration Monday: We're still here.
At a gathering that began outside Spokane City Hall and ended on Riverfront Park's Canada Island, a group of over 100 people celebrated the first Indigenous Peoples' Day since the City Council voted in August to rename Columbus Day.
"That acknowledges for us that we're still here and we have a future," said Dave BrownEagle, a Spokane tribal member who opened the celebration.
Spokane is home to one of the largest urban indigenous populations in the U.S. There are 14,286 enrolled tribal members in Spokane County according to Toni Lodge, CEO of the Native Project, representing about 300 tribes.
The celebration included drumming and song from the Salish School of Spokane, intertribal dances, prayer and reflection.
"We celebrate the resilience, the fight, the stamina, the love that carried each and every ancestor forward," said Jo Ann Kauffman in an opening prayer.
The gathering mixed joyful celebration of indigenous cultures with sober reflection on healing from the trauma of genocide. Outside City Hall, about two dozen people of all ages dressed for fancy dancing, grass dance and jingle dance stepped in a circle to the beat of a drum.
On Canada Island, many young people tried their hand at Powwow Sweat, a program developed by the Coeur d'Alene Tribe that reimagines traditional dances as cardio exercise routines. The island is due to be renamed and reimagined by the Spokane Tribe of Indians as part of the larger Riverfront Park redesign.
Kauffman, a Nez Perce tribal member, approached the City Council about changing Columbus Day to Indigenous Peoples' Day earlier this year. She said Monday that truth and reconciliation were a first step to healing relationships between indigenous people and settlers.
"He brought an era of genocide to the Western Hemisphere," she said of Columbus.
Many spoke about the common connection local tribes have with water and salmon.
Lovina Louie, a member of the Coeur d'Alene Tribe, had tears in her eyes as she talked about the Spokane River.
"Because we were put on reservations, we were taken away from the water. A lot of us are coming back," she said.
Tribal leaders carried a traditional Salish sturgeon-nosed canoe built by local artist Shawn Brigman to Canada Island on Monday as part of the celebration. Brigman, a member of the Spokane Tribe, has built 16 canoes for local tribes. Some of the canoes traveled with local tribal members to North Dakota in support the Standing Rock Sioux Tribe's protest of a planned oil pipeline across sacred sites.
Louie's was one of six families on the Coeur d'Alene Reservation recently selected to build their own canoe through a workshop with Brigman.
"When that canoe touched our water, I could feel our ancestors welcoming us home," Louie told the crowd.
---