Then and Now: Manito Grocery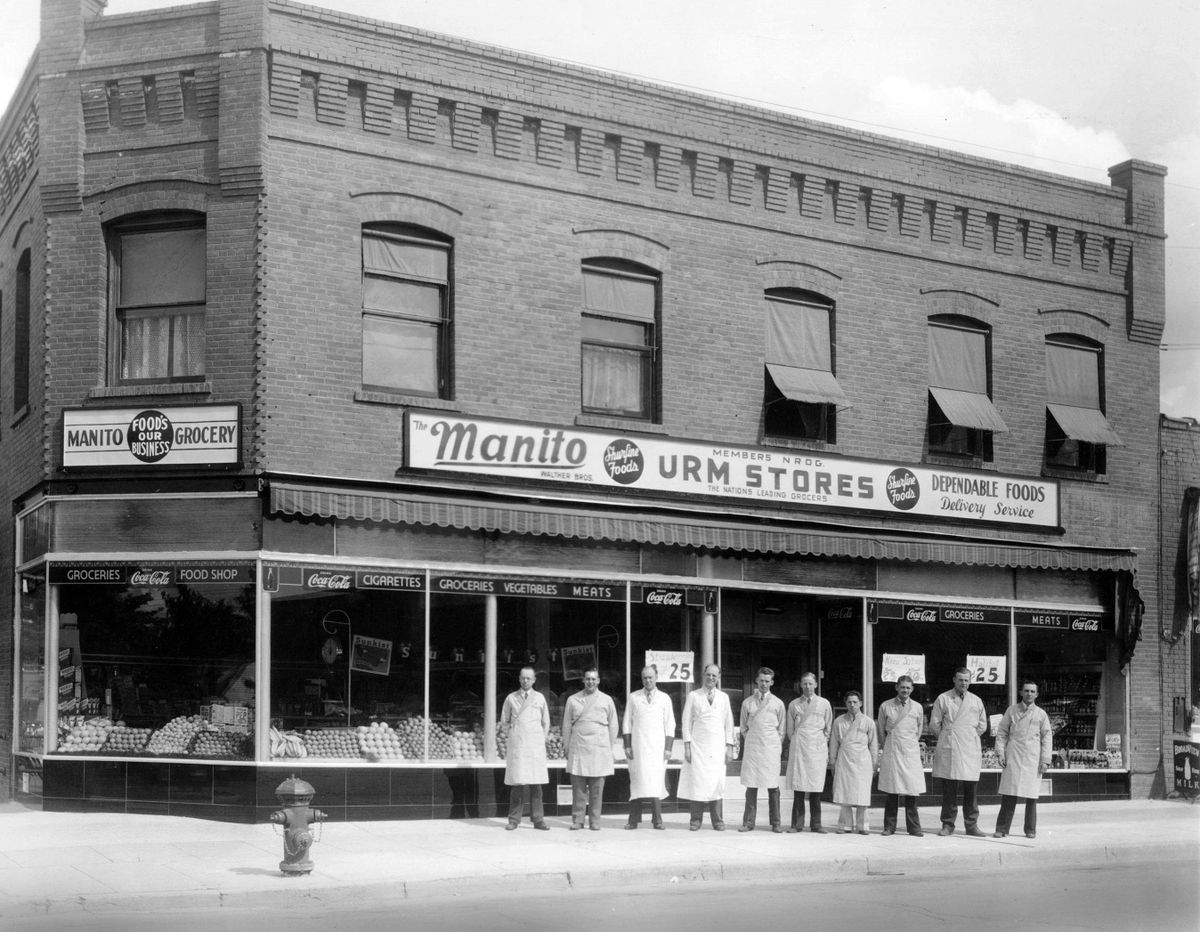 Manito Grocery and Lockers was a South Hill business institution for almost 60 years. In the basement were meat lockers that could be rented to store bulk meat purchases.
Edward H. Walther opened the store in 1907 and moved it to a two-story building at 30th Avenue and Grand Boulevard in 1911. His brother Herbert was a partner and worked the meat counter.
Jim Reierson, a retired deputy prosecuting attorney, grew up in the neighborhood and has many fond memories of the old store. His dad would hunt ducks and geese and take them to the store to be cleaned, wrapped and placed in the family meat locker. His mother would phone in grocery orders, and Howard Bushnell, nicknamed "Shorty," the shortest man in the photo above, would deliver them to the house.
Home delivery service died out in the 1950s and Reierson was at the store often, picking up groceries on his bicycle for his mother. One day, he came home with a candy bar he had taken without paying. His father hauled him back to the store and made him confess his crime and pay for the candy bar.
When customer Laura F. Rush died in 1940, she left her favorite grocery clerks, Les Willard and Burt Sisson, $500 and $250, respectively, in her will for their friendly service. "She came here to get her groceries and she'd ask Burt Sisson or me to pick them out for her. I didn't expect anything like this," Willard told the Spokane Daily Chronicle.
"What was so neat about the place was that everything was about customer service. If they didn't have it, they would get it – things like apples at Christmas time," Reierson said. "They were just good people."
In the late 1950s, the Walther family teamed with developer James S. Black to plan a large shopping center at 29th Avenue and Grand Boulevard. The neighborhood organized against the plan and sued. After several years of litigation, the state Supreme Court decided in the developers' favor.
Meanwhile, Edward Walther died in 1966 at age 69. Son Paul and brother Herbert went ahead with the project. Manito Shopping Center opened in 1969 with a Safeway grocery store, an Ernst-Malmo home store, a Pay 'n' Save drugstore and a Rhodes department store. Rhodes was renamed Lamont's, after Lamont Bean, the CEO of Pay 'n' Save Corp., which owned the brand, in 1970.
– Jesse Tinsley
---