Woods to withdraw from Safeway Open in California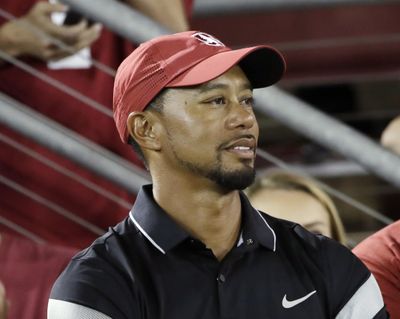 The comeback of Tiger Woods is going to have to wait at least two more months.
Three days before Woods planned to end his longest break from golf at the Safeway Open, he abruptly withdrew on Monday and said his game was not ready to take on PGA Tour competition.
"My health is good, and I feel strong," Woods said on his website. "But my game is vulnerable and not where it needs to be."
And so the waiting continues.
Woods first announced on Sept. 7 that he planned to play three times by the end of the year, starting with the Safeway Open at Silverado Resort in Napa, California. Then, he officially committed to the tournament on Friday.
The buzz was building for his return, with word leaking that he would be paired with Phil Mickelson and defending Silverado champion Emiliano Grillo. Instead, Woods withdrew from the Safeway Open and the Turkish Airlines Open on Nov. 3-6 after what he described as "a lot of soul searching."
He said he plans to play at his Hero World Challenge on Dec. 1-4 in the Bahamas.
"When I announced last week I was going to Safeway, I had every intention of playing, or I wouldn't have committed," Woods said.
He was at the Ryder Cup two weeks ago as an assistant captain and said the experience "inspired me even more to play." Woods said he practiced the last several days in California, where he also went to Stanford's football game against Washington State.
"But after a lot of hours, I knew I wasn't ready to compete against the best golfers in the world," he said. "I would like to apologize and send my regrets to Safeway, the Turkish Airlines Open, the fans in California and Turkey and those that had hoped to watch me compete on TV. This isn't what I wanted to happen, but I will continue to strive to be able to play tournament golf.
"I'm close, and I won't stop until I get there."
Woods last played on Aug. 23, 2015, at the Wyndham Championship. Two shots out of the lead going into the final round, he closed with a 70 and tied for 10th. A month later, he announced he had another operation on his back. Then, Woods had a third back surgery in October.
He missed all four majors for the first time in his career.
Johnny Miller, the tournament host at Silverado, said Woods pledged he would return to the Safeway Open next year if he is able. The Safeway Open is the first tournament in the PGA Tour's wraparound schedule.
"It is a huge impact on our tournament, the Safeway Open," Miller told Golf Channel. "Obviously, I wish Tiger the best. Everybody was so excited in the golf world and here in Northern California. … I know there is a lot of pressure on Tiger after 14 months away from professional golf. The expectation and nervous level has got to be almost like when he played in his first L.A. Open when he was a kid.
"It is hard being Tiger Woods. It really is," Miller said. "Especially if he can't back it up with semblance of the old Tiger Woods. And everybody expects him to come back and play like he did in the year 2000. That is just not going to happen. He has got to break the ice sometime. I hope he picks the right spot."
Notah Begay, his closest friend in golf and a former Stanford teammate, said the withdrawal was surprising based on what they had talked about at the Ryder Cup. Begay took a week off from his broadcast duties at NBC Sports at Hazeltine to drive Woods' cart.
"It's not body-related," Begay told Golf Channel. "I just think it might be the in-between shots. … As we all know, it is not just a succession of full shots that are required on the PGA Tour. You have to have the feel shots, the in-between shots. Just not having had enough time to get the reps in prior to would be my guess based upon my conversations with Tiger."
Woods was at Pebble Beach on Monday for a private event that benefits his foundation.
---