Sports
Gonzaga Prep slips to No. 8 in 4A football rankings
Wed., Oct. 12, 2016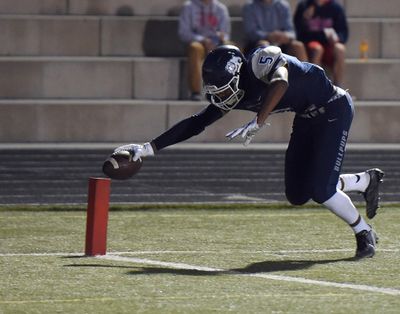 Gonzaga Prep dropped one more spot in the 4A football rankings released Wednesday by The Associated Press.
The Bullpups (4-2) are eighth. Camas (6-0) is now in first alone after sharing the spot with Richland (6-0) last week. The Bombers are second.
Chiawana (6-0) is climbing, moving up to fourth. Including Camas, Richland and Chiawana there are seven undefeated teams in the rankings this week.
Two-time 3A state champ Eastside Catholic (6-0) continues atop its perch.
No Great Northern League teams are ranked in 2A. Pullman received enough votes to be 11th if the poll extended that far. Archbishop Murphy (6-0), which continues to collect forfeits because schools with smaller enrollments don't want to play, in No. 1.
Northeast A teams, while competitive among themselves, have fallen off the radar of media statewide. Royal, Connell, Mount Baker, Montesano, Okanogan and Cascade Christian, each 6-0, represent the top six in that order.
Closer to home, Northwest Christian and Liberty, both 6-0, are second and third respectively in 2B in advance of their key showdown on Friday in Spangle. Napavine (6-0) is No. 1 and Asotin (5-1) is sixth.
Defending 1B state champ Almira/Coulee-Hartline (6-0) continues at No. 2 behind the team it beat in the final, Lummi (6-0). Odessa-Harrington (5-0) is fourth.
ACH and O-H tangle Oct. 28 in Coulee City.
Local journalism is essential.
Give directly to The Spokesman-Review's Northwest Passages community forums series -- which helps to offset the costs of several reporter and editor positions at the newspaper -- by using the easy options below. Gifts processed in this system are not tax deductible, but are predominately used to help meet the local financial requirements needed to receive national matching-grant funds.
Subscribe to the sports newsletter
Get the day's top sports headlines and breaking news delivered to your inbox by subscribing here.
---