100 years ago in Spokane: The rise of the automobile also gave rise to new city laws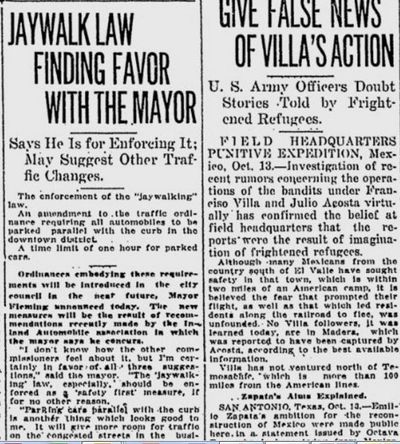 From our archives, 100 years ago
Three proposed Spokane City Council ordinances were directly related to the astonishing proliferation of automobiles over the last few years.
The first was an amendment requiring all automobiles to be parked "parallel with the curb" downtown.
"It will give more room for traffic on the congested streets in the business section, and I'm for it," said Mayor Fleming.
The second was a new time limit for parked cars downtown: one hour.
The third was anti-jaywalking law, made necessary by the fact that pedestrians faced more peril than ever. Fleming said the anti-jaywalking law needed to be enforced as a "safety-first measure, if for no other reason."
No opposition was expected to any of these measures.
From the murder beat: A Wallace, Idaho, jury heard testimony that Herman Rossi, former Wallace mayor, confessed to the murder of Clarence Dahlquist.
George W. Walker, a lawyer and justice of the peace, said that a police officer took Rossi to Walker's office right after the shooting and that Rossi spent 15 minutes sobbing, crying — and confessing.
Walker testified that Rossi told him that he had come downtown to "run Dahlquist out of town." When Rossi found him, he "struck him over the head with a revolver." When Dahlquist got up and ran, Rossi "shot at him, or shot him." Then Rossi followed Dahlquist behind the hotel lobby counter, Rossi again pointed the gun at him and "gave him 10 minutes to leave town." Rossi apparently did not realize he had already inflicted a fatal wound.
---