News > Nation/World
Something is happening: Bob Dylan wins Nobel in literature
Oct. 13, 2016 Updated Thu., Oct. 13, 2016 at 1:32 p.m.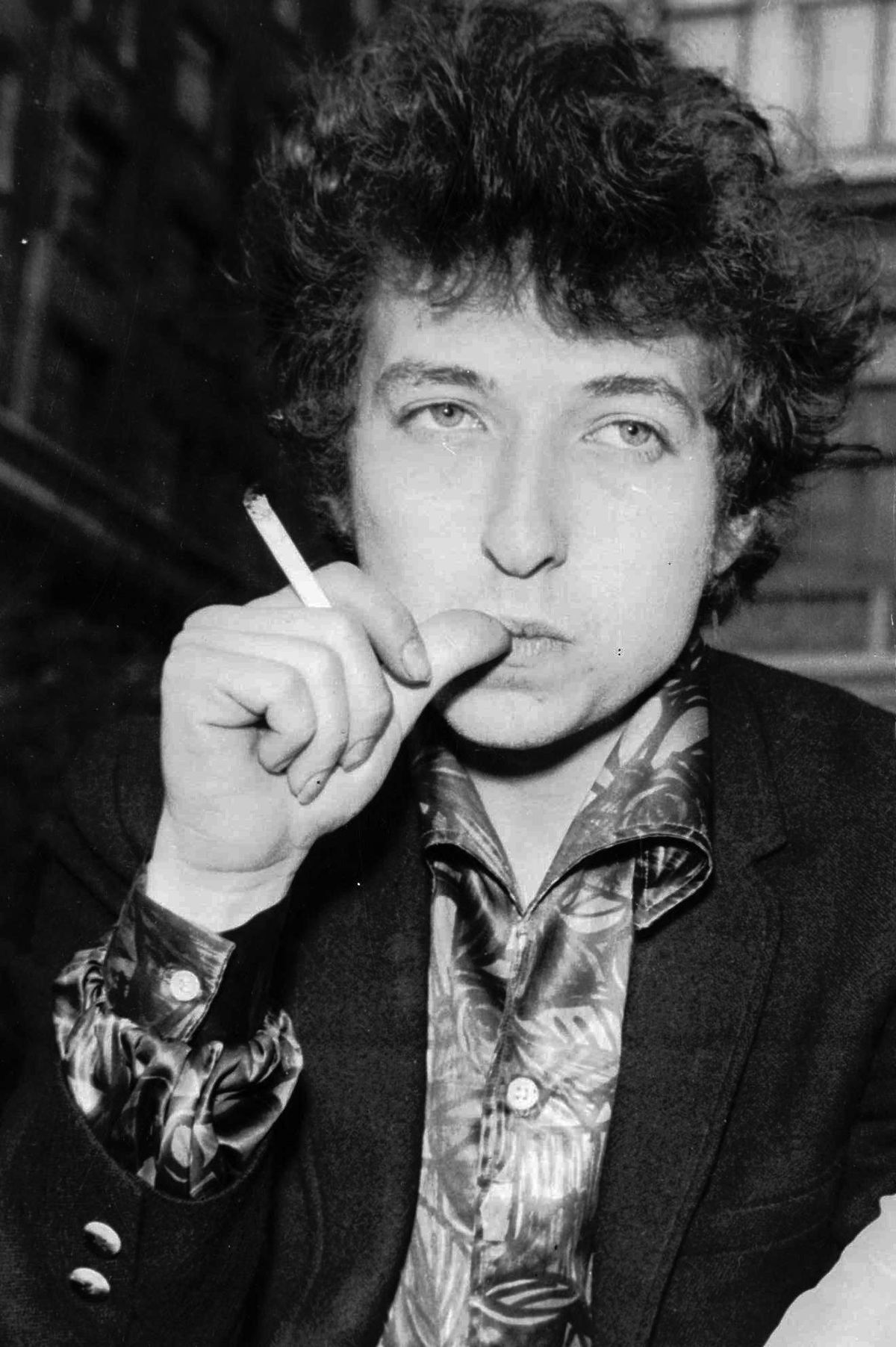 This April 27, 1965, file photo, shows Singer Bob Dylan in London. Dylan was named the winner of the 2016 Nobel Prize in literature Thursday, Oct. 13, 2016, in a stunning announcement that for the first time bestowed the prestigious award to someone primarily seen as a musician. (Associated Press)
STOCKHOLM – Bob Dylan, Nobel laureate. In the book world's equivalent of a Supreme Court ruling, the Nobel judges declared Thursday that Dylan is not just a rock star but a poet of the very highest order.
Dylan, 75, becomes the first musician in the 115-year history of the Nobel to win the prize in literature. He was honored for "having created new poetic expressions within the great American song tradition."
It is the ultimate ascension for the man who set off a lasting debate over whether lyrics, especially rock lyrics, can be regarded as art. Dylan, who gave the world "Like a Rolling Stone," "Blowin' in the Wind" and dozens of other standards, now finds himself on a list that includes Samuel Beckett, Toni Morrison and T.S. Eliot, whom Dylan referred to in his epic song "Desolation Row."
"Congratulations to one of my favorite poets, Bob Dylan, on a well-deserved Nobel," tweeted President Barack Obama, who in 2012 presented the singer-songwriter with a Presidential Medal of Freedom.
Dylan rarely gives interviews, and a representative said the star had no immediate comment. He is on tour and was scheduled to play in Las Vegas on Thursday night.
The startling announcement out of Stockholm was met with both euphoria and dismay.
Many fans already quote Dylan as if he were Shakespeare, there are entire college courses and scholarly volumes devoted to his songs, and judges work Dylan quotations into their legal opinions all the time, such as "The times they are a-changing" and "You don't need a weatherman to know which way the wind blows."
With this year's Nobel announcement, many people, especially Americans, weren't scratching their heads and asking "Who?!" the way they did after hearing the names of such winners as Patrick Modiano and J.M.G. Le Clizio.
Others, though, lamented a lost moment for books.
"An ill-conceived nostalgia award wrenched from the rancid prostates of senile, gibbering hippies," wrote "Trainspotting" novelist Irvine Welsh. "I totally get the Nobel committee," tweeted author Gary Shteyngart. "Reading books is hard." The Vatican newspaper L'Osservatore Romano said some "real writers" probably aren't pleased.
But several leading authors praised the news.
Nobel laureate Toni Morrison said in a statement that she was pleased and that Dylan was "an impressive choice." Salman Rushdie, who has written songs with U2's Bono, tweeted that Dylan is "the brilliant inheritor of the bardic tradition. Great choice." Perennial Nobel candidate Joyce Carol Oates tweeted that "his haunting music & lyrics have always seemed, in the deepest sense, literary."
Dylan's award also was welcomed by a venerable literary organization, the Academy of American Poets.
"Bob Dylan receiving the Nobel Prize in literature acknowledges the importance of literature's oral tradition, and the fact that literature and poetry exists in culture in multiple modes," executive director Jennifer Benka said in a statement.
Critics can argue whether "Visions of Johanna" is as literary as "Waiting for Godot," but Dylan's stature among musicians is unchallenged. He is the most influential songwriter of his time, who brought a new depth, range and complexity to rock lyrics and freed Bruce Springsteen, Joni Mitchell and countless other artists to break out from the once-narrow boundaries of love and dance songs.
Dylan already was the only rock star to receive a Pulitzer Prize (an honorary one), and is, in fact, an author, too: He was nominated for a National Book Critics Circle prize for his memoir, "Chronicles: Volume One."
He is the first American to win the Nobel literature prize since Morrison in 1993, and his award probably hurts the chances of such older American writers as Philip Roth and Don DeLillo, since the Nobel judges try to spread the honors around.
"Rather doubt Philip Roth and Don DeLillo wish they'd written "Mr. Tambourine Man" vs. AMERICAN PASTORAL and UNDERWORLD," tweeted Roth biographer Blake Bailey, referring to acclaimed novels by Roth and DeLillo. "But sure, ok."
Dylan's life has been a hybrid of popular and literary influences. A native of Duluth, Minnesota, he worshipped Elvis Presley and James Dean as a boy, but also read voraciously and seemed to absorb virtually every style of American music.
His lyrics have referred to (and sometimes lifted from) the Bible, Civil War poetry and Herman Melville. He has contended that his classic "Blood on the Tracks" album was inspired by the stories of Anton Chekhov.
His songs can be snarling and accusatory ("Idiot Wind," "Positively 4th Street"); apocalyptic ("A Hard Rain's A-Gonna Fall"); dense and hallucinatory ("Desolation Row"); tender and wistful ("Visions of Johanna"); bracingly topical ("Hurricane" and "Only a Pawn in Their Game"); and enigmatic and absurdist ("Stuck Inside of Mobile With the Memphis Blues Again").
"Blowin' in the Wind" was an instant protest anthem for the 1960s, yet sounded as if it had been handed down through the oral tradition from another century, with such lines as "How many times must the cannon balls fly before they're forever banned?"
"Like a Rolling Stone," his takedown of a rich and pampered young woman forced to fend for herself, was pronounced the greatest song of all time by Rolling Stone magazine. The six-minute recording from 1965 is regarded as a landmark that shattered the notion a hit song had to be three minutes.
His career has been such a complicated pastiche of elusive, ever-changing styles that it took six actors – including Cate Blanchett – to portray him in the 2007 movie based on his life, "I'm Not There." He won an Oscar in 2001 for the song "Things Have Changed" and received a lifetime achievement award from the Academy of Recording Arts and Sciences in 1991.
Dylan is the most unorthodox Nobel literature prize winner since 1997, when the award went to Italian playwright Dario Fo, whose works some say also need to be performed to be fully appreciated. By a sad coincidence, Fo died Thursday at 90.
The literature award was the last of this year's Nobel Prizes to be announced. The six awards will be handed out on Dec. 10, the anniversary of prize founder Alfred Nobel's death in 1896.
Some lyrics from Bob Dylan songs
American singer-songwriter Bob Dylan was awarded the Nobel Prize in literature Thursday, lauded for creating "new poetic expressions within the great American song tradition." Here are lyrics from just a few of the hundreds of songs that he has written over his career:
How many roads must a man walk down
Before you call him a man?
Yes, `n' how many seas must a white dove sail
Before she sleeps in the sand?
Yes, `n' how many times must the cannon balls fly
Before they're forever banned?
The answer, my friend, is blowin' in the wind,
The answer is blowin' in the wind.
— BLOWIN' IN THE WIND, 1962
(Words and Music by Bob Dylan)
1962 Warner Bros. Inc
Renewed 1990 Special Rider Music
Come senators, congressmen
Please heed the call
Don't stand in the doorway
Don't block up the hall
For he that gets hurt
Will be he who has stalled
There's a battle outside
And it is ragin'.
It'll soon shake your windows
And rattle your walls
For the times they are a-changin'.
— THE TIMES THEY ARE A-CHANGIN'
(Words and Music by Bob Dylan)
1963, 1964 Warner Bros. Inc
Renewed 1991, 1992 Special Rider Music
Oh, what'll you do now, my blue-eyed son?
Oh, what'll you do now, my darling young one?
I'm a-goin' back out `fore the rain starts a-fallin',
I'll walk to the depths of the deepest black forest,
Where the people are many and their hands are all empty,
Where the pellets of poison are flooding their waters,
Where the home in the valley meets the damp dirty prison,
Where the executioner's face is always well hidden,
Where hunger is ugly, where souls are forgotten,
Where black is the color, where none is the number,
And I'll tell it and think it and speak it and breathe it,
And reflect it from the mountain so all souls can see it,
Then I'll stand on the ocean until I start sinkin',
But I'll know my song well before I start singin',
And it's a hard, it's a hard, it's a hard, it's a hard,
It's a hard rain's a-gonna fall.
— A HARD RAIN'S A-GONNA FALL
(Words and Music by Bob Dylan)
1963 Warner Bros. Inc
Renewed 1991 Special Rider Music
Wintertime in New York town,
The wind blowin' snow around.
Walk around with nowhere to go,
Somebody could freeze right to the bone.
I froze right to the bone.
New York Times said it was the coldest winter in seventeen years;
I didn't feel so cold then.
— TALKING NEW YORK
(Words and Music by Bob Dylan)
1962, 1965 Duchess Music Corp.
Renewed 1990, 1993 MCA
Far between sundown's finish an' midnight's broken toll
We ducked inside the doorway, thunder crashing
As majestic bells of bolts struck shadows in the sounds
Seeming to be the chimes of freedom flashing
Flashing for the warriors whose strength is not to fight
Flashing for the refugees on the unarmed road of flight
An' for each an' ev'ry underdog soldier in the night
An' we gazed upon the chimes of freedom flashing.
— CHIMES OF FREEDOM
(Words and Music by Bob Dylan)
1964 Warner Bros. Inc
Renewed 1992 Special Rider Music
Maggie comes fleet foot
Face full of black soot
Talkin' that the heat put
Plants in the bed but
The phone's tapped anyway
Maggie says that many say
They must bust in early May
Orders from the D. A.
Look out kid
Don't matter what you did
Walk on your tip toes
Don't try "No Doz"
Better stay away from those
That carry around a fire hose
Keep a clean nose
Watch the plain clothes
You don't need a weather man
To know which way the wind blows
— SUBTERRANEAN HOMESICK BLUES
(Words and Music by Bob Dylan)
1965 Warner Bros. Inc
Renewed 1993 Special Rider Music
You raise up your head
And you ask, "Is this where it is?"
And somebody points to you and says
"It's his"
And you say, "What's mine?"
And somebody else says, "Where what is?"
And you say, "Oh my God
Am I here all alone?"
Because something is happening here
But you don't know what it is
Do you, Mister Jones?
— BALLAD OF A THIN MAN
(Words and Music by Bob Dylan)
1965 Warner Bros. Inc
Renewed 1993 Special Rider Music
You never turned around to see the frowns on the jugglers and the clowns
When they all come down and did tricks for you
You never understood that it ain't no good
You shouldn't let other people get your kicks for you
You used to ride on the chrome horse with your diplomat
Who carried on his shoulder a Siamese cat
Ain't it hard when you discover that
He really wasn't where it's at
After he took from you everything he could steal.
How does it feel
How does it feel
To be on your own
With no direction home
Like a complete unknown
Like a rolling stone?
— LIKE A ROLLING STONE
(Words and Music by Bob Dylan)
1965 Warner Bros. Inc
Renewed 1993 Special Rider Music
She lit a burner on the stove and offered me a pipe
"I thought you'd never say hello," she said
"You look like the silent type."
Then she opened up a book of poems
And handed it to me
Written by an Italian poet
From the thirteenth century.
And every one of them words rang true
And glowed like burnin' coal
Pourin' off of every page
Like it was written in my soul from me to you,
Tangled up in blue.
— TANGLED UP IN BLUE, 1974
(Words and Music by Bob Dylan)
Someone's got it in for me, they're planting stories in the press
Whoever it is I wish they'd cut it out but when they will I can only guess.
They say I shot a man named Gray and took his wife to Italy,
She inherited a million bucks and when she died it came to me.
I can't help it if I'm lucky.
People see me all the time and they just can't remember how to act
Their minds are filled with big ideas, images and distorted facts.
Even you, yesterday you had to ask me where it was at,
I couldn't believe after all these years, you didn't know me better than that
Sweet lady.
Idiot wind, blowing every time you move your mouth,
Blowing down the backroads headin' south.
Idiot wind, blowing every time you move your teeth,
You're an idiot, babe.
It's a wonder that you still know how to breathe.
— IDIOT WIND, 1974
(Words and Music by Bob Dylan)
1974, 2002 Ram's Horn Music
Oh, the gentlemen are talking and the midnight moon is on the riverside,
They're drinking up and walking and it is time for me to slide.
I live in another world where life and death are memorized,
Where the earth is strung with lovers' pearls and all I see are dark eyes.
— DARK EYES
(Words and Music by Bob Dylan)
1985 Special Rider Music
Ritter reported from Stockholm. Associated Press writer Keith Moore in Stockholm also contributed to this report.
Local journalism is essential.
Give directly to The Spokesman-Review's Northwest Passages community forums series -- which helps to offset the costs of several reporter and editor positions at the newspaper -- by using the easy options below. Gifts processed in this system are not tax deductible, but are predominately used to help meet the local financial requirements needed to receive national matching-grant funds.
Subscribe now to get breaking news alerts in your email inbox
Get breaking news delivered to your inbox as it happens.
---