Sports
Northwest Christian overcomes mistakes, holds off Liberty
Fri., Oct. 14, 2016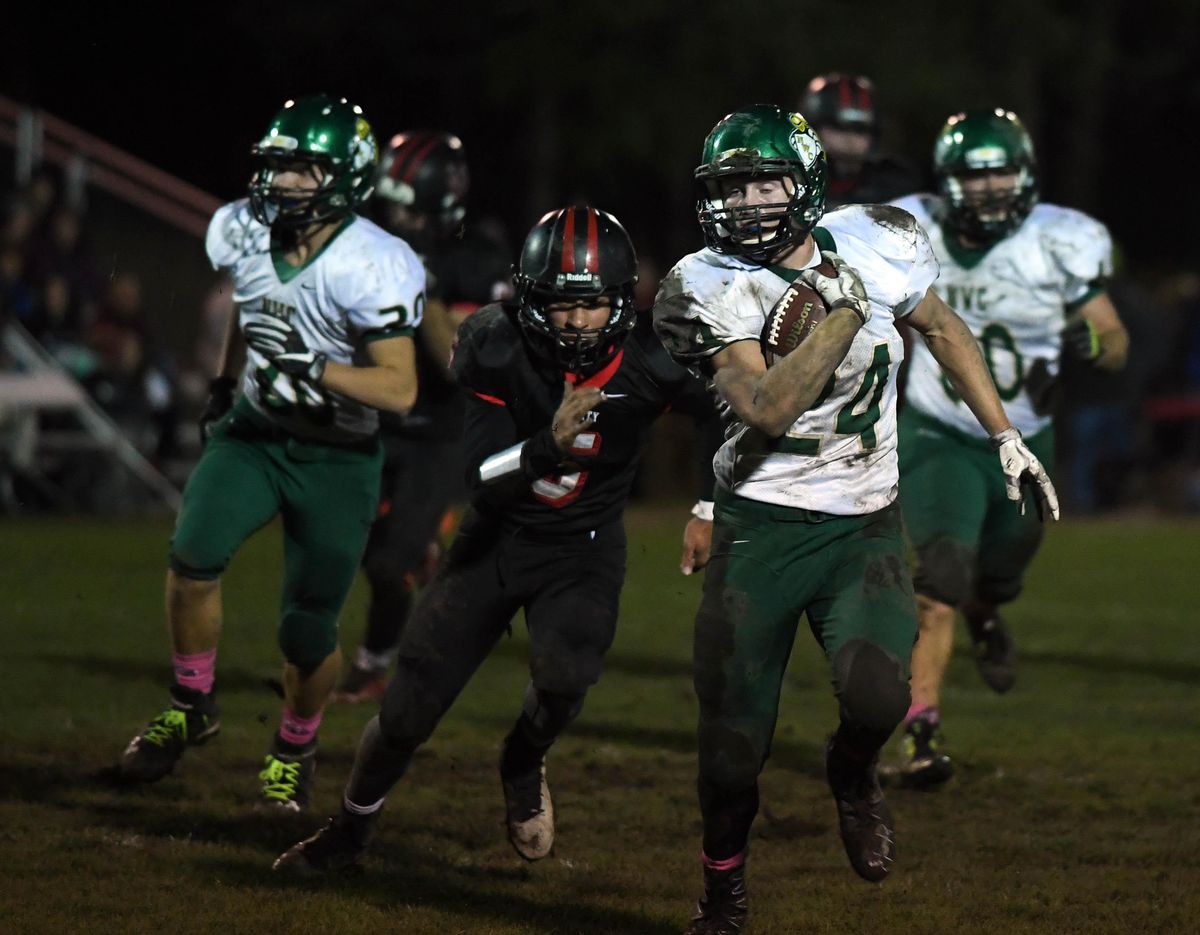 Northwest Christian running back Silas Perreiah (24) runs in for a Crusader touchdown during the first half of a high school football game at Liberty High School. (Colin Mulvany / The Spokesman-Review)
The Northwest Christian Crusaders overcame the Liberty Lancers and, more important, themselves Friday.
In a showdown between the second- and third-ranked teams in the state, the Crusaders held off the Lancers 36-26 in a Northeast 2B football game Friday at Spangle on a field perfect for mud wrestling.
NWC (7-0) is host to Asotin (6-1) next Friday. The Crusaders can claim the league title outright. An Asotin win would create a three-way tie. Liberty beat Asotin 22-20 in triple overtime last month.
"Sloppy game for both teams on a sloppy field," NWC coach Jim Nendel said. "We both made mistakes. They (the Lancers) kept coming and didn't give up."
After coming out of halftime with a 27-13 lead, NWC scored on its first possession. A 13-yard pass from Chris Carey to Ryan Ricks extended the lead to 33-13.
That lead would hold through the third period.
On the first play of the fourth – with Liberty facing a fourth-and-goal at the 10-yard line – quarterback Garrett Rogers found Patrick Parades for a touchdown, pulling the Lancers within 33-20.
After forcing Liberty (6-1) to punt, the Crusaders got the ball back when Carey pulled down his second interception, wrestling it away from Liberty receiver Justin King.
Liberty got the ball back with 6:24 remaining. A 30-yard completion to Tyler Haas got the Lancers to NWC's 1. Two plays later, Jake Harrington bulled in to make it 33-26 with 5:07 to go.
Carey had a one-on-one with receiver Tristian Carols-Knutson on NWC's next play. But Parades picked it off, giving the Lancers more hope.
Liberty couldn't convert on fourth-and-5 at its 45, ending the Lancers' comeback hopes.
This time, the Crusaders kept the ball on the ground. They used seven plays to move to Liberty's 11. On fourth-and-2, the Crusaders brought kicker Rolf Veenstra in for a field-goal attempt. His kick from 29 yards was good, providing the final score.
A series of mistakes started on the game's first play when Liberty dropped in punt formation. The ball was snapped over the punter's head, setting the Lancers up at the 5.
NWC's defense pushed Liberty back 7 yards on back-to-back plays, but Rogers hit Parades on a short post for a touchdown.
As it would turn out, it would be Liberty's lone lead.
NWC needed little time to even things at 7-7. On the third play of the Crusaders' second possession, Carey hit a streaking Ricks for a 62-yard score.
Early in the second quarter, NWC took the lead for good. Ricks tipped a pass and Carey intercepted and returned it 25 yards to put the Crusaders ahead to stay at 14-7.
"I saw Chase (Burnham, Liberty receiver) going out and Ricks on top, so I just sat preparing for a tackle," Carey said about what he was thinking as the play unfolded. "Then he tipped it."
Carey finished with 166 yards passing and two TDs. Running back Silas Perreiah gained 88 tough yards considering the field conditions.
"This is the first time we've had to play four quarters this year," Nendel said. "The key was the offensive and defensive lines. They controlled things. This is huge. Our guys recovered (late in the game) and finished strong."
Local journalism is essential.
Give directly to The Spokesman-Review's Northwest Passages community forums series -- which helps to offset the costs of several reporter and editor positions at the newspaper -- by using the easy options below. Gifts processed in this system are not tax deductible, but are predominately used to help meet the local financial requirements needed to receive national matching-grant funds.
Subscribe to the sports newsletter
Get the day's top sports headlines and breaking news delivered to your inbox by subscribing here.
---