News > Spokane
Spokane Teaching Health Clinic trains a new generation of health-care workers
Fri., Oct. 14, 2016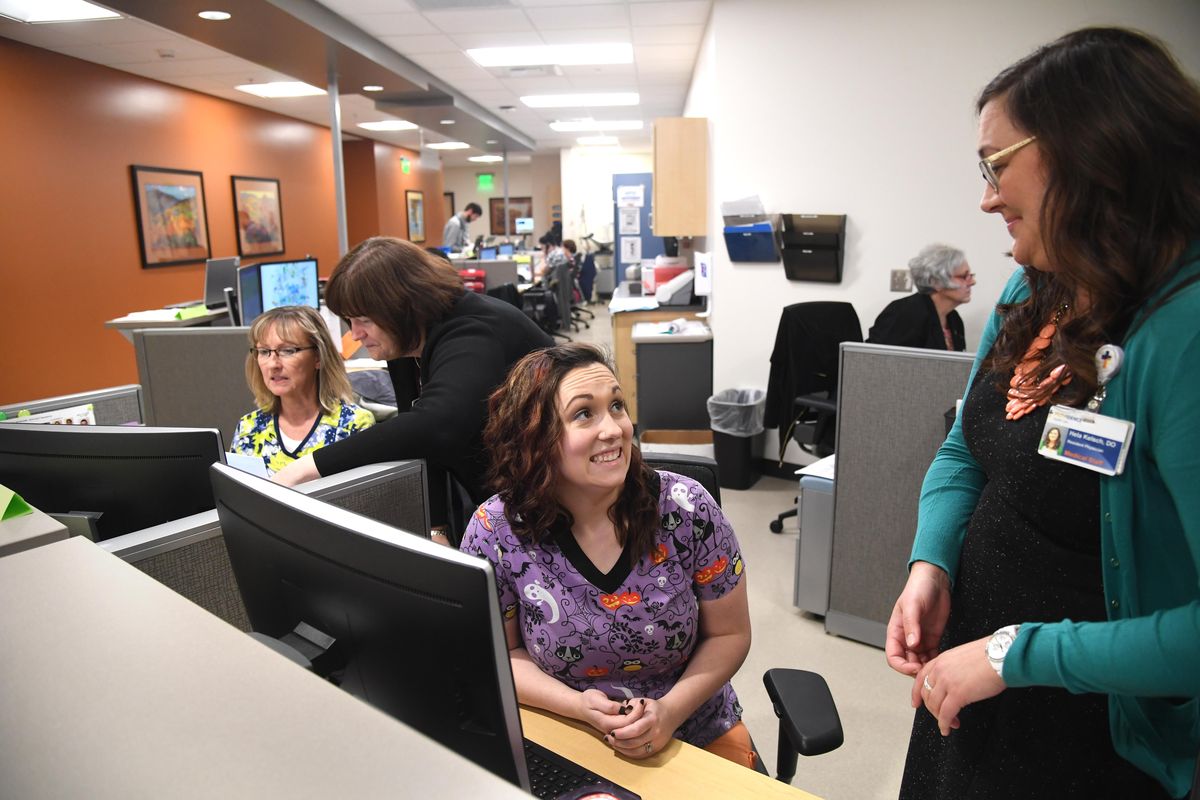 Dr. Hela Kelsch, right, a resident who will graduate from medical school next June, talks with medical assistant Melanie Chastek at the new Spokane Teaching Health Clinic. The new clinic functions with residents helping patients under the supervision of medical faculty, but also as an educational site for pharmacists, social workers, physical therapists and other specialties. (Jesse Tinsley / The Spokesman-Review)
Dr. Hela Kelsch won't graduate from her family medicine residency program until the end of June, but she's already hearing from recruiters.
She gets three to six emails daily, alerting her to job openings.
Kelsch responds with a polite "no, thanks" to recruiters trying to lure her to other parts of the country. She has her heart set on practicing medicine in North Spokane.
Growing the number of family doctors who want to work in Eastern Washington is the goal of the Spokane Teaching Health Consortium, a partnership between Providence Health Care, Empire Health Foundation and Washington State University-Spokane.
Three years ago, the partners teamed up on a $900,000 federal grant to increase the number of medical residencies in the Spokane area, which have grown from 74 to 99, said Terren Roloff, a WSU-Spokane spokeswoman.
Kelsch, 30, is an example of the program's success. The Mead High School graduate went to medical school at Kansas City University in Missouri, but returned to Spokane for a three-year residency at Spokane Teaching Health Clinic.
"I spent a lot of time in the Midwest, but home was calling to me," she said. "I wanted to be back in Eastern Washington."
Kelsch did most of her residency at the Fifth Avenue and Browne Street Medical Building, which is being razed for a 100-bed psychiatric hospital. She's finishing at a new building on WSU-Spokane's campus.
The $16.2 million health teaching clinic, which opened in August, expands the space available for the residency program. It will also house a pharmacy and Eastern Washington University programs in social work and physical and occupational therapy.
The new Spokane Teaching Health Clinic aims to train the region's next generation of health care workers, while providing primary care for low-income and under-insured residents who might otherwise have trouble getting a doctor's appointment. More than 35,000 patients are expected to be seen at the clinic each year.
About 140 people will work at the clinic, focusing on a team-based model of providing primary care.
"We've got learners and we've got faculty," said Dr. Judy Benson, director of medical education for Providence and the Spokane Teaching Health Clinic.
The 43,000-square-foot clinic includes 54 patient exam rooms, plus space for occupational and physical therapy and counseling. There's also a large central room, where students and faculty will consult on patient cases.
Most medical residents at the clinic specialize in family and internal medicine, with about 30 positions each. Six other residents will specialize in psychiatry, two in rural family care and one in sports medicine.
EWU social work students recently started seeing patients at the clinic, and students in physical and occupational therapy programs will start in January. WSU-Spokane's pharmacy residents will move to the clinic next year.
"By creating a clinic here on the campus, we had an opportunity to innovate and provide inter-professional training for health science students," said WSU-Spokane Chancellor Lisa Brown. "We'll be able to test different types of teamwork for care and research the best practices."
While the clinic is open to all patients, one of its goals is to address health disparities in the Spokane area by providing care to underserved populations.
"We know there are always needs, especially in our neighborhood in central Spokane," Brown said.
Many of the clinic's patients have health issues that are complicated by poverty, mental health issues, addiction, abuse and illiteracy, said Benson, the medical education director. Housing different programs under the same roof helps address the patients' multiple needs, she said.
Pharmacy students will be able to meet with patients to make sure they understand how to take their medication and connect them to resources if they can't afford their prescriptions. On-site access to psychiatrists will help medical residents treat patients with mental health issues.
As part of the holistic approach, the clinic also has programs to help patients get health insurance and legal assistance.
Better Health Together, a subsidiary of Empire Health Foundation, will have an office at the clinic to help people sign up for health insurance and find low-cost resources for managing chronic illnesses, such as diabetes education, Benson said.
Gonzaga University law school students will also meet with patients at the clinic through a medical-legal program run by the Center for Justice.
As an example of health and legal problems overlapping, Benson said she sees patients with "horrible respiratory issues" related to mold in rental housing.
The various programs will lease space in the new clinic building, which was financed by WSU revenue bonds.
Kelsch, the family medicine resident, is starting to interview for jobs in the Spokane area. She'd like to work at a clinic, where she could establish long-term relationships with patients as their primary care doctor.
"Being a doctor is the only thing I've ever wanted to do," Kelsch said.
Doing her residency in Spokane has given her a head start in understanding the community's health needs, she said.
Local journalism is essential.
Give directly to The Spokesman-Review's Northwest Passages community forums series -- which helps to offset the costs of several reporter and editor positions at the newspaper -- by using the easy options below. Gifts processed in this system are not tax deductible, but are predominately used to help meet the local financial requirements needed to receive national matching-grant funds.
Subscribe now to get breaking news alerts in your email inbox
Get breaking news delivered to your inbox as it happens.
---