A&E > Entertainment
Roger Waters wants a bridge, not a wall: Pink Floyd singer plans a solo Us + Them tour in 2017
Sat., Oct. 15, 2016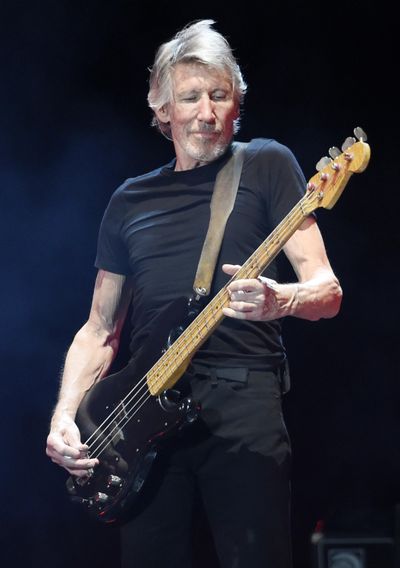 Pink Floyd's Roger Waters will mount a solo tour in 2017, and the trek has a mission. Waters intends for the concerts to address societal, political and cultural divisiveness.
The Us + Them outing is scheduled to make at least 40 stops across the U.S. and Canada beginning May 26 in Kansas City, Mo. It will make its lone Northwest stop on June 24 at the Tacoma Dome.
Waters says the production will follow in the tradition of large-scale concert presentations he's been known for since Pink Floyd's monumental performances in the 1970s and 1980s. The tour gets its name from the "Us and Them" track on Pink Floyd's blockbuster 1973 album, "The Dark Side of the Moon."
Waters, 73, said the inspiration comes from a specific line in "Us and Them." "With, without," Waters sings in the song, "and who'll deny it's what the fighting is all about.'"
"The answer to that question is: Pretty much everyone will deny it," Waters told The Times during an interview backstage at the Desert Trip festival in Indio, where he returns to conclude the event's second weekend with his performance Sunday evening. "That thinking is everywhere: 'We're right and they're wrong.'"
The new tour follows his 2010-13 outing, "The Wall" Live, in which he mounted a massive staging of Pink Floyd's 1979 concept album "The Wall." It drew more than 4 million fans to its 219 performances and is one of the highest-grossing concert tours in history, taking in $458 million.
This time out, Waters will bring in a broader span of music from his years with Pink Floyd as well as his subsequent solo career, including new material from an album he's working on this fall. He said he plans to release the work in the spring in conjunction with the start of the tour.
"'The Wall' was a coherent single narrative, with characters in it, a bit of plotting," the British rocker said. "But the obsession in 'The Wall' – with being left by the wife, the teacher and all that stuff from my childhood – is not part of the narrative I'm interested in exploring any more. I've done that. That's gone.
"What I'm more interested in exploring is how do we bring us and them together?" he said. "How do we reach out to one another? How do we hold hands? How do we create a system of cooperation in conflict resolution to replace the idea of perpetual war, which is completely accepted in many areas of American society?"
For Waters, the answer is simple.
"The show will be centered on love and the idea of the transcendental nature of the acceptance of love," he said. "Everything springs from that central idea of this new work."
He had a more aggressive statement at the first weekend of Desert Trip.
His celebrated floating pig was present in Indio, with the words "Divided We Fall" visible on one side, an unprintable criticism of Republican presidential nominee Donald Trump on the other and large Xs over its eyes. He used other aspects of the performance to communicate his not-so-friendly feelings about Trump.
"I lie in the absolute antithesis of where … Trump lies, in that I know that walls are a really, really bad idea – always," Waters said. "Trump has tried to zero in on the sense of defeat in the middle and working-class working community here in America.
"He has succeeded to some extent in that, using smoke and mirrors, he has persuaded large numbers of Americans that everything is 'their' fault – they are to blame: The Chinese are to blame, Mexicans are to blame, Muslims are to blame."
Waters said the Us + Them show will touch on those issues.
"Everybody else is to blame for their sense of defeat, when, in fact, the 1 percent have been (exploiting) them essentially since the Second World War," Waters said.
Sitting in his artists' trailer backstage at Desert Trip just minutes before Bob Dylan was to perform, Waters refuted any suggestion that the power of popular music as an agent of social and political change was strictly in the past.
"It's coming back," he said. "Protest is not dead. The spirit of Woody Guthrie and Huddie Ledbetter (folk-blues singer Lead Belly) and all the rest still lives on."
"None of this is lofty," he continued.
"It's just pragmatic stuff we have lost sight of. We've lost sight of being able to love one another. That is what I'll spend my remaining years doing: trying to shine a light on that possibility."
Tickets for the Us + Them tour go on sale Friday, with presale of VIP packages starting on Monday.
Full ticket information is available at RogerWaters.com or AEGLive.com.
Local journalism is essential.
Give directly to The Spokesman-Review's Northwest Passages community forums series -- which helps to offset the costs of several reporter and editor positions at the newspaper -- by using the easy options below. Gifts processed in this system are not tax deductible, but are predominately used to help meet the local financial requirements needed to receive national matching-grant funds.
Subscribe to the Spokane7 email newsletter
Get the day's top entertainment headlines delivered to your inbox every morning.
---