Sports
Sam Darnold throws for five scores as USC routs Arizona
Sat., Oct. 15, 2016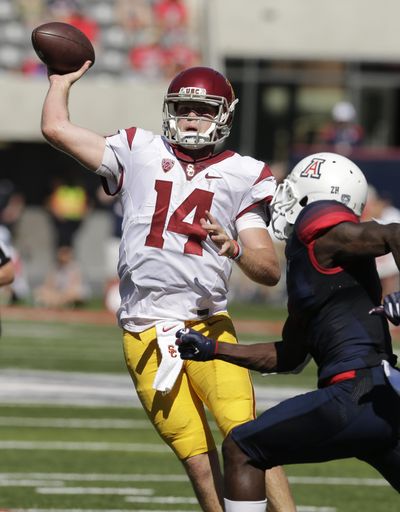 TUCSON, Ariz. – Sam Darnold is settling into the quarterback role at USC quite nicely, and he has the Trojans in the thick of the race in the Pac-12 South.
The redshirt freshman, who didn't start until the fourth game of the season, threw five touchdown passes – three to JuJu Smith-Schuster – in USC's 48-14 rout of Arizona on Saturday.
"There's a lot of stuff that I've learned these last few weeks that's really helped in this game," Darnold said, "and obviously games that we're looking ahead."
He completed 20 of 32 attempts for 235 yards and ran for 54 yards on six carries before sitting out the fourth quarter. He threw for 186 yards and four scores as USC built a 34-7 halftime lead.
"Not to blow his head up too much but he's playing really good football right now, way beyond his years, his maturity level," Trojans coach Clay Helton said.
Darnold was more upset about the plays he didn't make. He said he is taking his job "week by week."
"If I progress, I progress" Darnold said. "That's part of growing, mentally and physically."
The Trojans (4-3, 3-2 Pac-12) rolled for 575 yards and remained a half-game out of first place in the Pac-12 South. Arizona (2-5, 0-4) lost its fourth in a row.
USC won away from home for the first time since the interim label was removed from Helton's title. The Trojans had lost five straight away from home, dating to last season.
Wildcats true freshman Khalil Tate, just shy of his 18th birthday, completed 7 of 18 passes for 58 yards in his first collegiate start. Playing in place of injured Brandon Dawkins, Tate threw an interception and fumbled the ball away, leading to two USC touchdowns. He ran for 72 yards and a touchdown on 14 carries.
"He's a true freshman so we wanted to rattle him a little bit and get some hits on him," USC defensive back Chris Hawkins said.
Local journalism is essential.
Give directly to The Spokesman-Review's Northwest Passages community forums series -- which helps to offset the costs of several reporter and editor positions at the newspaper -- by using the easy options below. Gifts processed in this system are not tax deductible, but are predominately used to help meet the local financial requirements needed to receive national matching-grant funds.
Subscribe to the sports newsletter
Get the day's top sports headlines and breaking news delivered to your inbox by subscribing here.
---