Sports > Seattle Seahawks
Seahawks' top-rated defense ready to square off against Falcons' No. 1 offense
Sat., Oct. 15, 2016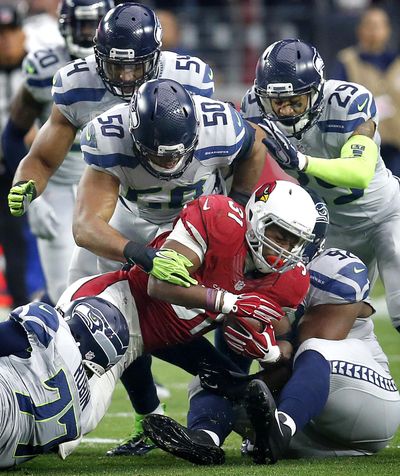 RENTON, Wash. – The question made Seahawks linebacker K.J. Wright pause.
When, Wright was asked, did he think the Seahawks last played an offense as good as Atlanta's, a team Seattle will face Sunday at CenturyLink Field?
After a few seconds of reflection, Wright answered with a question of his own.
"You tell me?" he said.
Maybe Denver in Super Bowl XLVIII?
"No," Wright said.
Really? Wright was quickly reminded that was the year Peyton Manning set a single-season passing record with 5,477 yards.
Wright shook his head. Atlanta, he said, "is much better. It's much better than that. They can do everything. Run. Much better. And they have better receivers."
OK, so maybe someone would argue Wright's just pumping up the next team on Seattle's schedule.
But through five games, the facts show that Atlanta is on a pace to rank among the best offenses in NFL history, if not quite all the way there.
Atlanta is averaging 35 points a game, just off the record of 37.8 set by that 2013 Denver team the Seahawks beat 43-8 in the Super Bowl.
And the Falcons are averaging 457.4 yards per game, not far off the record of 467.1 set by New Orleans in 2011. (The 2013 Denver team is next at 457.3).
"I don't think I've seen an offense where they can just do everything," Wright said. "Running the ball, throwing it vertically. Throwing it to tight ends, two running backs that are really good."
Five games, of course, hardly makes a season. And in its first three games, Atlanta piled up big numbers against two teams that rank last and second-to-last in the NFL in total defense – Oakland and New Orleans.
But then Atlanta beat defending NFC champ Carolina 48-33, and then last Sunday went to Denver and beat the defending Super Bowl champs 23-16, taking a 20-3 lead into the fourth quarter before coasting to the win.
"They're on fire," Seahawks coach Pete Carroll said of a Falcons team in its second season being coached by Dan Quinn, who was Seattle's defensive coordinator for that Super Bowl win over Denver and also in 2014 before taking over in Atlanta. "This is a fired-up team. And they have every right to be."
Quarterback Matt Ryan has thrown for an NFL-high 1,740 yards, on pace to break Manning's 2013 single-season record of 5,477, and averaging 10.36 yards per pass – as detailed this week by Pro Football Talk, no quarterback has averaged 10 yards a pass in a season since Norm Van Brocklin averaged 10.1 yards a pass with the 1954 Los Angeles Rams.
The Seahawks, meanwhile, counter with a defense that is again leading the NFL in fewest yards allowed per game (264) and third in points allowed at 13.5 (though that's a stat many Seattle defenders would protest comes with an asterisk thanks to two late touchdowns scored by the 49ers in a 37-18 blowout, and a disputed fumble return for a touchdown by the Jets).
Some might question that the Seahawks haven't exactly played a murderer's row of quarterbacks. Indeed, three of the four teams Seattle has played rank among the bottom four in the NFL in total offense – Miami (29), San Francisco (31) and Los Angeles (32). Only the Jets, at 17th, are marginally respectful.
The Seahawks, though, can hardly be questioned, having led the NFL in fewest points allowed for four straight years – the longest streak of any team in the Sper Bowl era.
All of that means the game may well be decided by the other matchup – that of an increasingly healthy Russell Wilson-led Seattle offense against an Atlanta defense that ranks just 26th in the NFL.
Ultimately, though, this game will be remembered as either another day when the Seahawks' defense proved itself as one of the best in NFL history, or the Atlanta offense showed that maybe all those lofty numbers have some real meaning.
"It's definitely a challenge," Wright said. "You've got the number one offense against the number one defense. You want to see who is the best."
Local journalism is essential.
Give directly to The Spokesman-Review's Northwest Passages community forums series -- which helps to offset the costs of several reporter and editor positions at the newspaper -- by using the easy options below. Gifts processed in this system are not tax deductible, but are predominately used to help meet the local financial requirements needed to receive national matching-grant funds.
Subscribe to the sports newsletter
Get the day's top sports headlines and breaking news delivered to your inbox by subscribing here.
---