Washington State takes messy win over UCLA, 27-21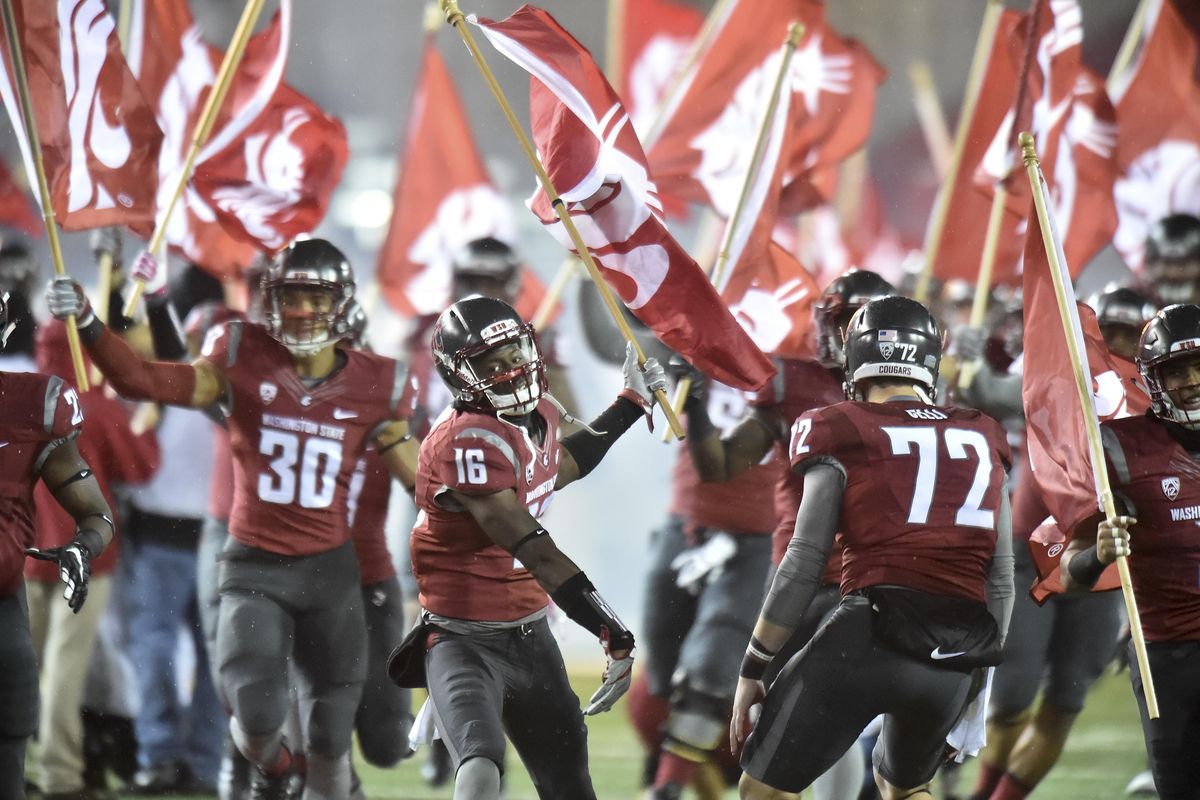 PULLMAN – In an unpleasant, grinder of a game, Washington State proved to be the team best equipped to execute its goals when things were not easy. On the heels of a similar toughness-measuring contest at Stanford, the Cougars beat up, then outlasted UCLA, 27-21, on Saturday in Martin Stadium.
The Bruins, winners of 37 games over the last four seasons, were without their starting quarterback and even the memory of an effective running game. The punting, which held outsized importance in this game of infrequent scoring, served more effectively as comic relief than in gaining field position.
But this was a tough game, the kind of character-builder that a better team can easily lose through a combination of self and weather-inflicted wounds and bad timing. The rain and wind were more than just nuisances, they were paradigm-shifters, the sort that even out games by indiscriminately making them sloppy.
"Weathering an opponent the quality of UCLA – who is loaded, obviously – I was proud of our guys sticking in there and playing tough like they did because of the conditions and opponent," Mike Leach said.
Those opportunities to slip up presented themselves to WSU. There were dropped passes aplenty early in the game, and quarterback Luke Falk fumbled while trying to throw a screen pass with a wet ball. The Cougars were outscored 14-3 in the final frame, and a beat-down turned into simply trying to hold on until the clock gave out.
"We'd much rather blow people out and stuff, and I think we had opportunities tonight to put them away," quarterback Luke Falk said.
And there's no doubt the conditions had an adverse effect on the Cougars. Falk did not have one of his better games. In fact, Saturday's game was the first Falk has ever played in, as a starter or backup, in which he did not throw a touchdown pass.
Just a little over a month since coach Mike Leach called out the Cougars for a lack of fortitude during a fiery press conference following the team's loss at Boise State, Leach's team has won four consecutive games by being a bully.
"I think were were all pressing because we had this preseason hype of, we're going to be the naitonal dark horse, and we weren't playing well or playing together," center Riley Sorenson said.
The WSU defense established an early precedent that the Bruins would have trouble rushing the ball, and would need to rely on the arm of backup quarterback Mike Fafaul to find success on offense. Fafaul made his first start because usual starter Josh Rosen was unable to play after getting hurt the prior week against Arizona State.
Rosen threw one pass in warm-ups, winced in pain, and gave way to Fafaul.
UCLA got the ball first and consecutive rushes by Nate Starks managed to net a two-yard loss. The Bruins got a series of breaks on the drive including an overruled fumble and a dubious roughing the punter call to push UCLA to its own 39-yard line.
WSU safety Shalom Luani tackled Starks for a loss twice in the first quarter and batted down a pass at the line of scrimmage during a blitz. His play set a tone that his teammates quickly matched.
The Cougars finally ended the first UCLA drive when Dylan Hanser ripped the ball away from Starks and Peyton Pelluer dove on the fumble.
WSU (4-2) is now 3-0 in conference for the first time since 2003. That year was also the last time WSU had a four-game winning streak, until now.
With the rain pouring and wind swirling, the WSU offense had troubles of its own. Falk averaged just 4.7 yards per passing attempts, and a number of promising runs by WSU's trio of capable running backs were thwarted by missteps in the slippery turf.
Still, the Cougars managed two scoring drives. The first netted a 39-yard field goal, and the home crowd of 29,310 biggest cheer of the night, since it was kicker Erik Powell's first make in 2016.
UCLA tried a number of things to throw the Cougars off their game, including warming up on WSU's side of the field while Cougars tried to stretch for the second consecutive season.
"If that's how they want to play, they're going to pay for it," Peyton Pelluer said. "I don't know if they learned their lesson because they did it two years in a row. Maybe they did. But it doesn't matter. If they disrespect us, we're going to beat them."
The Bruins also yelled out during WSU's snap count, drawing two offsides penalties, according to the Cougars.
When WSU scored, it did so by controlling the line of scrimmage, pounding into the end zone on runs of one yard, one yard again, and three yards. The rushing game, emerging ever since WSU re-devoted itself to toughness after BSU, has now scored 16 touchdowns on the season, which is equal to the Cougars' aerial scoring output.
UCLA's first touchdown came after the ball slipped from Falk's fingers, falling to the turf before some Bruins dived on it. The play was initially ruled an incomplete pass, but video evidence showed that it was, by definition, a fumble.
The play gave UCLA the ball at the WSU 25-yard line, and after two inconsequential runs by Starks, Fafaul found Darren Andrews for a 22-yard score.
This was the determinative moment for the Cougars, who suddenly led by just three points. WSU responded with an exemplary drive, traveling 61 yards in seven plays. The drive was keyed by acrobatic catches by River Cracraft and Tavares Martin. Cracraft somehow reeled in an offering from Falk that was well overthrown, plucking it from the air with one hand. Martin snagged a ball over the head of a defender near the sideline, tapping his foot to the turf while he secured the catch.
The drive ended with one of Gerard Wicks' two one-yard rushing touchdowns, putting WSU back in control. The next time the Cougars had the ball they went 57 yards in nine plays, a three-yard touchdown run by Jamal Morrow effectively ending the threat of a UCLA comeback.
Of course, the Cougars could not make it easy. Not after last year's win in Los Angeles with three seconds left. WSU punted the ball away to the Bruins, up six, with 2:43 left in the game. Fafaul found Jordan Lasley for nine yards on UCLA's first play, but Dylan Hanser stripped the ball and Robert Taylor recovered it.
---