Cathy McMorris Rodgers tepidly allies with Trump, touts policies in Congressional race against Joe Pakootas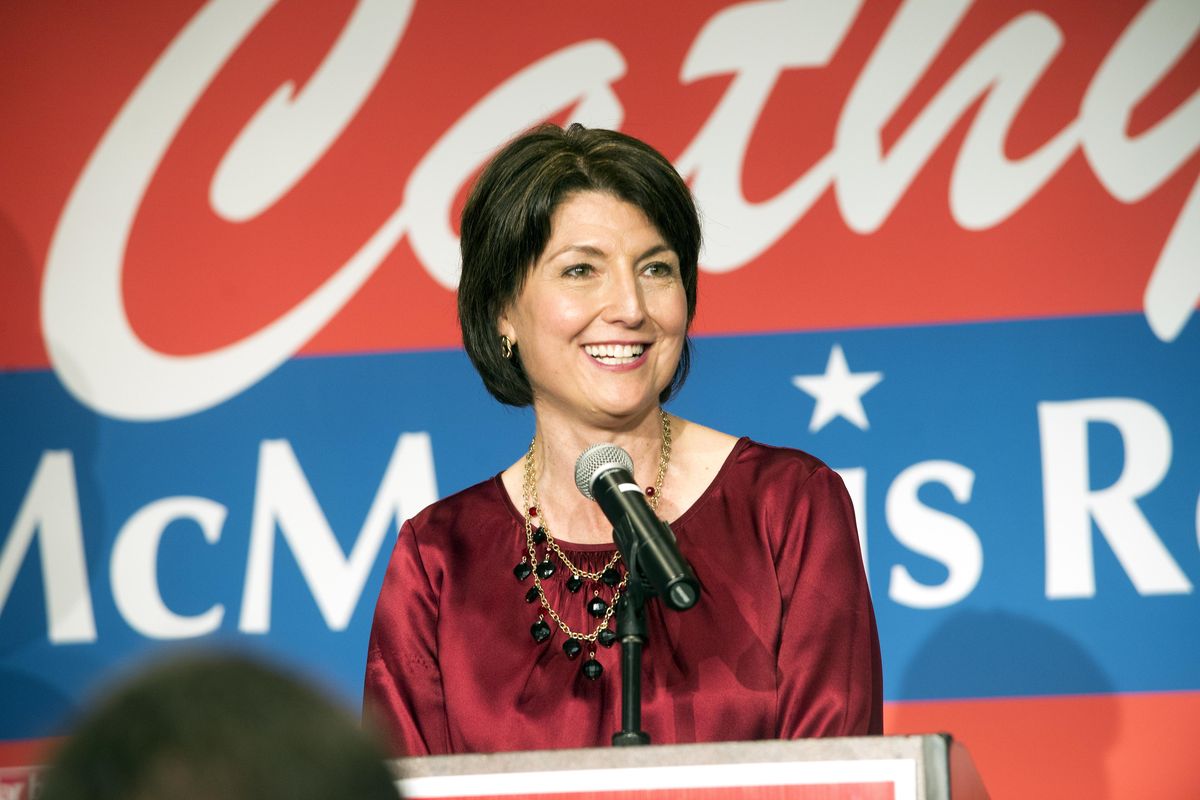 When Democrats accused the GOP of "waging a war on women," U.S. Rep. Cathy McMorris Rodgers was the public face of the Republicans' national response.
Four years later, McMorris Rodgers, the highest-ranking woman in the House of Representatives, is facing increasing scrutiny for her decision to continue backing Donald Trump even after the release of a 2005 video that recorded him bragging about sexually assaulting women.
She released a statement criticizing Trump's words, but her support for Trump has been constant since May – even as Speaker of the House Paul Ryan came closer to disavowing him.
"The reason I'm supporting Donald Trump, is he's going to challenge the status quo," McMorris Rodgers said in an interview Friday. "He's going to shake it up, and that needs to happen."
The rematch between McMorris Rodgers and Democrat Joe Pakootas increasingly has been defined by the turmoil at the top of the ticket.
Pakootas released a statement last week demanding McMorris Rodgers withdraw her support for Trump, and has since called it a moral imperative. McMorris Rodgers asked in an interview whether Pakootas would withdraw his support of Hillary Clinton, who she said had "a long record of deceiving the American people," particularly in the aftermath of Clinton's time as secretary of state.
The congresswoman's support of Trump appears to be politically motivated, Pakootas charged in an interview this week. He pledged in a recent televised debate to vote for Clinton.
"I think it would show good faith to the American people, and the people of the 5th District, that she's willing to risk her status in the Republican Party" by repudiating Trump, Pakootas said last week.
Party leadership
McMorris Rodgers has not had a reputation for shaking up her party in Congress like the congressman serving across the border in Idaho, Rep. Raul Labrador.
She has risen to a prominent position in the party, chairwoman of the House Republican Conference, while steadfastly defending GOP policy positions and legislative strategies. She's penned editorials in national magazines pushing the Republican platform and women's issues, including gender equality in pay. The congresswoman's also become a jetset fundraiser for her Republican colleagues, and in her statements condemning Trump for his words – but not pulling her endorsement – she has attempted to shift focus to the party's legislative priorities after the election, reflecting her pattern of being the standard-bearer for a GOP that has shown recent inner turmoil.
The congresswoman supported – then later relented – on a government shutdown in 2013 that many Americans blamed on Republicans. The next year, she attacked President Barack Obama's signature health care law in the Republican answer to the State of the Union, citing "Bette in Spokane's" catastrophic increase in premiums under the new health care law, a true but overly simplistic claim. A few weeks later, she said the health care law was "probably" here to stay but needed to be overhauled, a statement that angered the tea party wing and prompted a quick rebuttal that she'd continue to fight for repeal.
Pakootas (pronounced puh-COE-tuss) hopes the incumbent's tacit alliance with presidential candidate Trump will be enough to sway voters into his column and pull off the upset that eluded him two years ago.
Many of McMorris Rodgers' words about Trump's candidacy have been careful. Geoffrey Skelley, a political analyst at the University of Virginia Center for Politics, said McMorris Rodgers' stance on Trump shows a political awareness that makes sense in Eastern Washington, which contains Republican voters sympathetic to Trump's anti-establishment rhetoric.
"I think that her approach makes sense for her district," Skelley said. "If she flees Trump, she may be hurting herself in the long run."
It may be even more immediate than that. McMorris Rodgers was helped two years ago by capturing a share of the general election vote that seemingly went mostly to her grass-roots Republican challenger, Tom Horne, in the primary. Horne, a Nine Mile Falls Republican who attacked McMorris Rodgers' connection to House leadership and early on backed Trump for president, earned 11 percent of the vote in this primary, up from the 8 percent he garnered two years ago.
General elections, especially in presidential years, usually see a bigger and more politically diverse turnout than primaries. But in 2014, McMorris Rodgers finished with 60 percent of the vote in her general election contest against Pakootas. That total equaled the share she and Horne earned in the primary, indicating many voters originally for him switched to McMorris Rodgers in November, just as Horne did and plans to do this year.
"I think the Republicans that are pulling back from (Trump) are making a mistake," said Horne in an interview last week. "I don't see her pulling back from him. He's the only game in town."
Horne spoke to the Spokane County Republican Convention in April, calling the House leadership McMorris Rodgers is a part of "timid" and "stupid." His speech earned a few cheers from the largely pro-McMorris Rodgers crowd.
If the congresswoman repeats her performance from two years ago, capturing an equivalent share of Horne's voters in the general election, she'll retain her seat.
Rob Chase, who also came out early in favor of Trump's candidacy and harbors libertarian leanings as Spokane County's elected treasurer, also agreed with the congresswoman's approach on the presidential race.
"This is the year where the grass roots, they are really looking for change," Chase said. But he doesn't believe voters will reject McMorris Rodgers, even with her long tenure.
Doc Hastings, the former Republican congressman from Pasco who served 20 years in Congress, 12 of them with McMorris Rodgers, said the congresswoman likely had an even larger sense of loyalty driving her tacit support of Trump than merely remaining in Congress another two years.
"The fact is, Donald Trump followed the rules of our party to become our candidate," Hastings said. "He was certainly not my first choice; he was certainly way down the list. As a Republican, my responsibility is to support him. I think Cathy probably came to the same decision."
Congressional record
At a candidate forum last week at Eastern Washington University's campus in Cheney, Pakootas repeated the charge against McMorris Rodgers, who didn't attend the event, that has typified his now four-year campaign.
Without naming the congresswoman, Pakootas called out Republican leadership in Congress, particularly Sen. Mitch McConnell, for pledging to work against Obama's policies and become what he called "the party of 'no.' "
"It's a tough situation, looking at how things are right now," Pakootas said. "And with a female president, I think the polarization's going to continue on, in that manner, until we actually make some change in Congress and get some people that actually take their responsibility seriously, as being the voice of the people."
McMorris Rodgers asserts she's pushed forward meaningful legislation. She's touted three bills she either sponsored or co-sponsored over the past four years that have been signed into law by Obama as evidence she can work across the aisle.
The first is a measure passed without opposition on Capitol Hill in 2013 designed to speed up the regulatory process for proposed electrification of pre-existing dams and irrigation canals.
"We could double hydropower without building a new dam because of new technology," McMorris Rodgers said at a recent debate with Pakootas, repeating her pitch for the legislation.
Three years in, the legislation has started to enable new projects, but the turbines of progress are moving slowly.
While the Federal Energy Regulatory Commission reports 71 new hydropower projects retrofitting existing water channels have qualified for construction under the legislation, no applications have been approved in Washington. Idaho has seen seven projects approved that will yield an estimated 8,551 kilowatts of energy. That's enough to power 6,853 homes per year, about 1/10 of the households in Kootenai County.
The second piece of legislation McMorris Rodgers sponsored that reached Obama's desk created new tax-free savings accounts for children with disabilities. The Washington Legislature authorized the program at the state level in March, joining 45 other states. Washington families can put up to $14,000 annually in the accounts that won't be taxed or count against enrollment in Medicaid.
McMorris Rodgers, whose son Cole was born with Down syndrome, said the act was "an important first step" in establishing independence for Americans with disabilities.
"I think, as a society, we need to really change the way we view individuals and to focus on their abilities, even if they do have a disability," she said.
Finally, McMorris Rodgers pushed the Steve Gleason Act, a legislative coup expanding Medicare that she's touted on the campaign trail. The legislation bears the name of the former Washington State Cougars and NFL football player who suffers from amyotrophic lateral sclerosis, a degenerative muscle disease. The law expands Medicare coverage to include eye-tracking devices used for communication and ensures that rentals of such devices do not add toward a capped amount under such plans. But McMorris Rodgers has depicted the legislation in debates as keeping government agencies from taking the devices from patients.
"Federal agencies were going to take that away, and we stepped in and we stopped that," she said in a debate at Gleason's alma mater earlier this month.
A spokeswoman for the Centers for Medicare & Medicaid Services, the federal agency overseeing administration of the health care programs, did not respond to a request for comment on that charge.
Joshua Huder, a senior fellow tracking Capitol Hill at Georgetown University's Government Affairs Institute, said McMorris Rodgers' three pieces of successful legislation are notable in a Congress that has been historically nonproductive.
"An average member of Congress passes one bill every five to six years," Huder said. "Even a wildly bipartisan bill, that is obviously beneficial – it takes a long time to build up the political capital needed to get it passed."
Hastings, the former lawmaker who served with McMorris Rodgers for more than a decade, said it wasn't surprising she quickly ascended to a position of power in Congress.
"I was always impressed with her ability to understand what's going on," Hastings said. "I just think she brings some very quiet strength to the Republican Party and the House."
But Pakootas points to McMorris Rodgers' latest legislative proposal, an act that would force Congress to vote on what's called "unauthorized spending" each year, as what he termed "an underhanded" attempt to eliminate government programs without debate. Pakootas said it illustrates McMorris Rodgers' inability to lead members of her own party to compromise across the aisle on major spending decisions.
McMorris Rodgers took to the opinion pages of the Washington Post to pitch the bill as a way to reassert the House's role in controlling the country's purse strings, requiring Congress to sign off on programs that are automatically carried over into the next year's federal budget without any oversight. But Pakootas points out that several programs, including provisions of the Affordable Care Act, to help veterans find job opportunities and $76 million to run the Federal Elections Commission that oversees funding in campaigns, could be at risk if the bill passes.
"They've been opposed to many of these programs in the past, and they weren't successfully legislating or voting them out, but they found a way to do that," Pakootas said.
McMorris Rodgers defended the legislation, saying it would bring accountability to government spending that has been lacking in recent years. She also called it a middle ground to passing a balanced budget amendment, a measure she has supported since her first term in Congress.
"It is an action plan for Congress," she said. "Part of my mission is to make sure that as a representative, we are doing our work. I believe that we need some reform in how Congress functions."
Pakootas blamed House leadership for the inaction that prompted McMorris Rodgers' bill.
"They stop a lot of action, a lot of initiatives coming forward to Congress for a vote," Pakootas said. "Whether it's comprehensive immigration reform, or if it's any of the jobs bills that President Obama brought forward, some gun legislation, those things don't even get on the table for a vote."
Pakootas also has continued his criticism of McMorris Rodgers as a Washington insider, neglecting voters in the district while spending much of her time raising money for fellow House Republicans. In August, the news magazine Politico reported on McMorris Rodgers' nationwide fundraising efforts for the Republican Party, siphoning off $3.2 million from her own campaign on behalf of the party to her colleagues in Congress.
That claim against McMorris Rodgers has been made at least since 2012, when unsuccessful challenger Rich Cowan accused the congresswoman of being absent from the district in several debates.
The district has a history of dethroning powerful politicians. In 1994, Eastern Washington tossed Speaker of the House Tom Foley; his opponent accused him of losing touch with constituents. But McMorris Rodgers said that hasn't happened to her.
"I have been elected to leadership," she said. "That only gives me more of a microphone to put in front of the people in Eastern Washington."
---