News > Spokane
In Senate debate, incumbent Murray calls for respect, Vance says she's part of a 'broken' system
Sun., Oct. 16, 2016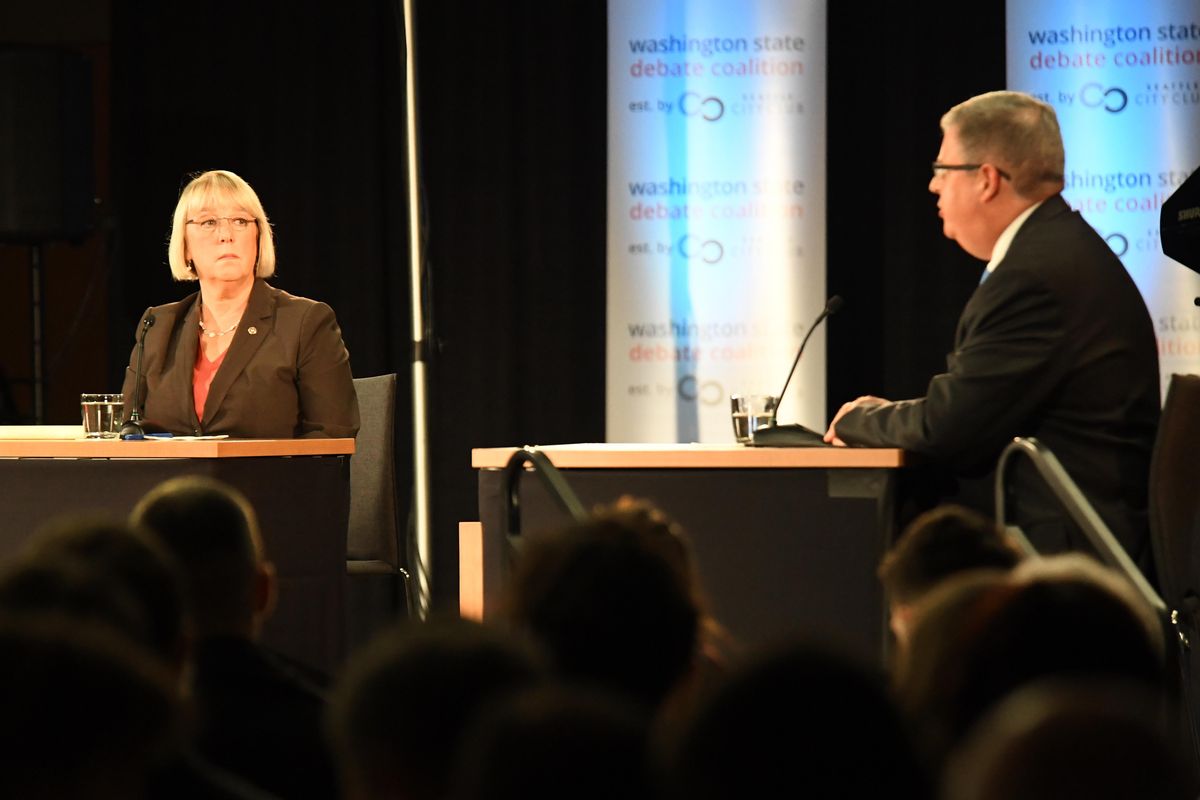 Senator Patty Murray, left, listens to challenger Chris Vance, right, make a point during their debate Sunday, Oct. 16, 2016 at Gonzaga University. (Jesse Tinsley / The Spokesman-Review)
Chris Vance accused Sen. Patty Murray, D-Wash., of contributing to a "broken" political system and said if elected he would bring a fresh perspective and work with both parties.
Murray touted her 24 years in the Senate and urged respect amid one of the most contentious elections in memory.
"Like everyone I'm so appalled by the behavior of this election," she said during a Sunday night debate held at Gonzaga. "We need to return respect to our dialogue."
And while Vance agreed, he didn't hesitate to attack Murray's record.
"Washington, D.C., is broken. Severely broken," he said. "After 24 years in the Senate Patty Murray is part of the problem."
Throughout the hourlong debate, Vance emphasized that he's not a "rubber stamp" Republican, diverging from the national party platform several times.
He said he'd support stricter background checks for guns, although he doesn't approve of a proposed assault weapons ban.
Murray voted for a bill in 2013 that would have expanded background checks for gun buyers. The bill was defeated.
"This country has to step up and deal with the issue of gun violence," she said. "We can balance the Second Amendment with the right for Americans to feel safe."
Vance also "supports comprehensive tax reform," pointing to the Bowles-Simpson budget plan as an approach he'd support.
Murray emphasized the importance of supporting the middle class as a way to economic stability. She said she'd support increased Pell Grant funding, refinancing student loans and closing tax loopholes to reinvest that money into education.
Vance agreed with much of Murray's education platform, but he said the changes have to be implemented at the state level, not from Washington, D.C.
Although both candidates agreed that the federal minimum wage should be higher, they disagreed on how much. Murray said she's supporting legislation to increase the federal minimum wage to $12 by 2020. Vance believes $12 is too much and too fast. He said it would hurt small businesses and towns.
Both candidates said they would defend Fairchild Air Force Base if it was targeted in future base closings. Murray called it a "critical base" as the American military shifts its attention to Asia. Vance wondered if land-use issues near the base were jeopardizing its future.
"To defend Fairchild we may have to say no," he said in an apparent reference to the Spokane Tribe's West Plains casino project.
Although Murray voted in favor of legislation in 2015 that set parameters for negotiating the Tran-Pacific Partnership, she said is undecided on the trade deal because a final proposal has not been put forward. Congressional leaders have said the trade deal won't come forward this year.
"When I get a trade agreement, I evaluate it, is it good for Washington state," she said.
Vance supports the agreement and said the TPP is "one of the reasons I can't support Hillary Clinton."
"Being opposed to trade will destroy Washington industries," he said. "Trade deals are good for Washington."
In previous interviews Vance has said he will rely heavily on debate exposure to overcome a large campaign war-chest deficit. In the most recent Federal Election Commission reports from mid-July, Murray had spent about $2.9 million on her campaign and had another $7 million in the bank. Vance had spent about $285,000 and had $26,000 left.
In the August primary Murray finished with 54 percent of the vote. Vance won 28 percent.
Editor's note: This story was changed on Monday, Oct. 14, 2016 to correct an error related to Murray's position on the Trans-Pacific Partnership.
Local journalism is essential.
Give directly to The Spokesman-Review's Northwest Passages community forums series -- which helps to offset the costs of several reporter and editor positions at the newspaper -- by using the easy options below. Gifts processed in this system are not tax deductible, but are predominately used to help meet the local financial requirements needed to receive national matching-grant funds.
Subscribe now to get breaking news alerts in your email inbox
Get breaking news delivered to your inbox as it happens.
---