Sports
Bullpen great again; Indians top Blue Jays for 3-0 ALCS lead
Mon., Oct. 17, 2016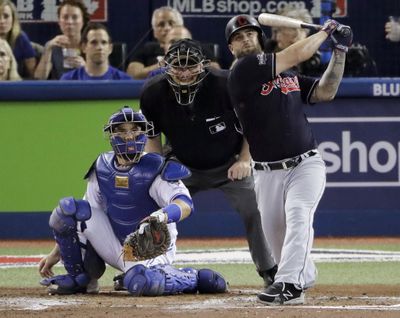 TORONTO – Andrew Miller and the Cleveland bullpen stitched together their most impressive feat yet in these American League playoffs.
Taking over in the first inning after Trevor Bauer's bloody exit, the relief corps held off the Toronto Blue Jays in a 4-2 victory Monday night that moved the Indians within one win of their first pennant since 1997.
Jason Kipnis and Mike Napoli homered for the Indians, who have a 3-0 lead in the A.L. Championship Series. They are unbeaten in six playoff games this year and can complete their second consecutive sweep on Tuesday.
Six relievers combined for 25 outs and 128 pitches, limiting Toronto to two runs and seven hits. Miller got four outs for the save.
"If anybody has a hiccup, we probably lose," manager Terry Francona said. "They all made pitches against some really good hitters."
Indians ace Corey Kluber is scheduled to start Game 4 on short rest after Bauer's drone-related finger injury created more upheaval in a rotation that's been short-handed all postseason. Bauer faced four batters before getting pulled when his stitched-up right pinkie began dripping blood.
Enter those stingy relievers, who pitched the Indians to a Division Series sweep over Boston and have them on the verge of another. Cleveland is one win from its sixth World Series appearance.
"It's a good feeling," Kipnis said. "We've still got one more to get there, and it's going to be tough. We know these guys. Just kind of like the Boston series – we don't want to wait around for them to figure it out. We want to get to them now."
After Bauer left with two on and two outs in the first, the final 25 Toronto outs were distributed as follows: four each for Dan Otero and Jeff Manship, three for Zach McAllister, five each for winner Bryan Shaw and Cody Allen, and four for Miller.
"We felt like we had an opportunity with some of their lower-leverage guys coming out of the bullpen, but they've got good arms," Toronto outfielder Kevin Pillar said. "It makes it tough when you're facing a different guy every inning, every at-bat."
The hard-hitting Blue Jays have mustered only three runs in the series and have never led.
Kipnis led off the sixth with a home run to right-center field for a 3-2 edge, and Jose Ramirez added an RBI single. Suddenly, the Indians were just a few outs from being able to turn the game over to Allen and Miller.
They appeared in that order, yet another instance in which Francona – who was Curt Schilling's manager with Boston during the famous bloody sock playoff game in 2004 – maneuvered his bullpen unencumbered by rigid roles.
Allen, who usually closes, entered in the seventh with a runner on and nobody out. A two-out walk to Jose Bautista put the potential tying run on, but Josh Donaldson's liner to left field stayed up long enough for Coco Crisp to make a sliding catch.
Miller fanned three of five batters, giving him 20 strikeouts in nine playoff innings this year. He's allowed five hits over 17 1/3 scoreless innings in his postseason career.
"We knew that we could do this, where we could piece together bullpen arm by bullpen arm and go one inning, two innings and still get a win," Kipnis said. "We've done it before. We have the experience."
Cleveland has won nine straight dating to the regular season.
Napoli entered 2 for 18 this postseason and in an 0-for-25 slump against right-handers dating to the regular season. He opened the scoring with an RBI double off righty Marcus Stroman in the first – Napoli's long fly popped out of Bautista's glove before both the ball and Bautista bounced off the wall in right field.
Bauer made it through only 21 pitches. He'd been pushed back two days to Game 3 after cutting his finger last week repairing one of the drones he enjoys flying as a hobby. He received stitches and tried to pitch, but couldn't make it through the first inning without blood dripping from his hand.
"Trevor got a little leak," Kipnis said. "A couple of us had seen the wound kind of inside and knew it was a possibility of happening. He can deal with the pain, but it's getting something like that to close up. It's hard to do in a short amount of time."
It's yet another injury problem for a Cleveland team that couldn't include starting pitchers Carlos Carrasco and Danny Salazar on its ALCS roster. Even with the Indians up 3-0, their rotation for the rest of this series isn't a sure thing. Kluber is set to come back for Game 4 (and presumably a potential Game 7) on short rest and lightly used rookie Ryan Merritt is lined up for Game 5.
Michael Saunders tied it for Toronto with a solo homer in the second, matching the scoring total by the Blue Jays over the first two games in Cleveland. Napoli's solo homer in the fourth put the Indians up 2-1, but Ezequiel Carrera led off the Blue Jays fifth with a triple and scored on a grounder by Ryan Goins to tie it.
Kipnis answered with his first hit of the series, a home run that put Cleveland back ahead. And after Napoli drew a walk from Stroman and advanced to second on a wild pitch, Jose Ramirez added an RBI single off reliever Joe Biagini.
"Tito did a masterful job running that bullpen today," Blue Jays manager John Gibbons said. "They shut us down."
Trainer's room
Bauer's problems were the big story Monday, but Francona did say Salazar (forearm) was progressing well after throwing to hitters Sunday night.
Local journalism is essential.
Give directly to The Spokesman-Review's Northwest Passages community forums series -- which helps to offset the costs of several reporter and editor positions at the newspaper -- by using the easy options below. Gifts processed in this system are not tax deductible, but are predominately used to help meet the local financial requirements needed to receive national matching-grant funds.
Subscribe to the sports newsletter
Get the day's top sports headlines and breaking news delivered to your inbox by subscribing here.
---