News > Spokane
Spokane Valley woman jailed after allegedly plotting to hire man to kill husband
Tue., Oct. 18, 2016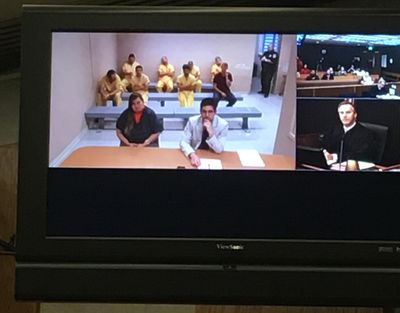 A Spokane Valley woman is in jail after allegedly trying to pay a high school friend to shoot her husband, whom she previously accused of abusing her.
Martie M. Soderberg, also known as Martie Maxwell, 39, faces a felony charge of criminal solicitation of first-degree murder after the friend she is accused of enlisting to kill her husband turned her in to Spokane County Sheriff's Office deputies.
The man told investigators he recently reconnected with Soderberg through social media and met up with her at a Jack in the Box restaurant on Oct. 11, court documents say. Soderberg told him she'd been married for 15 years and that the marriage turned verbally and physically abusive after about one year.
She allegedly told the friend she wanted to leave her husband but couldn't support herself financially without payments from his $300,000 life insurance policy. She told the friend she wanted him to shoot her husband "because he is a big guy and wanted to be sure he would die," court documents say.
Documents say Soderberg then detailed two plans to kill her husband. First, she told her friend he could shoot her husband on Halloween while they were out trick-or-treating with their children. But she said a "better" alternative would be to have her friend shoot him at work so she could also collect payments from the Washington Department of Labor and Industries.
The friend was homeless at the time of the conversation, and Soderberg offered him a place to stay with a man in Hillyard until the killing took place, court documents say. She paid that man $200 to house her friend temporarily.
The friend reported the conversation to deputies and agreed to wear a recording device during later meetings with Soderberg. During those meetings, she described how the weapon could be disposed of and suggested times for the killing to take place so she would have an alibi, court documents say.
At an Oct. 17 meeting, Soderberg allegedly gave the man $50 to buy a gun to carry out the slaying. Detectives arrested her shortly after the meeting.
Court records show Soderberg filed for a protection order against her husband in July 2005. On the petition, she wrote, "He has also hit me, through (sic) me on the floor, threatens to knock my teeth out" and said her husband threatened to call the police on her and have her daughter taken away if she tried to report his abuse.
Her petition was denied because a court commissioner found she was not in immediate danger, court records show. Her husband filed for a protection order against her a month later, alleging she was verbally and physically abusive. That order was also denied after he admitted in court he had made up his allegations in order to get his car back.
Sheriff's Office spokesman Deputy Mark Gregory praised Soderberg's friend for coming to law enforcement.
"He did the right thing," he said.
He added that while he encouraged people to report domestic violence to law enforcement, people also can contact the YWCA or Lutheran Community Services for help.
"There are a lot of different services out there besides reporting it to us," he said.
Soderberg is being held in jail in lieu of a $1 million bond.
Local journalism is essential.
Give directly to The Spokesman-Review's Northwest Passages community forums series -- which helps to offset the costs of several reporter and editor positions at the newspaper -- by using the easy options below. Gifts processed in this system are not tax deductible, but are predominately used to help meet the local financial requirements needed to receive national matching-grant funds.
Subscribe to the Coronavirus newsletter
Get the day's latest Coronavirus news delivered to your inbox by subscribing to our newsletter.
---