News > Voices
1,000 birthday candles: Senior center honors centenarians
Wed., Oct. 19, 2016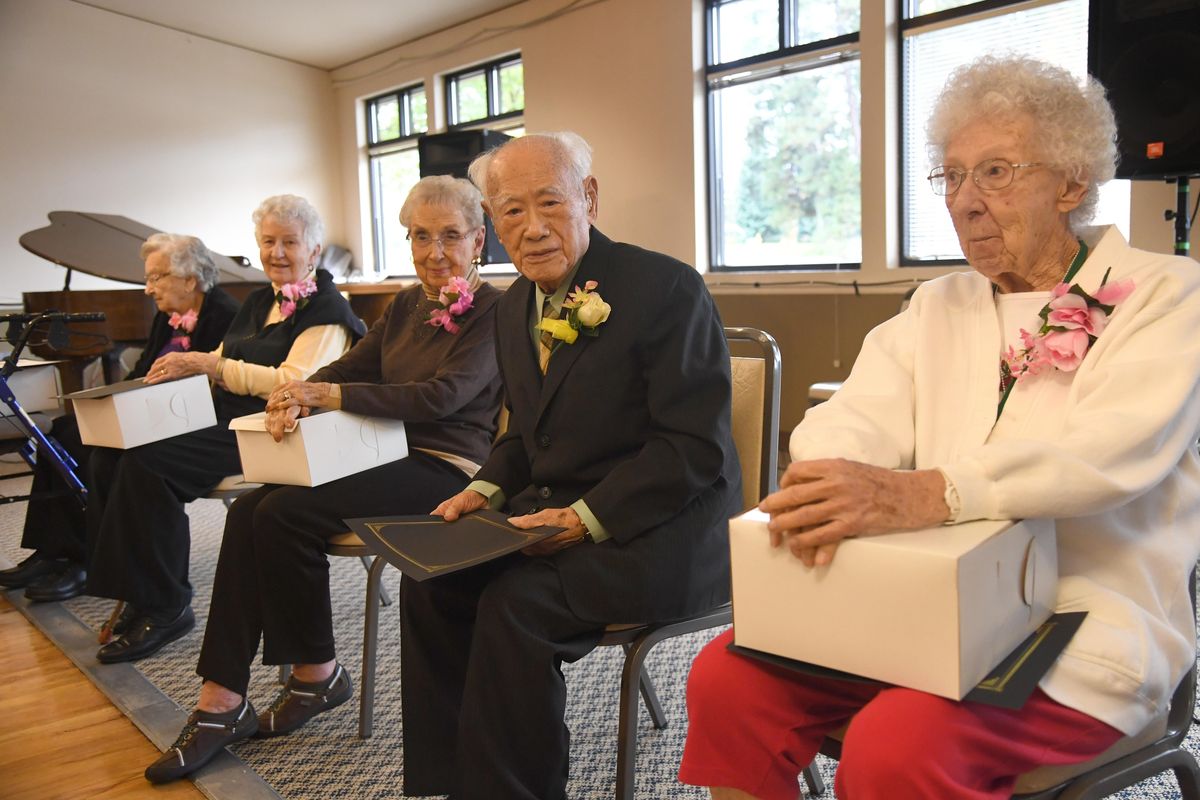 Centenarians attending the luncheon Tuesday, Oct. 18, 2016, include, from left, Leona Chase, Marie Pilgrim, Martha Lu Butler, Han-Chung Meng and Lucille Durkee, at the Southside Senior Center. Each received a congratulatory certificate from the mayor and a cake to take home. (Jesse Tinsley / The Spokesman-Review)
It's a good thing they didn't light all the candles on the birthday cakes at the Southside Senior and Community Center on Tuesday. After all, 1,000-plus candles is a lot of firepower.
The center hosted a luncheon to honor 10 Spokane residents 100 years and older. The youngest honorees were an even century, while the oldest, Mae Fischbach, was 104.
Not only was Fischbach the oldest attendee, but she's also the oldest-ever season ticket holder for Gonzaga women's basketball.
In addition to the Lady Zags, she loves candy and an occasional Harvey Wallbanger.
"All my habits are good," she said, grinning.
The baby of the crowd, Marie Pilgrim, confessed that she wouldn't actually turn 100 until Nov. 30, but was glad to be invited to the party anyway.
Born in North Dakota in 1916, she grew up in a home without indoor plumbing or electricity. They did have "running water," however.
"We ran our water in from outside in a bucket and ran it back outside when we were done with it," she said, smiling.
It would be safe to surmise that a healthy sense of humor is a key component to longevity.
Pilgrim didn't offer any advice for those who'd like to hit the century mark.
"Honestly," she said, "I do everything I'm not supposed to do."
Han-Chung Meng, 100, was the lone male honoree. Born in Taiwan, he came to the United States in the 1970s. He credits his long life to his wife.
"I have a good wife to take care of me," he said, patting her hand. "She's my better half."
The celebrants were presented with a certificate signed by Mayor David Condon that read in part, "Hoping you experience an abundance of happiness, wonder and health on your birthday. You've certainly earned it!"
They were also given individual cakes made by Southside board member Mary Van Couvering.
As Ann Babcock, 101, enjoyed her lunch, she said, "Truthfully, I don't even think about my age. I've always been very active. I played golf until about five years ago."
She believes attitude is important.
"I'm a very positive person," she said. "I wouldn't be here if I wasn't."
Willean Lindstrom, 103, wore a stunning red jacket. She loves bridge, dancing and the music of Bing Crosby and Elvis Presley. She wasn't worried about being quoted in a newspaper article.
"Write anything you want," she said, laughing. "I'm too old to remember!"
Several of the birthday celebrants credited good genes with living a long and healthy life, but Catherine Child, 101, had another thought.
The Chicago native and lifelong Cubs fan said, "A Cub fan is a little bit different."
She smiled. "My position has always been they played well even if they lost."
When asked if she has any bad habits, she replied, "Maybe I talk too much about politics and baseball."
If the Cubs do by chance make it to the World Series this year, she plans to be there. They haven't been to the Series since 1945, and Child has a promise to keep.
She said, "I promised my dad I'd go if they make it again."
Local journalism is essential.
Give directly to The Spokesman-Review's Northwest Passages community forums series -- which helps to offset the costs of several reporter and editor positions at the newspaper -- by using the easy options below. Gifts processed in this system are not tax deductible, but are predominately used to help meet the local financial requirements needed to receive national matching-grant funds.
Subscribe now to get breaking news alerts in your email inbox
Get breaking news delivered to your inbox as it happens.
---