News > Voices
Neighbors near McDonald, Eighth see uptick in crashes
Wed., Oct. 19, 2016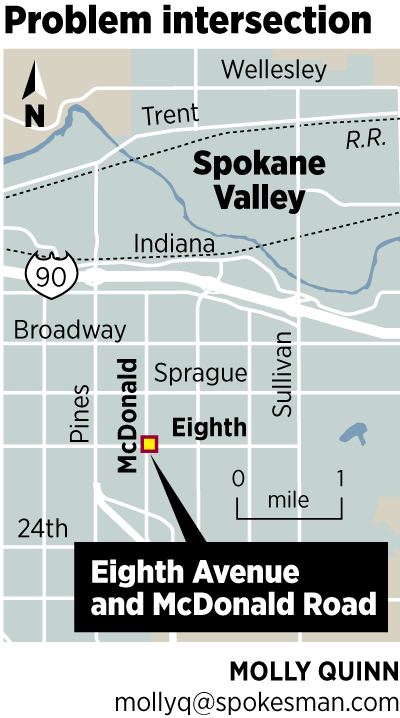 Neighbors near McDonald Road and Eighth Avenue have been complaining so frequently about speeders on Eighth Avenue and crashes in the intersection, that the Public Works Department examined what's going on.
Traffic engineer Sean Messner said at Tuesday's Spokane Valley City Council meeting that historically there has been fewer than two crashes a year in that intersection. That's considered normal, but this year there has been seven crashes so far.
And these are just the crashes called into police.
"The rest are called in to Pam," said Councilwoman Pam Haley. "In the last month, I've heard from three neighbors who ended up with cars in their front yards."
About 6,200 vehicles travel on McDonald every day; that's about three times as many as on Eighth Avenue.
At the intersection, Eighth has a full stop and McDonald doesn't have any restrictions.
Neighbors want a four-way stop, but Messner said traffic analysis does not qualify the intersection for a four-way stop, and it absolutely doesn't qualify for a traffic light.
Councilman Ed Pace suggested the city put in a four-way stop because that's what neighbors are asking for, but City Attorney Cary Driskell cautioned against making changes that aren't based on research.
"For protection of the city we must use the scientific data," Driskell said.
Haley said that neighbors tell her that drivers don't see the stop signs at McDonald.
Public Works has recently trimmed back trees that were obstructing the signs and made sure no other landscaping blocks the view, said Messner.
He suggested letting those changes take effect and perhaps putting up larger stop signs could be a good and cost efficient solution.
Deputy Mayor Arne Woodard suggested rumble strips across Eighth Avenue as a way to wake drivers up, slow them down and alert them to the upcoming intersection.
Messner said strips are very effective, but also very noisy.
"The sound you hear in your car, take that and multiply it by four and that's what you hear in your house," Messner said.
He suggested rumble strips are better in a rural environment where there aren't houses near the roads.
Councilman Mike Munch said perhaps a warning could be painted on the road and together with the larger stop signs that would be a good place to start.
Everyone agreed to that solution.
A proposal to review the speed limits across the city was also part of the discussion. Messner received preliminary consensus to do that study.
Local journalism is essential.
Give directly to The Spokesman-Review's Northwest Passages community forums series -- which helps to offset the costs of several reporter and editor positions at the newspaper -- by using the easy options below. Gifts processed in this system are not tax deductible, but are predominately used to help meet the local financial requirements needed to receive national matching-grant funds.
Subscribe to the Coronavirus newsletter
Get the day's latest Coronavirus news delivered to your inbox by subscribing to our newsletter.
---